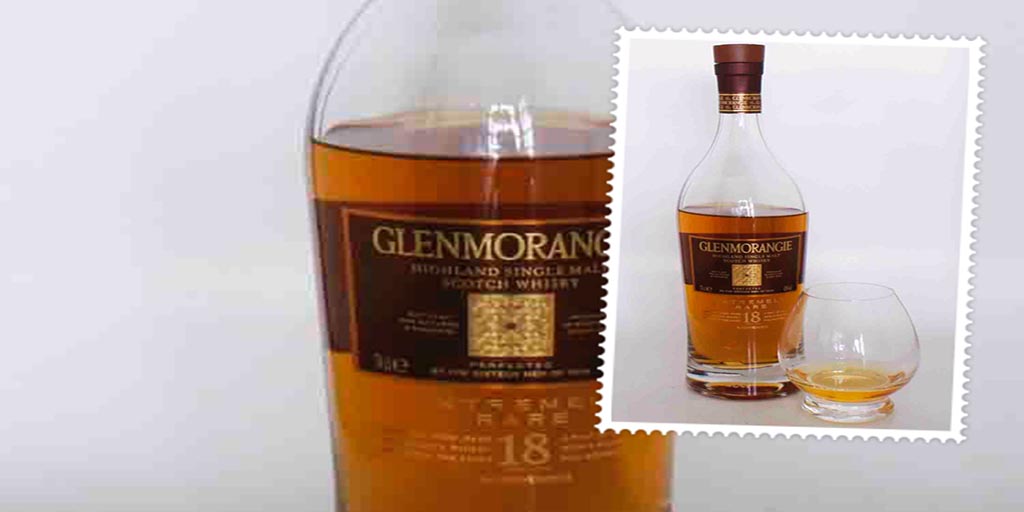 We have had this bottle of Glenmorangie 18 yo in our collection for so many years, we can't even remember where we got it. It has stood in the back of the cupboard for at least 7 years.  We have not touched it in many a moon.   Glenmorangie is a Highland distillery in Tain, Ross-shire, Scotland.  The brothers William and John Mathesen established the Glenmorangie distillery in 1843, on the Durnoch Firth. The site previously held a brewery and made use of the Tarlogie Spring. Glenmorangie boasts the tallest stills in Scotland.
World events greatly impacted on the Glenmorangie history.  The distillery was mothballed between 1931 and 1936 due to prohibition in America and the Great Depression.  The distillery was affected by the Second World War and it was mothballed until 1944.  Glenmorangie plc took over the Ardbeg distillery in 1997 and revived it.  The French drinks company Moët Hennessy Louis Vuitton bought Glenmorangie in 2004, for around £300 million.
Also Read: Tamdhu 10 yo single malt whisky

All products at Glenmorangie is matured in white oak casks.  The white oak is manufactured from trees grown in Glenmorangie's own forest in the Ozark Mountains in Missouri, USA. These new casks are left to air for two years before being leased to distillers Jack Daniel's and Heaven Hill for them to mature bourbon in. Glenmorangie then uses the barrels to mature their whisky. The total Glenmorangie production is reserved for bottling as single malt.
The Glenmorangie 18 yo spent 15 years maturing in white oak casks.  After this time, about 30% is transferred into Spanish Oloroso casks to spend a further three years maturing. Then, when both elements have reached 18 years, they are blended back together.
Related Article:  Glenfiddich 18 yo
Tasting notes for the Glenmorangie 18 yo
COLOUR: The Glenmorangie 18 yo has a light golden amber colour.
ABV: It is a thick oily whisky with an ABV of 43%.
NOSE: Toffee sweet, rich and creamy.  There are notes Creme Brule, honey with hints of spice and oak.  An abundance of fresh fruit, dried pear and fruits of the forest fills your senses.  Water seems to soften the nose a bit.
PALATE: A big and bold mouthful.  It is thick and syrupy with lots of spice and oak.  There are notes of fresh fruit, pears and rich heather honey.  Adding a bit of water smooths out the sweetness and citrus notes comes through.  It is rich and complex with a big fruit and spice kick.
FINISH: Long and lingering with hints of butter, chocolate and citrus peel.  The Glenmorangie 18 yo is a well-balanced and smooth dram.
We give the Glenmorangie 18 yo a RATING: EXCELLENT.
After this tasting, the Glenmorangie 18 yo will certainly not be at the back of the cupboard anymore.  We are moving the Glenmorangie bottle right to the front of the line.  This Cinderella is going to the ball!
Also Read: Arran Napoleon Cognac Single malt whisky