This is one of the bottles that started our whisky collection, before we even realized we are collecting.  We tasted the Glenmorangie Lasanta at our favorite restaurant and loved it and John brought a bottle home soon after to remind us of a great evening.
The Glenmorangie distillery was established in 1843, on the Durnoch Firth by brothers William and John Mathesen. This distillery is well known be be one of the first distilleries to experiment successfully with wood finishes. Glenmorangie Lasanta together with Quinta Ruban and Nectar D'Or make up the Glenmorangie 'Cask Finish' series.
These expressions start from a similar maturation background – 10 years in white oak Ex-Bourbon casks. What makes them different is the additional 2 years spend in "finishing" casks. Glenmorangie Nectar D'or is finished in Ex-Sauternes Casks whilst Quinta Ruban uses Ex-Port barrels.

For Lasanta, the last 2 years are spent in Ex Olorosso and PX (Pedro Ximenez) Sherry casks. According to Glenmorangie, the word 'Lasanta' means "warmth and passion" in Gaelic.
Also Read: Whisky and Wensleydale cheese pairing
I have an older bottling still bottled at 46%. Newer bottling are bottled at an ABV of 43%. Glenmorangie, like Ardbeg, is owned by luxury giant LVMH (Louis Vuitton Moët Hennessy). It is a rather affordable release. In South Africa you can get your hands on this bottle for around R550 at Norman Goodfellows.   I see that the Glenmorangie Lasanta retails for around £40 at Master of Malt.
Tasting notes for the Glenmorangie Lasanta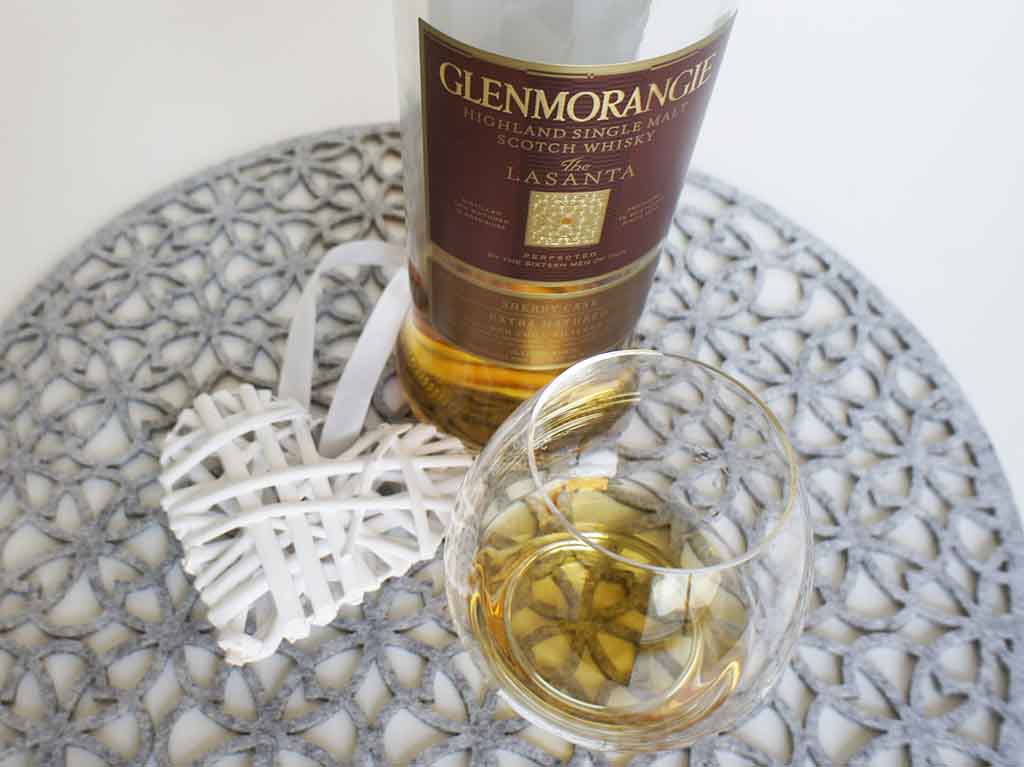 ABV: 46%
COLOUR:  Warm gold
NOSE: Sherry, dried apricots, apples and peaches, warming oaky spiciness with hints of vanilla, cinnamon and honey sweetness.
PALATE:  Warming and spicy with notes of sherry sweetness, pepper, raisins, dried lemon slices in dark chocolate and a caramels sweetness.  Without water the Glenmorangie Lasanta has a bit of alcohol heat that is tempered when a few drops of water is added.  Water makes this release very easy drinking.
FINISH:  Medium length with lemon and warming black pepper balanced with hints of caramel.
RATING: VERY GOOD
This is a lovely easy drinking dram that is perfect for winter.  It warms you from the inside out.  Only problem of drinking it today, here in the Southern Hemisphere, is it is a scorching hot summers day.  I should have scheduled this dram for winter when it is cooler.  Regardless, we finished the last little bit of the bottle and will certainly restock.
An article I found on Food24 suggest that the Glenmorangie Lasanta pairs perfectly with biltong tartlet.Also  cured meats, olives and food that resembled Spanish dishes. Now I have to buy another bottle to try these food pairing ideas.
Also Read: Top 5 Blends 2017 under R700