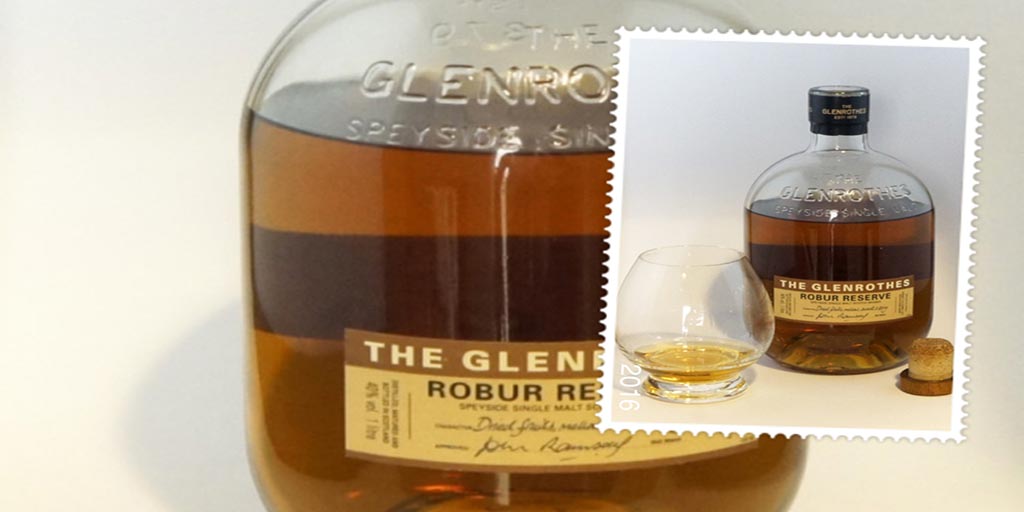 I was having lunch by my good mate Savi, who owns the Bottega Cafe in a suburb called Parkhurst in Johannesburg. This was my first encounter with The Glenrothes Robur Reserve. Savi serves great whisky and food (try the salted squid!).
I soon acquired my own bottle of Glenrothes Robur Reserve. The Glenrothes is a Speyside whisky with the distillery going back to 1879. The Robur Reserve single malt derives its name from Quercus Robor, the Latin name for European or Spanish oak.
Matured in first fill casks that had previously been used to mature Oloroso sherry, the Glenrothes Robur Reserve has no age statement on the bottle.  The look of the  Glenrothes bottles are unique, compared to the other whisky bottles.   They are sort of short and fat. There is a small label on the front allowing one to appreciate the spirit on the inside.


This is the opposite of say Bruichladdich which covers the entire bottle in a label.
Related Article:  Glenfarclas 12 yo
Tasting notes on Glenrothes Robur Reserve
ABV: 47%
COLOUR: The colour of the whisky is light amber and golden. It's quite light in colour when compared to other whiskies which have been matured, or finished, in sherry casks.
PALATE: On tasting the Glenrothes Robur Reserve we were hit by honey and dried fruit. It's quite a sweet whisky, but not in subtle way. I could not really pick up the sherry sweetness, but Jeannette felt it was there. Other reviewers have picked up spices, but we only picked it up a bit later. Only on the third mouthful did I really get the spice. As the whisky evolves in your mouth the honey is accompanied by hints of vanilla and caramel.
FINISH: The finish is well executed too, with an initial drop off followed by a long tail that finishes in dried apricot and spice.  Its a warm, mouth filling finish that we both loved.  I noticed that Jim Murray has scored the Glenrothes Robur Reserve 80.5 in the 2012 Whisky Bible.  This is pretty ordinary by his standards.
Jeannette and I cannot fathom why because we both thought it was excellent. The nose is great, the palette full mouthed and warm and the finish delicious.
The Glenrothes Robur Reserve a deserving RATING: EXCELLENT.
The Whisky Exchange in London states that the Glenrothes Robur Reserve is discontinued. If that is the case we are very glad to have a bottle in the collection.
Also Read: Loch Lomond Single Grain Whisky