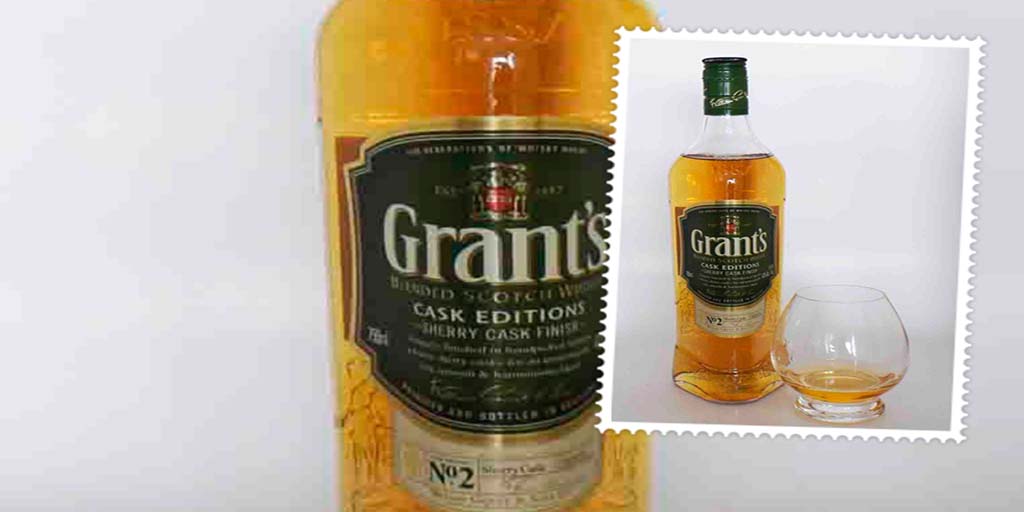 We have quite a few bottles from William Grant & Sons. We started our whisky collection with a bottle or 2 from The Balvenie and added some Glenfiddich as we went along.  Monkey Shoulder is a favourite and I was very happy to get my hands on a Kininvie 17 yo. All these brands are part of the William Grant stable. Looking over our collection, I realized that there was still a piece missing. We missed some of the Grant's blended whisky. William Grant lived in Dufftown, in the heart of Speyside. He went to father not only 7 sons and 2 daughters, but also some of the world's best know Scottish whisky brands.
William Grant & Sons Ltd. is an independent, family owned company.  W Grant & Sons Ltd own the following distilleries:
Glenfiddich Distillery
Balvenie Distillery
Girvan Grain Distillery
Kininvie Distillery (1990-2010)
Ailsa Bay Distillery

In 1957 Grant's unveiled the now iconic, triangular bottle. It is still released in this triangular bottle. The Spanish Olorosso sherry casks are hand-picked before being filled with aged Grant's blended whisky. It is then finished for 4 months to acquire the rich flavours.
Related Article: Ballantine's 12 yo
Tasting notes for the Grant's Sherry Cask Finish Edition No. 2
COLOUR:  The dram has a light golden colour with hints of green.
ABV: 43%
NOSE:  Sherry sweetness right out of the bottle with hints of raisins.  Not a very complex nose.  There are delicate hints of oak ad grape jam.  Adding a bit of water takes some of the sweetness from the nose.
PALATE: Without water, the palate has some sweet notes, but after adding a bit of water, the sweetness gives way to more spicy notes.  There are notes of condensed milk and stewed prunes.  Grant's Sherry cask is not a big mouthful, but pleasant and more robust than the nose hinted.  Water releases more spicy pepper notes but also more citrus notes.
FINISH: Long and lingering but end in notes of bitter orange and dried fruit.
Finally, we give the Grant's Sherry Cask Edition No.2 a RATING: VERY GOOD.
As this is a blend of some of our favourite distilleries, we were expecting a big bold interesting whisky.  We were left a bit disappointed at the lack of complexity and depth in this dram. Not a bad whisky by any means; and at a great price point.   Just not as good as the Single Malts.  What did you think of this release?
Also Read: Tullamore D.E.W Irish whiskey