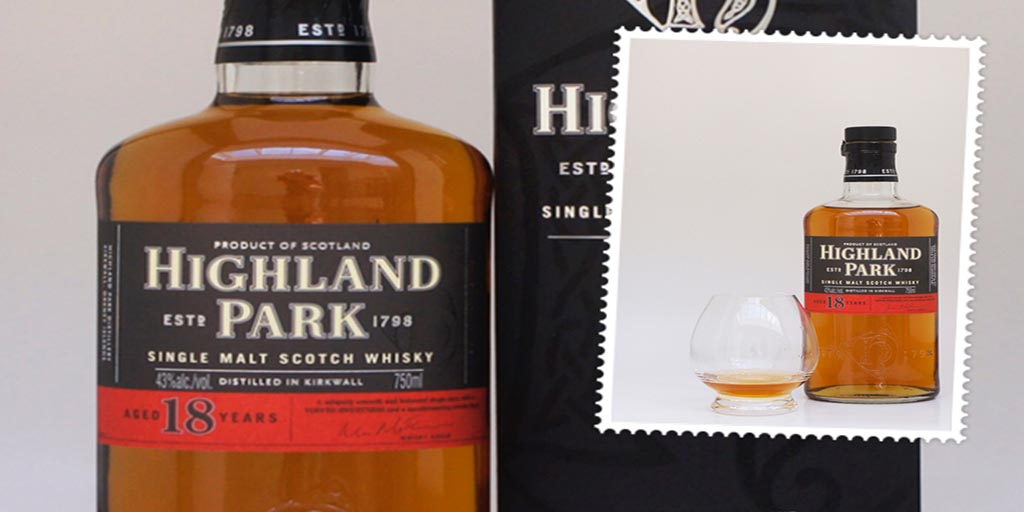 In our quest for interesting whiskies we often consult our friend Marc. He owns the Whisky Brother shop in Hyde Park and always has fine whiskies on hand. On a recent visit we left with a bottle of Highland Park 18 yo. The Highland Park 18 yo has won many awards over the years and luminaries such as Jim Murray have consistently rated it highly. The fact that Candice Baker, a South African, acts as the brand ambassador in our country was a further incentive.  We were thus looking forward to trying it.
Presented in the familiar Highland Park bottle with its characteristic black packaging and age statement boldly displayed.  Established in 1798 on the island of Orkney, Highland Park is the most northerly whisky distillery in Scotland. Orkney is an archipelago in northern Scotland, north of the coast of Caithness. Highland Park is thus an Island type of whisky – distinct from Islay.

Highland Park is strongly associated with Magnus Eunson. Eunson is credited with starting the distillery at the end of the 18th century. His smuggling operations were based from his hide out on the High Park above Kirkwall where Highland Park Distillery now stands. Having read all the positive reviews, I was  really looking forward to trying it.
Related Article: Jura Origin 10 yo
Tasting notes Highland Park 18 yo
COLOUR: Highland Park refers to the colour as burnished gold. I felt it had more of a copper colour, a lovely warm colour.
ABV: 43%
NOSE: Notes of oak, smoke and honey. Overlaying these notes are fruits and floral aroma's. It's quite a complex nose.
PALATE: The Highland Park 18 yo had notes of dried fruit, honey and some spice.  The smoke and peat were subtle and nicely blended. In the background I picked up some citrus notes. It's not a big, bold whisky and on the palate, quite delicate.
FINISH: Short. The florals turn to spice and espresso at the end. After the tasting I looked at John, perplexed.  My first impression is that this is a nicely balanced whisky. Based on all the awards it has won and the glowing feedback from other whisky blogs I was were expecting something special. It's hard to put my finger on it, but this whisky failed to excite me to the level I had expected.
I guess I wanted to give it a Divine rating, and maybe that's the problem. In the end it scored a RATING: VERY GOOD. 
I know I am in the minority when I say I was not blown away by this Highland Park. Perhaps I was just having an off day with my minds too preoccupied.  It needs another opportunity to impress. So it will go back on to the 'Whisky of the Week' tasting list. (See our second try Of the Highland Park 18 yo)  I will blog my impressions  then, again.  I paired this whisky with a Mature Gouda cheese during 2015 and it makes this Highland Park 18 yo more drinkable.
At the end of 2016, I paired this Highland Park 18 yo with a Toblerone White with Honey and Almond Nougat pieces.  It was part of my annual New Years Eve Whisky Chocolate pairing celebration.  Not the best of the pairings I tried.
Also Read: Johnnie Walker Double Black blended whisky