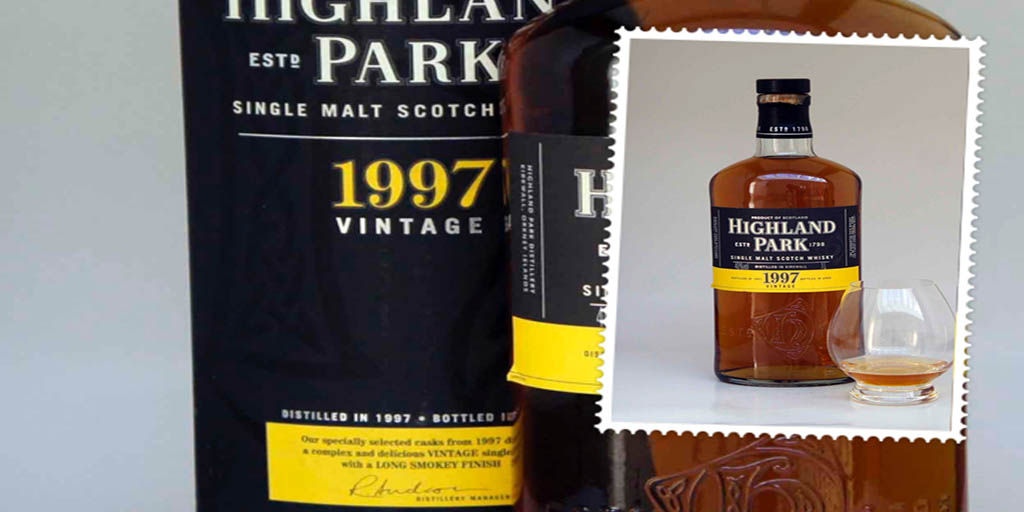 Highland Park distillery is a Scotch whisky distillery founded in Kirkwall, Orkney. Sweeping plains of barley fields and rocky outcrops dots the landscape around Highland Park. It is the most northerly whisky distillery in Scotland, about a kilometer further north-east than that Scapa distillery. Highland Park was founded in 1798 and officially licensed in 1826.
The name Highland Park does not refer to 'The Highland' area of Scotland. It refers to the point that the distillery was founded on an area called 'High Park' distinguished from a lower area nearby.
The distillery draws its water from the mineral rich springs to the east of the distillery as well as the Crantit Spring.  Highland Park is one of the few distilleries to still malt its own barley, using locally cut peat from the Hobbister Moor. The peat is then mixed with heather before used as fuel. Highland Park is also one of the ingredients of The Famous Grouse blend.


The Highland Park 1997 Vintage expression was bottled exclusively for the duty-free market and is released in 1 liter bottles. Distilled in 1997 and bottled in 2009, makes this about a 12 yo, but the bottling does not have a specific age statement. Based on some research, this 1997 Highland Park spent some time in both American oak and Sherry casks as well as some bourbon casks.
Related Article: Tomintoul 16 yo
Tasting notes for the Highland Park 1997 Vintage
ABV: The Highland Park 1997 vintage has an ABV of 40%,
COLOUR: Can be described as amber or dark gold.  It is very dark in the bottle, but more red in the glass.  It is quite an oily whisky.
NOSE: Offers sweetness mixed with spices.  There are hints of citrus, cloves and cinnamon.  Some butter and toffee floats around.  This Highland Park 1997 has a great nose and it promises a rich mouthful.
PALATE: A bit of let down after the promise of the nose.  We looked at each other and wondered where the flavour disappeared to?  It has a medium body with hints of oak, marmalade, and citrus peel.  In the background there are bits of smoke and peat mixed with custard.
FINISH: Short and ends quite abruptly in notes of wet leather and oranges.  It is a smooth whisky that promises much, but don't quite deliver what we expected.
We give the Highland Park 1997 Vintage a RATING: VERY GOOD.
We keep on hoping to find a Highland Park that we would love.  There are so many people who absolutely love this distillery.  For some reason, every time we try it, we are disappointed.  We tried the Highland Park 18 yo twice but were not blown away.  What Highland Park release do you recommend we try next?
Also Read: Chivas Regal Extra blended whisky