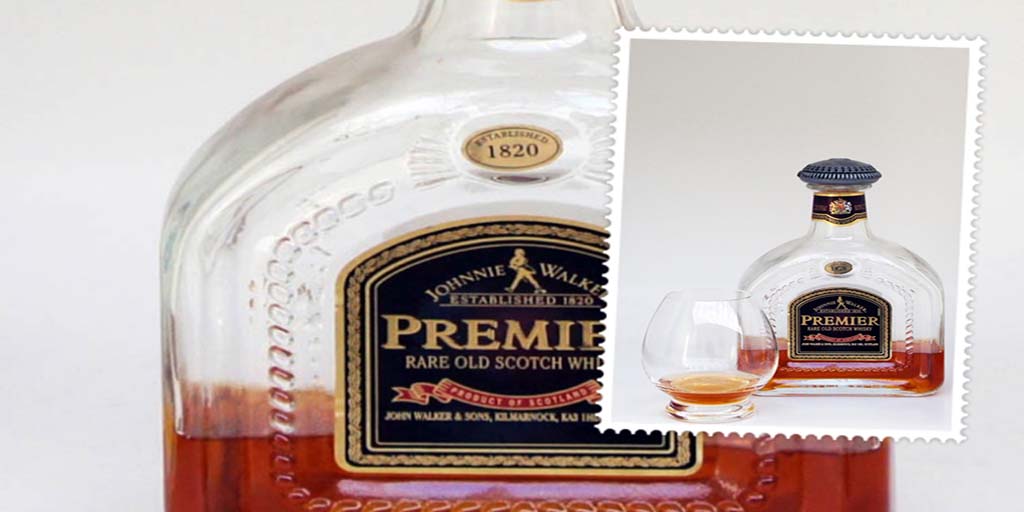 Time for a blended whisky again.  Johnnie Walker needs little introduction. We have various bottles of this brand in our collection and the Johnnie Walker Black is one of our favourite easy drinking whiskies.  The Johnnie Walker company started in the 19th century, when John "Johnnie" Walker began selling whisky from his grocery shop in Ayrshire, Scotland.
His blends were very popular at the time. It wasn't until his death in 1857, when Alexander Walker with his son Alexander Walker II inherited the company, that the brand really took off.
Johnnie Walker whisky was sold in the distinctive rectangular bottles for the first time during 1870.  I can't find very much information on the Johnnie Walker Premier Rare old Scotch whisky. We have had this bottle for quite a long time, so the packaging is lost. It is probably one of the first bottles in our collection.
From the little information that I can get, it seems that the Johnnie Walker Premier was a blend aimed specifically at the Japanese Market. It is in a heavy rectangle shaped bottle, very different from their standard square bottle.  It seems like this blend has been discontinued.

According to the internet, Johnnie Walker Premier is a blend from some very rare whiskies in the Johnnie Walker inventory. A portion of this is from closed distilleries. It is apparently a rare and exclusive blend constructed from the most precious of Johnnie Walker's vast stocks of long-aged malts.  Some of which are from now-silent distilleries and can never be replaced.
Related Article:  Johnnie Walker Swing
Tasting notes for the Johnnie Walker Premier
ABV: The Johnnie Walker Premier is bottled at an ABV of 43%.
COLOUR: This blended whisky has a wonderful red copper colour.  It is quite an oily whisky.
NOSE: Initially there is almost a bourbon sweetness on the nose.  On the addition of some water, fried fruits, raisins and caramels come through. There are hints of vanilla, ice cream, barley and oak.  This Johnnie Walker Premier has a gratifying rich nose.
PALATE: It is a whisky that has a nice big bold taste and a wonderfully warming feel in the mouth.  The tasting bring notes of rich oak and spice with some sherried sweetness on the palate.  Some toffee, ginger and still lots of oak comes through.
FINISH: It has a big and rewarding finish.  It ends in notes of spice with black pepper and ginger.  The finish is long and lingering with hints of oak and toffee at the end.  It is a wonderfully complex whisky that offers a big mouthful.  It has a great lingering finish and is amazingly smooth.
As a result, we give the Johnnie Walker Premier Rare Old Scotch Whisky a RATING: EXCELLENT.  It narrowly misses being a Divine.  It just lacks the last little bit of the WOW factor.  If you can still get your hand on a bottle, grab it!  It is worth it.
Also Read: Johnnie Walker XR 21 yo