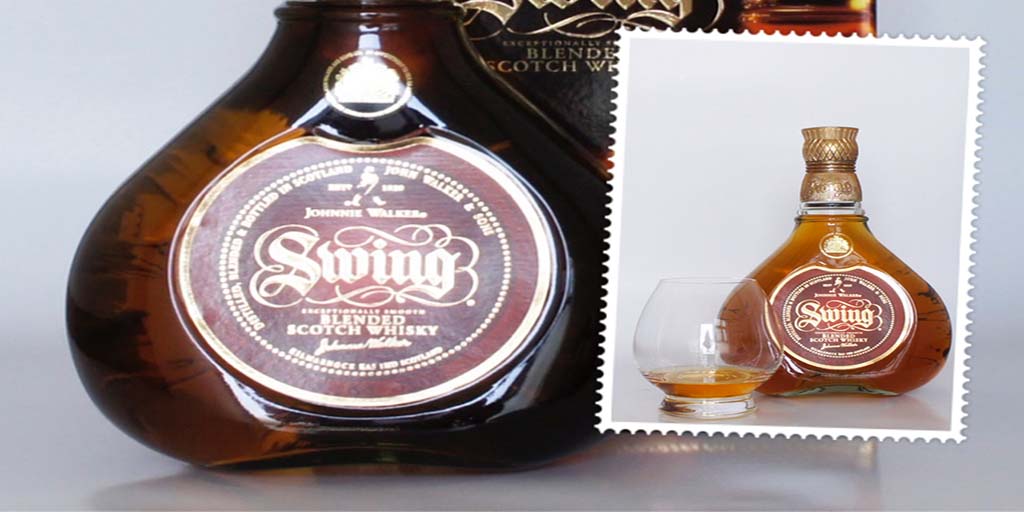 This week we try another blend, the Johnnie Walker Swing.  Johnnie Walker is owned by Diageo and originated in Kilmarnock, Scotland. It is the most widely distributed Scottish blended whisky brand  in the world. Yearly sales exceed 100 million bottles. John "Johnnie" Walker started to sell whisky in his grocer's shop. Originally it was known as Walker's Kilmarnock Whisky. After Walker's death in 1857 it was his son Alexander Walker and grandson Alexander Walker II who were largely responsible for establishing the whisky as a popular brand.
Sir Alexander Walker, grandson of John Walker, created Swing during the golden age of travel in 1932. On transatlantic voyages, barmen desperately stowed loose bottles on racks to prevent breakages. The unrelenting pitch and roll of stormy weather on the high seas causing havoc with their whisky stocks.
Johnnie Walker Swing's unique glass decanter allowed it to swing back and forth on a convex base. Known and respected as a captain of industry for his role in the international success of the Johnnie Walker brands, Sir Alexander was a familiar sight on these voyages himself. Today the Swing bottle remains instantly recognizable amid a myriad of newer offerings.

I have tried a variety of Johnnie Walker releases.  Some of my favourites are:   Johnnie Walker Premier , the Johnnie Walker Explorers' Club Gold Route and the Johnnie Walker Double Black.
Also Read: Teacher's Highland Cream Whisky 
Tasting notes Johnnie Walker Swing
Johnnie Walker Swing is a blend of 35 whiskies with a high proportion of Speyside malts. These are complemented by malts from the northern Highlands and Islay.  Some of the whiskies have been matured in sherry casks. Some of the whiskies are light and fragrant.
COLOUR: An amber golden colour and quite dark.
NOSE:  The sherry cask sweetness definitely come through.  There is also some mild smoke and spice.  The nose has an old world feel to it.  Hints of dried fruits, tobacco and leather.  Nosing this Johnnie Walker Swing, you can almost imagine the old leather couches in a gentleman's club in London during the early 1900's.
PALATE: On the palate the Swing is very smooth and quite oily.  The sherry sweetness in the Johnnie Walker Swing comes through immediately together with some spices. There are further notes of smoke and faint peat, probably from the Islay whiskies.  There are some cereal flavours and oak.  The spice is reminiscent of pepper with hints of ginger.
FINISH: Long and rich.  It ends in rich notes of spice and oak with a hint of cloves.  This is definitely an easy drinking whisky.
We awarded the Johnnie Walker Swing a RATING: VERY GOOD.  It is medium bodied and not too complex and you should add water carefully.  It can quickly be overwhelmed by the water. this is fine addition to any whisky collection.
Also Read: Chivas Royal Salute 21 yo