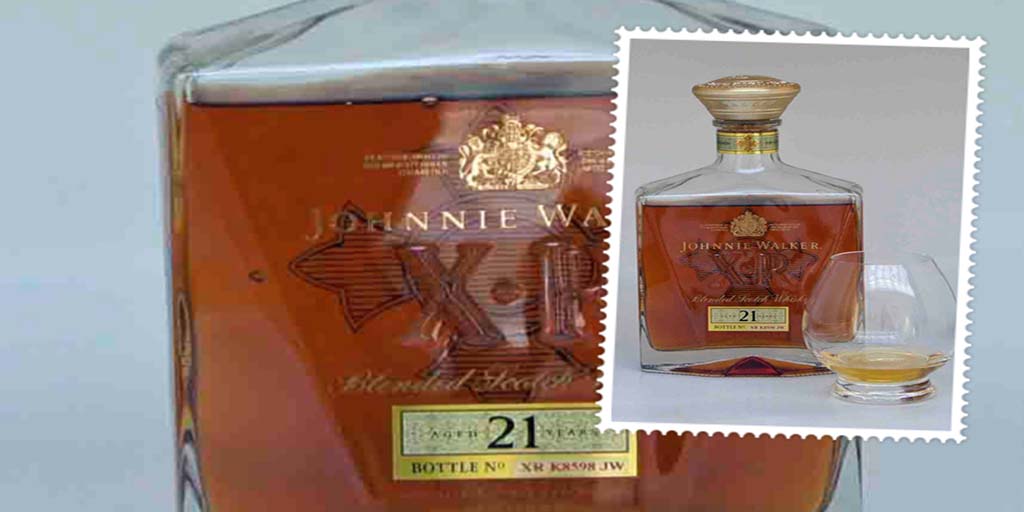 I can't even remember where we got this bottle Johnnie Walker XR 21 yo blended whisky.  It has been in our cupboard for ages.  I think John picked it up in Dubai, when he was traveling to India. It is such a beautiful bottle.  The rectangle shape with the gold embossing and the XR raised on the glass. Different than the regular square shaped bottle A perfect bottle to use as a decanter when it is empty.  John "Johnnie" Walker began selling whisky from his grocery shop in Ayrshire, Scotland.
After his death in 1857, Alexander Walker inherited the company. Alexander, with his son Alexander Walker II, began marketing Walker's Old Highland.  They also introduced the now iconic square bottle in 1860. This meant more bottles fitting the same space and fewer broken bottles.
In 1920, Alexander Walker II received a knighthood from King George V for his services to the nation. The Johnnie Walker XR was created in honour of Sir Alexander Walker's Knighthood. A special edition release, this Johnnie Walker XR is a 21 yo expression, inspired by the hand written blending notes of Sir Alexander Walker.
Sourced from the private reserves of the Master Blender, it includes casks from silent distilleries that are no longer in production. The Johnnie Walker brand is owned by Diageo.  The bottle retails for around R 3 000, which is slightly more expensive than the Johnnie Walker Blue Label (R 2 200), but a lot cheaper than the King George V. The big questions is: Is it worth the price?

Related article:  Johnnie Walker Premier
Tasting notes for the Johnnie Walker XR 21 yo Blended whisky
ABV: The Johnnie Walker XR is bottled at 40% ABV
COLOUR:   Golden red tinges of polished copper fill the glass.  Long oily fingers form.
NOSE:  Sweet with honey, ripening summer fruit and flowers with highlights of vanilla.  Hints of citrus peel, cinnamon and apples float around.  Without water, the Johnnie Walker XR nose promises a full bodied rich smooth experience.  Adding water, softens the nose and releases more wood and spice notes.
PALATE: Rich and smooth. There are notes of cinnamon spice, maple syrup and oak.  The Johnnie Walker XR intertwines citrus peel with cereal notes overlaying notes of ripe fruit and vanilla.  Without water, it is delicious.  Adding water, softens the boldness of the whisky and brings more winter spice.  But it takes away the complexity and richness.
FINISH: Medium length and end in notes of fruit and cinnamon spice.  Water, reduces the length of the Johnnie Walker XR finish.
We give the Johnnie Walker XR a RATING: EXCELLENT.
Don't add water!  The big questions however, was it worth the price tag?  It is a great whisky and a beautiful bottle, but we have tasted quite a few blended whiskies that are better, and cheaper.
If anything, it is an interesting bottle to have in our collection and if you gift me a bottle, I would not complain. If this bottle is empty, would I buy it again?  Probably not.
Related Article: Ballantine's 17 yo