I was quite intrigued when I found a Comté Cheese at Woolworths some time ago. It is not a cheese that I have seen before and naturally had to buy it to see how it would pair with whisky. Comté cheese (also called Gruyère de Comté) is a semi hard French cheese produced in the Jura Massif region of France. The unpasteurized cow's milk used is mainly from Montbeliarde Cattle or French Simmental cattle (or cross breeds of the two).
This hard mountain cheese is matured in the silence and darkness of special caves where the cheese gets its unique taste, texture and colour. The texture is relatively dense and firm. The taste is strong and slightly sweet.
Comte has a pale yellow interior with a nutty aroma. The main aromatic flavours that linger on the palate is a balance of brown-butter and roasted-nut aromas and a sweet finish. Noticing that the cheese is from the Jura region in France, made me, on a whim, take out our Jura Origin.
I had no real expectation that this whisky cheese pairing would work. I just liked the idea that the region and the distillery coincided. We tasted the Jura Origin during January 2014 and gave it a rating Very Good.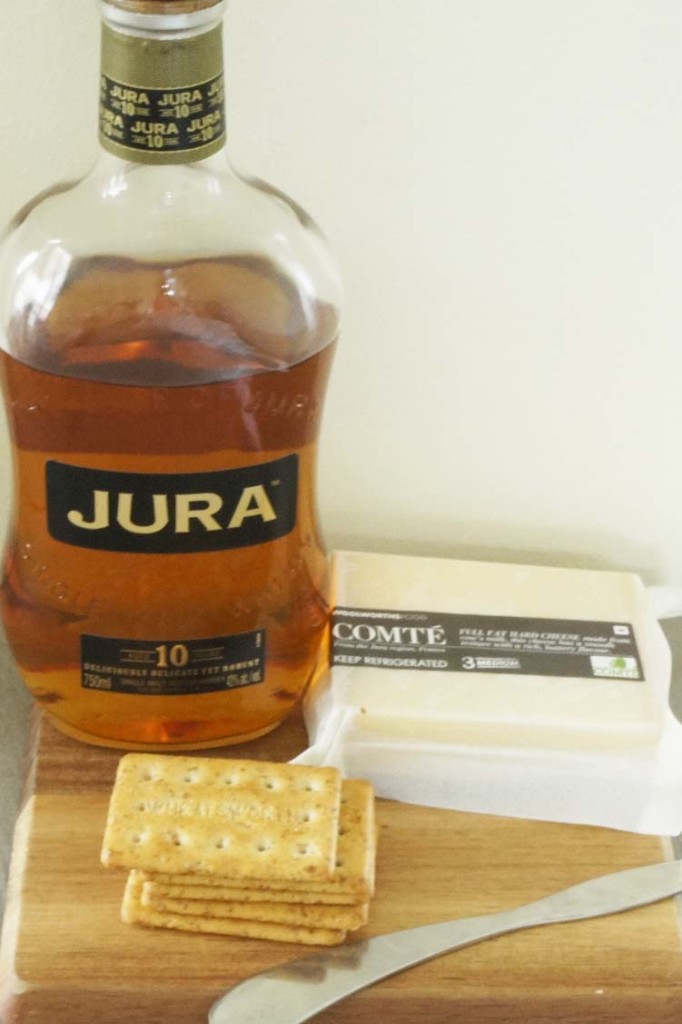 The island of Jura is located so close to the island of Islay and the 'Parish of Peat' that the distillery often participates in the annual 'Feis Ile' whisky festival of the Islay distilleries. The Jura Origin flavours are, however, different to the peaty whiskies from the neighboring island of Islay.
It is a medium bodied whisky and regarded as an accessible, easy-drinking whisky. Our tasting notes captured apricots and flowers on the nose. On the palate we picked up apricots, raisins and a little oak.  There are hints of mild spice and citrus.
Related Article:  Clover Cheese and Whisky pairing
Result of the Jura Origin whisky & Comté Cheese pairing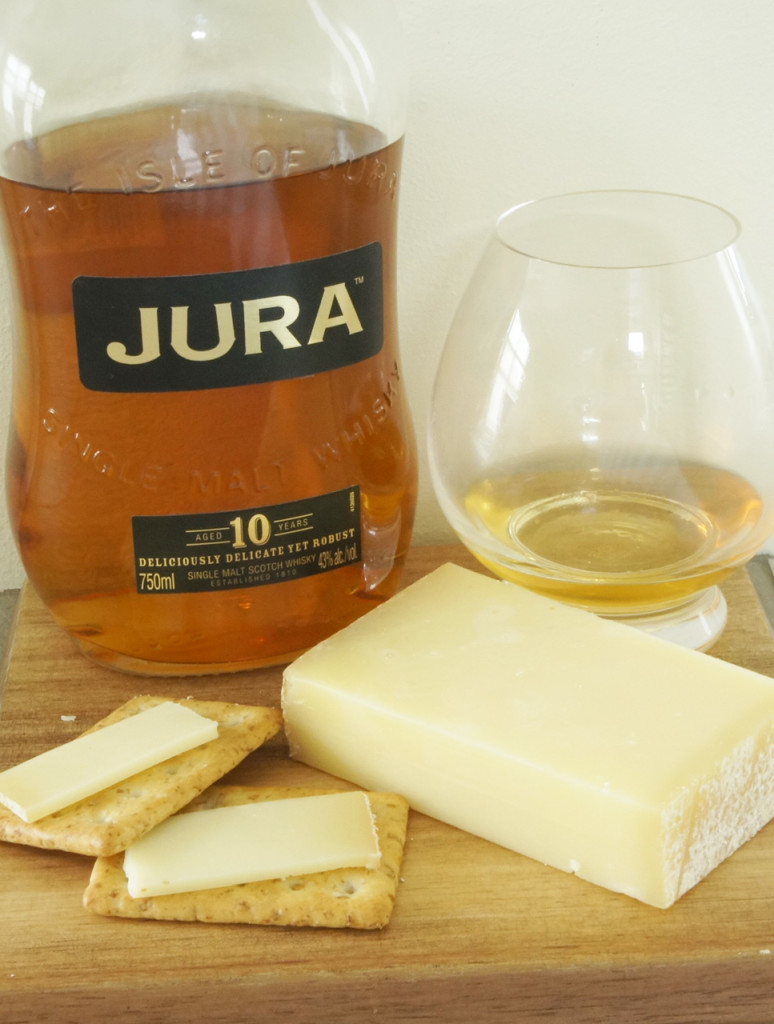 Much to our surprise this pairing of a Jura and Comté worked surprisingly well. This smooth cheese brought out more malty cereal notes in the Jura Origin and heightened the saltiness of the whisky. The fruity flavours became more pronounced and more spice notes came through.
Jura Origin is medium bodied enough to stand up to this nutty, fruity cheese and not over power it. The whisky brought out more smoky and sweet notes in the Comté cheese. We give the Jura Origin whisky and Comté Cheese a RATING: EXCELLENT.
A really great combination  we will definitely try again in future. Have you tried this interesting Woolworths Comté?
Also Read: Whisky and Mature Gouda pairing