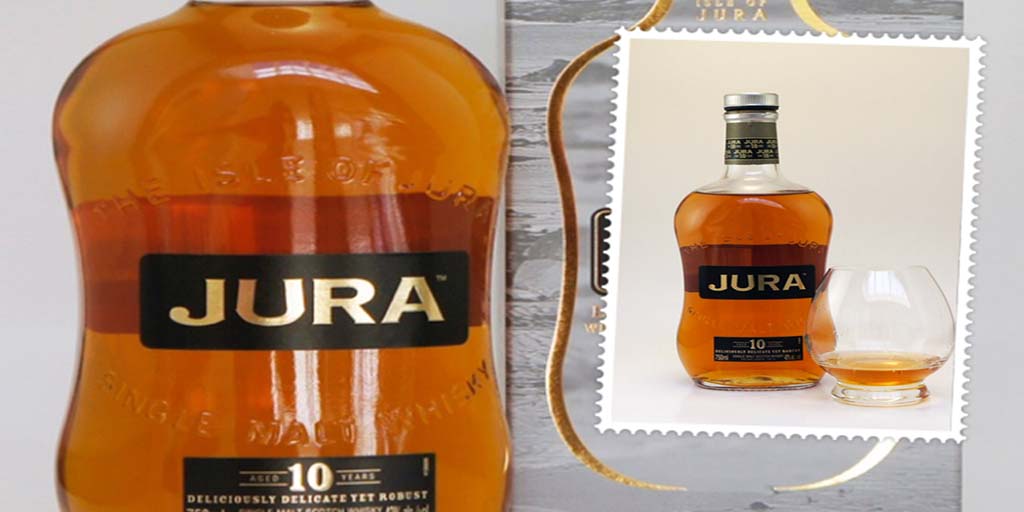 August 1946 – a lonely figure is furiously typing away in an abandoned farmhouse near the northern end of a remote island in the Inner Hebrides of Scotland.  George Orwell wrote one of the greatest novels of our time on the Island of Jura.
The island's remoteness giving him the peace he needed to write his famous novel 1984.  However, a warming Jura dram would not have sustained the lonely writer during his time on the island. The distillery was dismantled in 1901.  A brand new Jura distillery was only built-in 1963.
Constructed on the same spot as the old distillery, it attempted to stimulate Jura island's declining economy.  The island is as awkward to reach today as it was in 1946.The island of Jura is located so close to the island of Islay and the 'Parish of Peat' that the distillery often participates in the annual 'Feis Ile' whisky festival of the Islay distilleries. The Jura flavours are, however, different to the peaty whiskies from the neighboring island of Islay.


Jura's mild climate and gentle breezes, together with the local spring water, are significant factors contributing to Jura's flavours. Our 'whisky of the Week' this week is the Jura Origin whisky from WhiskyBrother in Hydepark, our favourite specialist whisky shop.  It is a medium bodied whisky and regarded as a very accessible, easy-drinking whisky by some.
Related Article:  anCnoc 12 yo
Tasting Notes Jura Origin
The packaging reflects a Celtic symbol that symbolizes beginnings and the forces of nature.  The Jura Origin is the regarded as the whisky that began the Jura story.
ABV: 43%
COLOUR: The official colour for Jura Origin is defined as rich gold, but in the sunset light of our whisky room, the it seemed more copper gold.
NOSE: Our first impression on nosing the Origin was apricots and flowers. There is a freshness when first nosing the whisky.  A smell reminiscent of open fields with clean air and lots of flowers.
PALATE: It is a light, delicate whisky.  It is not a big, bold mouthful. Tasting the Jura Origin we picked up apricots, raisins and a little oak.  There are hints of mild spice and citrus.
FINISH: Quite a surprise. It is a long lingering finish ending with notes of pepper.  It is not sweet at all and very delicate.  We found this whisky a bit one-dimensional, but not in a bad way. It's an easy drinking, subtle and delicate whisky. We both quickly agreed on how we rated it.
Overall this is a fine whisky that earned a RATING: VERY GOOD.
We had always looked forward to tasting a Jura, and our first one did not disappoint. It is definitely a whisky we would offer to friends who want to try an easy drinking single malt. We would imagine pairing this whisky with smooth milk chocolate or even a white chocolate.  It might suit a sweetish desert cheese like an apricot flavoured white rock. We will look to add more Jura whiskies to our collection. What was your favourite Jura?
Update:  I paired this Jura with a Comté Cheese and it made for an amazing pairing.
Also Read: Lagavulin Distillers Edition 1994