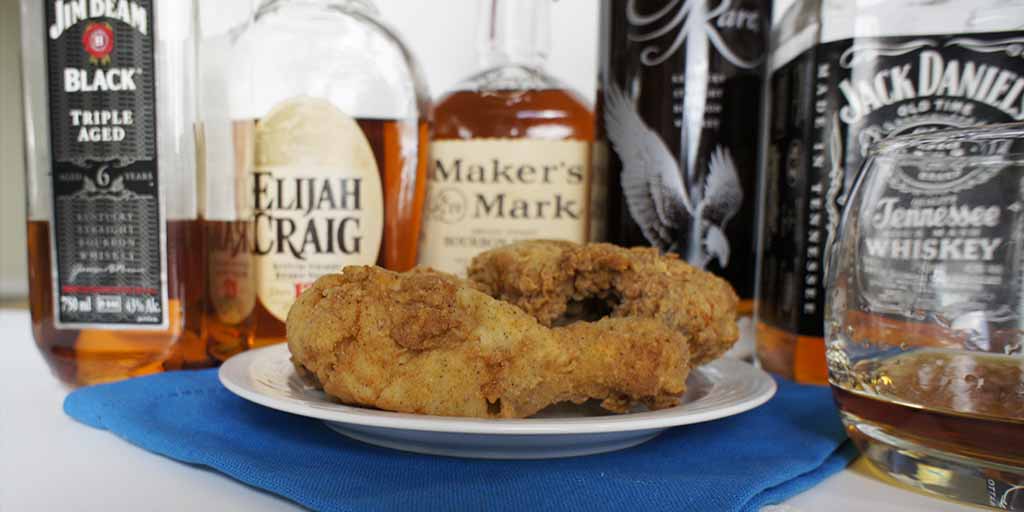 In my house, take away is a treat.  We only eat it when I have not had any time to cook, or when the weekend was just so lazy, that I could not bother.  One of our preferred options for take away is KFC.  And it seems that I am not alone in loving the crispy fried chicken.  Kentucky Friend Chicken (KFC) is the most prolific brand in South Africa, with over 800 stores spread across the land.
The Kentucky in KFC and the Kentucky in Bourbon made me think… would the two work together?  You know I am always up for experimenting, so I this past weekend, off I went to KFC for a bucket of chicken.  John was in the mood for Zinger wings, so I grabbed a few of those as well.
In the summer of 1955, Colonel Harland Sanders was a relatively unknown entrepreneur in Corbin, Kentucky, with a roadside restaurant, a fried chicken recipe, some spices, and a dream.  Probably messing up his wife's kitchen and driving her crazy, he looked at using a pressure cooker to quickly cook the chicken.

He identified the potential to franchised this idea to bring it into the fast food market. As the pressure cooker could easily be used by competitors, he came up with an interesting herbs and spice combination to make his chicken stand out. 

The Colonel's Original Recipe of 11 herbs and spices is one of the best kept trade secrets in the catering industry.   Many people have claimed to have discovered it. Going to the KFC down the road is so much easier than messing up my kitchen. 
Pairing Bourbon with fried chicken is about finding balance.  The well known crunchy crust of the KFC should not be overpowered by the spices and sweetness of the Bourbon, but work together to enhance the flavourful juicy meat. KFC is very much a comfort food. 
When you are traveling across the globe and you are in need of some comfort, there is bound to be a KFC not far off.  Pairing this with bourbon might just create a match made in foodie heaven…  Lets try…
I first lined up the bourbons from my favorite (Makers Mark) to my least favorite (Elijah Craig) and then for 'testing purposes'  added the Jack Daniel's at the end of the line.  The results were interesting and not what I expected.  I also rated the suitability of the chosen bourbon with the Zinger wings as the results was quite different from the friend chicken bourbon pairing.
Also Read:  Pizza and Whisky pairings
KFC and Bourbon Pairing
Makers Mark and KFC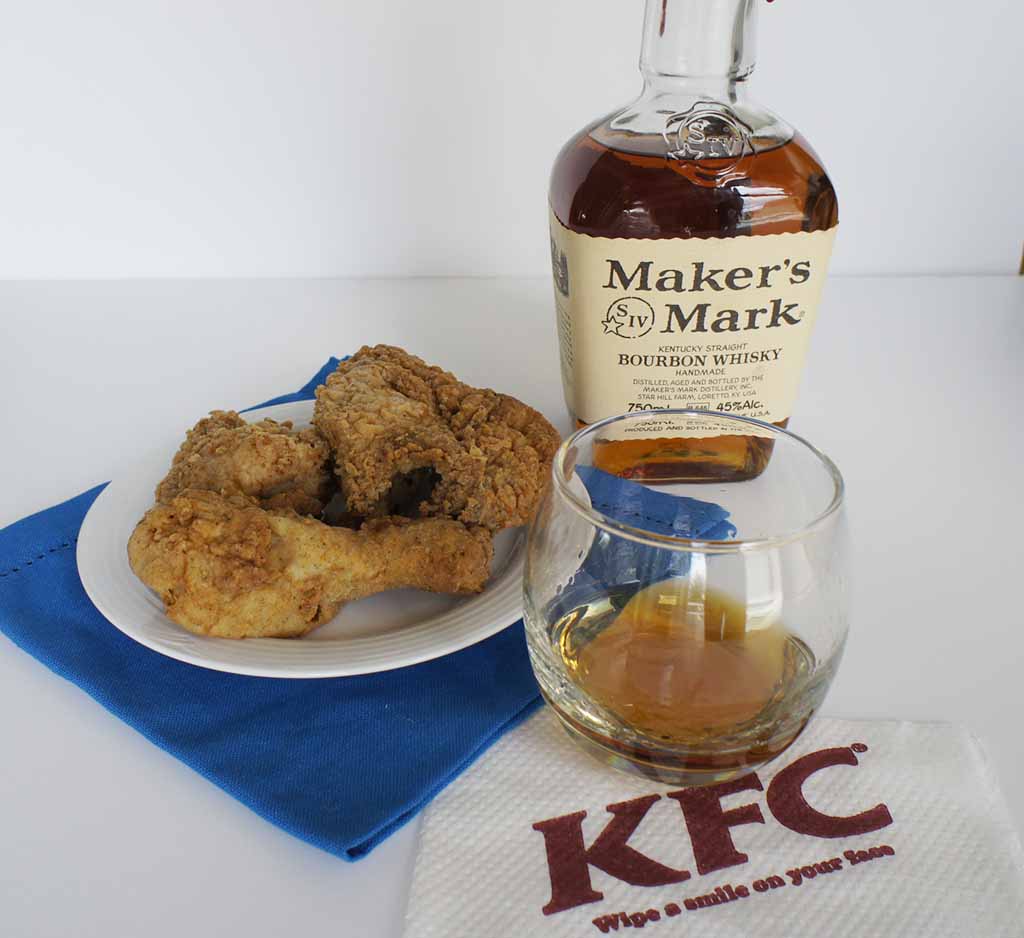 One of my favorite bourbons!  The Makers Mark is probably the bourbon I replace most often.  The notes of condensed milk, cherries, brandied fruit, toasted oak and sweet vanilla and cinnamon spice is just so satisfying.  It is wonderfully smooth with an amazing balance between the vanilla sweetness and the cinnamon toasted oak spicy notes. 
However, this was the worst pairing with the KFC.  It just created a peppery, spicy combination that made my eyes water.  I looked up at John and realized he felt the same way. I give this pairing a RATING: 2/5.   
John sees himself as a bit of a Zinger Wings connoisseur.  He has tried Zinger Wings on various continents and when he paired the Zinger Wings with the Makers Mark, he had a big smile on this face.  The Makers Mark worked perfectly with the spicy Zinger Wings.  No surprise that I give this KFC and Bourbon pairing a RATING: 4.5 / 5.
Eagle Rare and KFC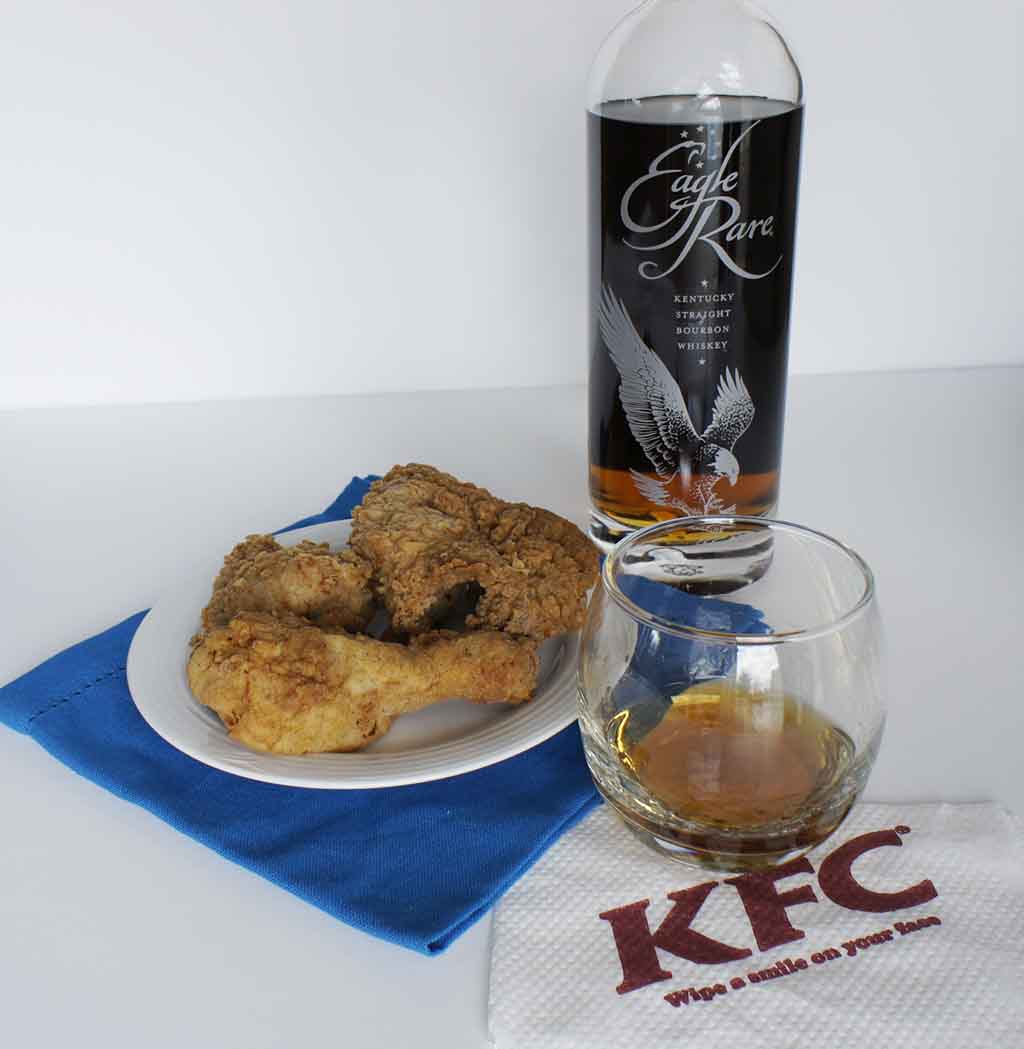 Next up was the Eagle Rare that was our first Bourbon for 2017.  Not as sweet as other bourbons, the Eagle Rare had notes of vanilla, toffee sweetness, brandy pudding, fresh cut flowers, hints of toasted oak and pepper, chilli peppers, nuts,  and creamy cocoa.
This pairing offered nothing  new.  You taste KFC, you taste Eagle Rare, but nothing special. Thus, I give this KFC and Bourbon pairing a RATING: 2.5 /5. 
Pairing it with Zinger Wings was disastrous.  John described it as drinking Methylated spirits. Not a good pairing at all.    RATING: 1/5
Also Read: Pairing Woodford Reserve with some pizza
Jim Beam Black and KFC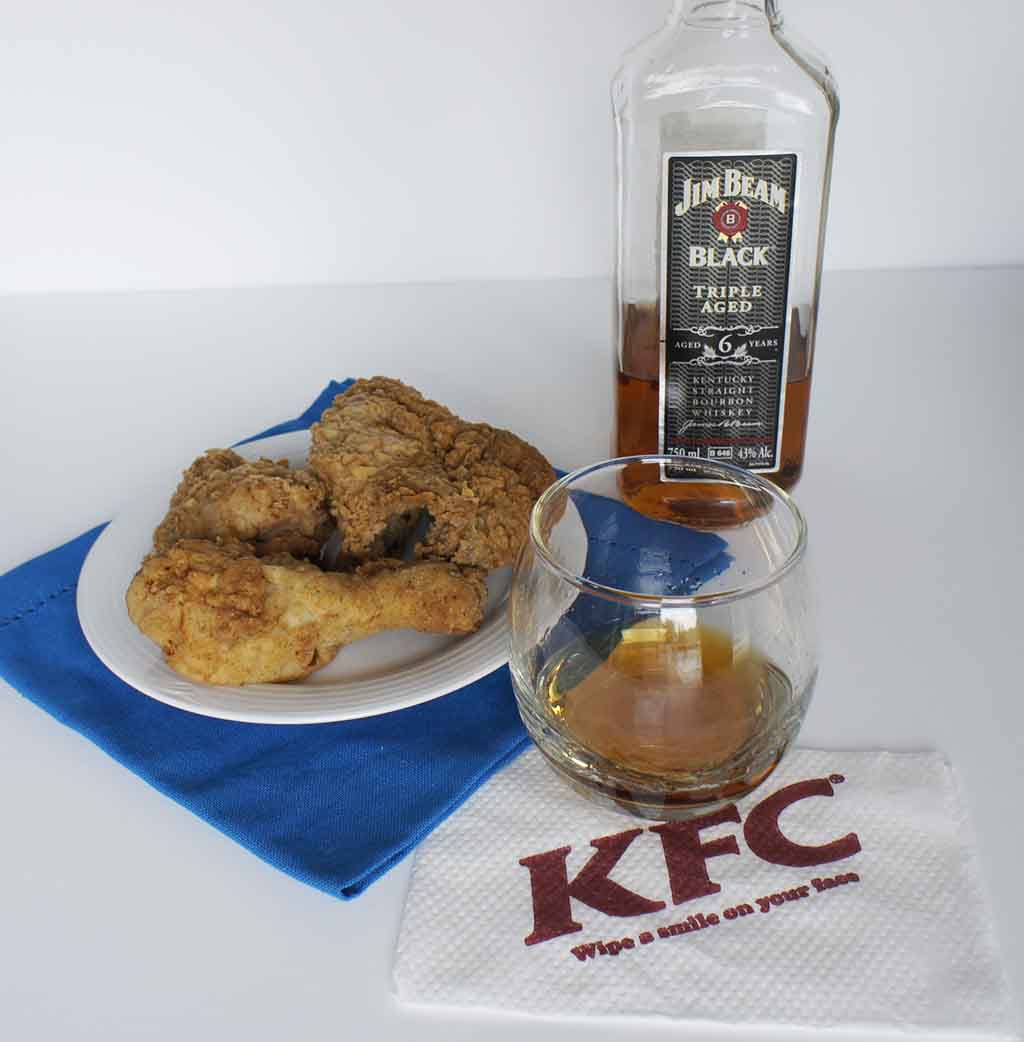 Last year the Jim Beam Black bourbon really impressed us.  It is super affordable and delicious.  Notes of cinnamon spice, cherries, lots of vanilla notes, BBQ some and hints of caramel. This Jim Beam has an unusual freshness and it is smooth and rich.  Pairing the KFC wth the Jim Beam Black bourbon brought out lots of spices in the whiskey, while the chicken became sweeter and creamier. As a result,, I give this pairing a RATING: 3.5/5. 
The spicy Zinger Wings brought out lots of vanilla notes in the bourbon and the pairing was quite nice. Again, this KFC and Bourbon pairing gets a RATING: 3.5/5. 
Elijah Crag and KFC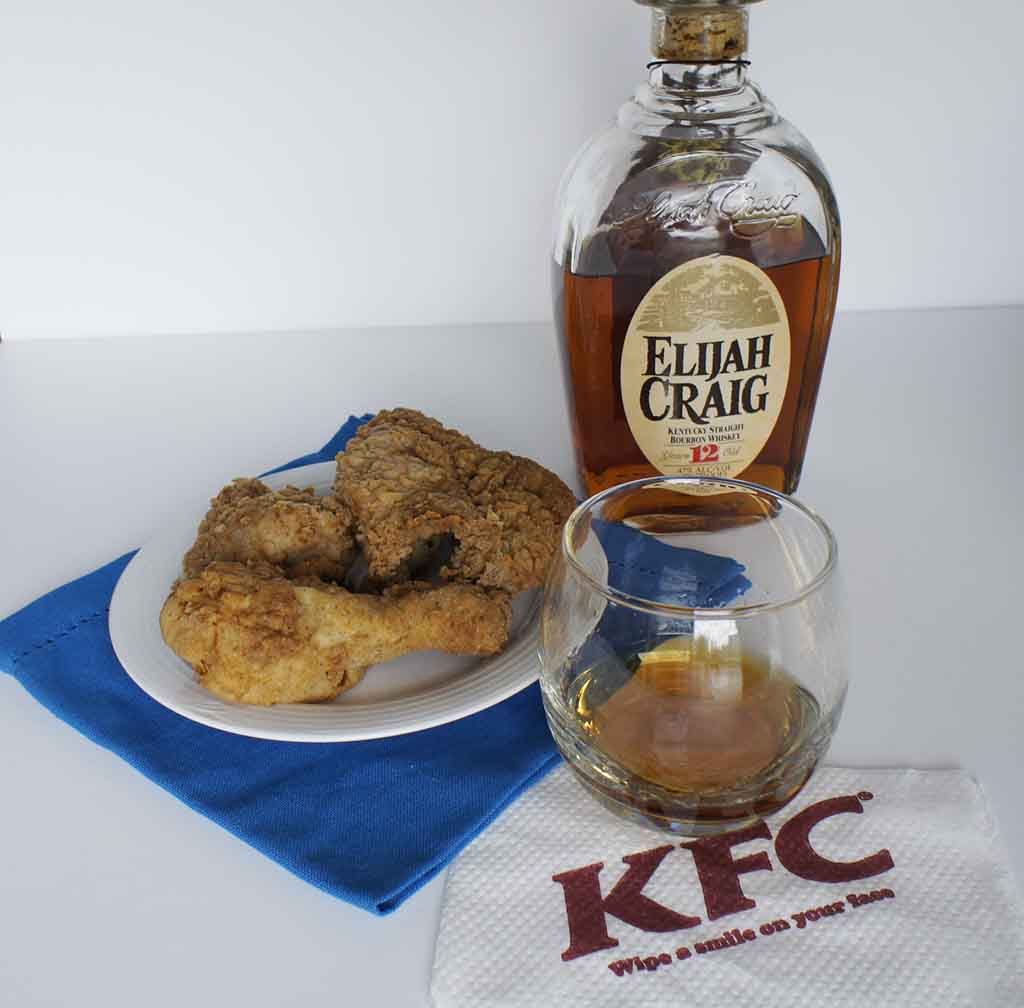 I tasted the Elijah Craig 12 yo bourbon sometime in 2015 and found it quite bold.  My notes captured hints of toasted warm oak spice, pepper and nutmeg, citrus peel, candy apple, toffee, Christmas pudding and cinnamon baked apples with faint bits of Jasmin. Not really a bourbon I would drink on a regular basis.  However, the KFC transformed this whiskey.  It made the whisky creamy and smoothed out the spicy notes.  The chicken became rich and delicious and the pairing was great.  I give this pairing a RATING: 4.5/5.  
And with Zinger Wings?  Not so much.  It did not work. Do not try.  It gets a RATING: 1/5.  
Also Read:  Easy & decadent! Nutella and Cardamom Rum
Jack Daniels Tennesse Whiskey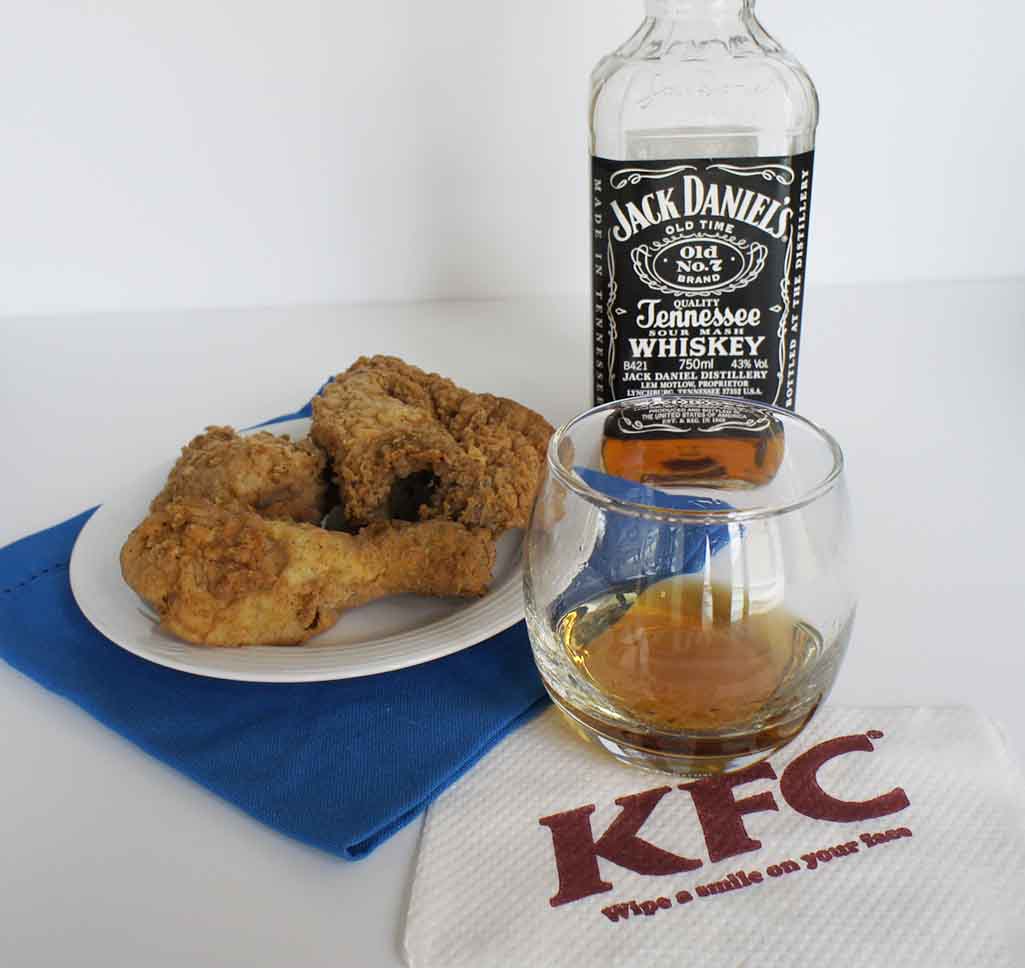 Purely for testing purposes, I grabbed a bottle of Jack Daniel's old No 7 as well.  Just to see if it did anything with the KFC.  My notes for the Jack Daniels include butterscotch sweetness with some honey, vanilla and oak with a hint of smoke., dried fruit and marzipan.
O WOW.  Paired with the KFC chicken, this was great.  Both elements were creamy and rich and the vanilla and charred oak of the Jack Daniels enhanced the chicken. I give this pairing a RATING: 4.5/5.  
Zinger Wings?  No, the wings did nothing for the Tennessee whiskey and visa versa. I give it a RATING: 2/5.  
Conclusion:

 

KFC and Bourbon
The best whiskey to grab when you have KFC is an Elijah Craig or the Jack Daniel's old No 7.  It just creates a comfort food pairing with which you can relax.  
The best whiskey to pair with Zinger Wings was the Makers Mark.  It balanced out the spicy wings very nicely.  
In a pinch, the Jim Beam Black is probably the best all round bourbon whiskey to pair with anything from KFC.   There you go.  Dinner sorted.  😉
What do you think?