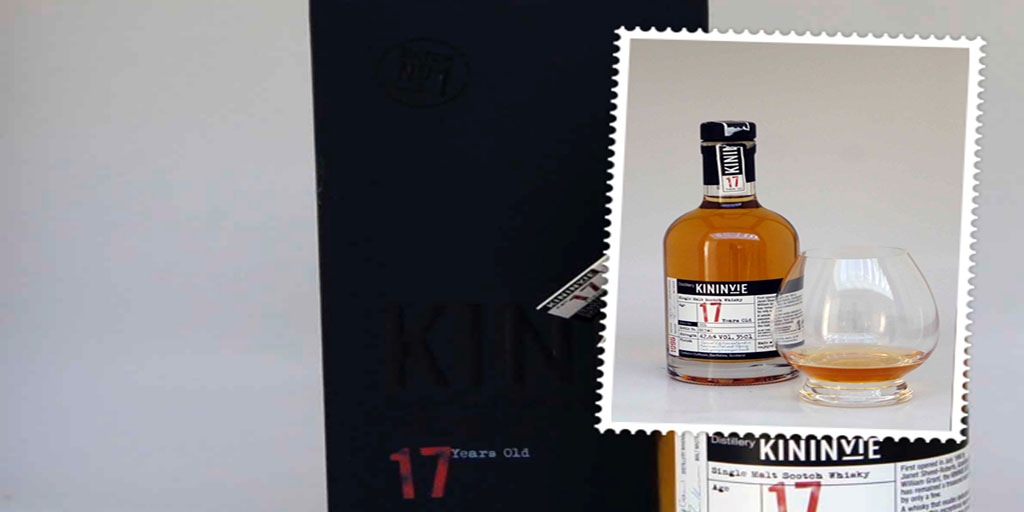 During October 2013, we tasted the William Grant & Sons Monkey Shoulder Vatted Malt expression and loved it.   Monkey Shoulder is a blend of  3 William Grant single malts. We have various bottles from Glenfiddich and The Balvenie, but I have never heard of the Kininvie distillery within the William Grant portfolio.  Lucky for us, on one of John's business trips to London, he found the Kininvie 17 yo at Heathrow Duty Free.
Kininvie is a distillery in Dufftown, which produces single malt Scotch whisky.  The whisky from this distillery is mainly used in William Grant blended whisky brands. Notably their Grants and Clan Macgregor releases. The Kininvie Distillery, one of the youngest distilleries in Scotland, began production on 4 July 1990.
Kininvie is built close to The Balvenie distillery and they share some equipment. Some sources argue Kininvie is not a proper distillery as most of the equipment is owned by Balvenie and that Kininvie is just an extension of Balvenie.

Other people don't agree and argue that they just share the Balvenie Mill. Regardless of this, getting this bottle to complete our collection is great.  Kininvie itself stopped operating in late 2010.
Related Article:  Glenfiddich 12 yo
Tasting notes for the Kininvie 17 yo
ABV: Kininvie 17 yo is matured in 80% American oak and 20% Sherry casks. It has an ABV of 42,6%.  It is (only) a 350 ml bottle unfortunately.
COLOUR: The Kininvie 17 yo is a light golden coloured. It has sort of pale gold colour and is a quite oily.
NOSE: Brings sweet sherry, candied fruit and malty sweetness.  There are notes of toffee, fresh-cut flowers and apples.  The Kininvie 17 yo has a rich and complex nose.  Adding water enhances the floral notes.
PALATE: On the palate, this Kininvie 17 yo is spicier than expected. The sweetness suggested by the nose is a lot less pronounced.  After the sweet nose, we were expecting quite a sweet whisky.  There are notes of wood, fresh fruit and malt.  The toffee and caramel sweetness drifts past in the background.  It is a wonderfully smooth and rich whisky.  The Kininvie 17 yo is chewy and full-bodied.
FINISH: Long and lingering.  It ends in notes of creamy spicy malt.
Consequently we give the Kininvie 17 yo a RATING: EXCELLENT.  A splendid dram!  It is easy to drink, complex and smooth.  I just wish the bottle was bigger.
Also Read: Littlemill 25 yo single malt whisky