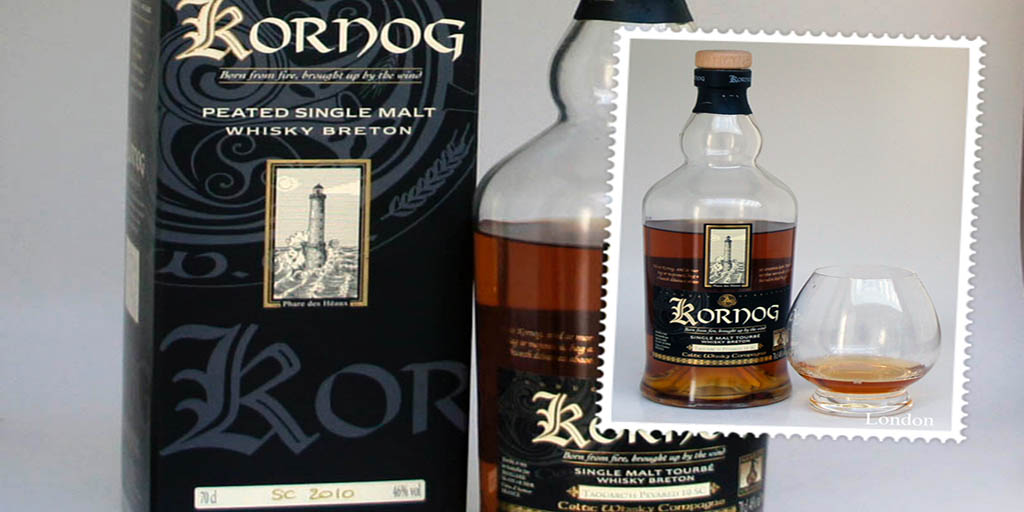 On the windswept Northern coast of French Brittany, the old farm that houses the Glann ar Mor distillery has sustained life and faced the sea elements since around 1668. Closer to Plymouth than to Paris, this small distillery makes peated and unpeated whisky. Follow the road from Paris, through Le Mans, Rennes and Saint-Brieuc until it ends by the coast.
Here you will find the small little distillery established by the Celtic Whisky Compangnie in 1999. Their first unpeated single malt was released in 2008 under the Glann ar Mor label. Glann ar Mor translates from " By the Sea" in Breton language.
Kornog is the peated expression of the distillery. It is peated at about 35 – 40 ppm of phenol. Kornog translate to "West Wind" in Breton. Compared to the Scottish distilleries, Glann ar Mor is a small distillery with only 2 stills. Maturation takes place in ex Sauternes casks and ex Bourbon barrels.

The ambition of Glann ar Mor is to offer the world an authentic whisky in the Celtic tradition with a Breton heart.  I have the limited release Kornog Taouarc'h Pevared 10SC expression.  The peated whisky was aged in ex-Sauternes casks.
Also Read: Top 5 drams for a winters' night
Tasting notes for the Kornog Taouarc'h Pevared 10SC
ABV: The ABV for the Kornog is 46%
COLOUR: A light wheat colour.  This release is bottled without artificial colouring or chill-filtration.
NOSE: Notes of Peat, light smoke, seaweed and salt.  Faint hints of fruity sweetness mixed with oak.
PALATE: Peat, TCP, medicinal notes with soft smoke, oak, seaweed, light peppery taste.  The fruity sweetness from the nose is very faint on the palate and only released when water is added.  The peat is not overwhelming, but nicely balanced with the pepper spice and oak.  The Kornog is a medium bodied whisky and not very complex.
FINISH: The finish is medium length and surprisingly sweet.  The caramel sweetness comes through in the end and balances the peppery notes.
When I first tried the Kornog Taouarc'h Pevared in 2013, I did not like it at all.  I found it rough and the medicinal notes to harsh.  I think over time, my palate matured as I tried more and more peaty whiskies.
Re-tasting this whisky now, I can better appreciate the peaty smoke and as a result, this whisky get a RATING: VERY GOOD.
This is also a very good whisky to pair with mature cheddar cheese such as the Wyke Mature Cheddar or the Etorki Cheese pairing.