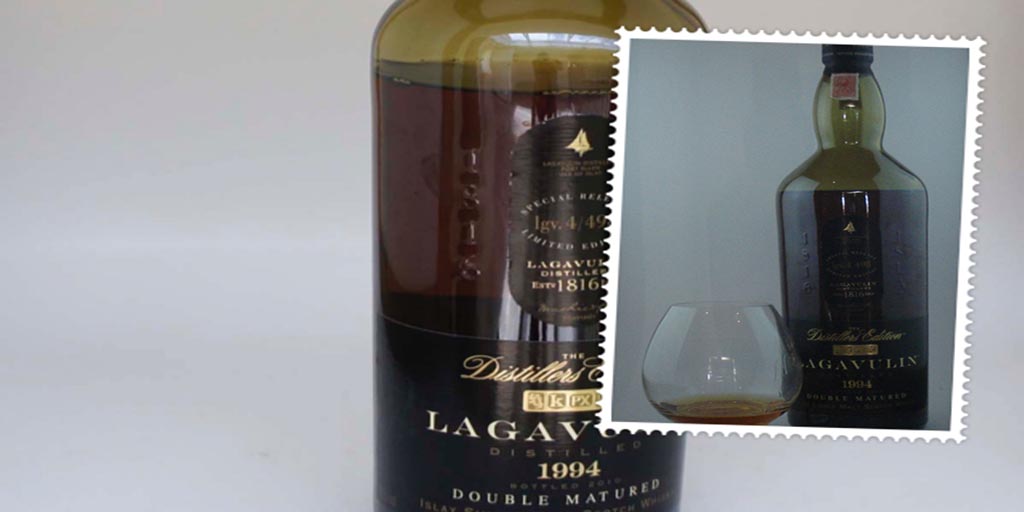 Its been a while since we last posted. Sometimes life gets in the way of good whisky! Much like the Lagavulin Distillers Edition 1994, time has passed so quickly that I cannot recall where we acquired the bottle, or where the original packaging is! Lagavulin single malts are generally amongst the smokiest to be found.
A Scottish Islay whisky, the distillery is one of the three Kildalton distilleries in the south of Islay.  Situated at the picturesque Lagavulin Bay, the distillery officially dates from 1816 when John Jonston and Archibald Campbell constructed two distilleries on site.
Lagavulin claims the slowest distillation with 5 hours for the first distillation and 9 for the second. Lagavulin is produced by United Distillers & Vintners, which in turn is part of the Diageo stable.  The standard Lagavulin single malt is a 16 yo release.  This Lagavulin Distillers Edition is a limited release. Being an Islay whisky it was always going to be bold and peaty.
Related Article:  Laphroaig PX Cask


Tasting notes on Lagavulin Distillers Edition 1994
COLOUR: Quite dark when compared to other Islay whiskies.
NOSE: The first thing that hits you when you when you nose the whisky is the characteristic peat and iodine. Its a big whisky and the peat and iodine is followed by the characteristic smokiness, Lagavulin Distillers Edition is known for. Altogether is just an awesome nose.
PALATE: Tasting the whisky, one is struck at once by burnt oak and smoke. But also the surprising fruitiness which was a bit unexpected. We picked up flavors of raisin, sherry and even vanilla.  The flavors come together beautifully.  This is a dram which my mate Justin, who dislikes Islay and claims he can smell the sardines in them, might well like.
FINISH: The finish… well its wow! It builds slowly to a long tail, absolutely brilliant. This is a great whisky with a nice nose, a wonderful full mouthed fruity palette and a brilliant finish.
As a result, we gave the Lagavulin Distiller Edition 1994 release a RATING: EXCELLENT.  I paired some Maltesers with a Lagavulin in December and it made for an AMAZING pairing.
Also Read: Macallan Fine Oak 15 yo