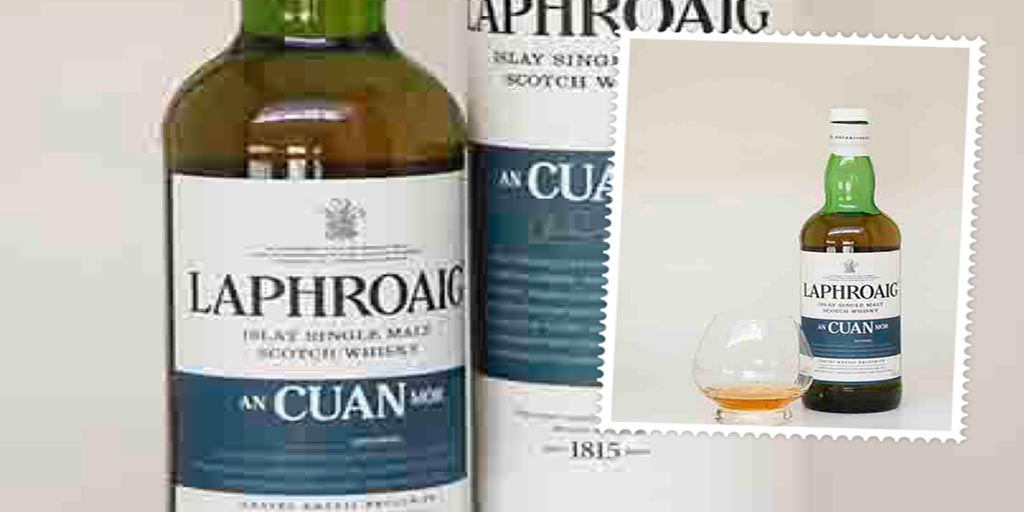 Laphroaig is a single malt Scotch whisky distillery on the beautiful Islay. It is named for the area of land at the head of Loch Laphroaig on the south coast of Islay. Islay's history is a timeline of people who can be traced back to the earliest recorded communities. The granite hills behind Laphroaig are scattered with the Neolithic standing stones that the ancients used to predict the seasons.
Laphroaig even have their own Laphroaig menhir behind the distillery. The Laphroaig distillery was established in 1815 by Donald and Alexander Johnston.
Laphroaig's distinctive flavour comes its proximity to the coast and the high moss content of its peat.  The peat is processed in the distillery's own floor maltings. The Laphroaigh distillery and brand is owned and operated by Beam Suntory, the American subsidiary of Japan's Suntory Holdings.
The Laphroaig An Cuan Mor expression is the final release in a series of three travel retail exclusives. It follows on from the Laphroaig QA Cask and Laphroaig PX Cask. An Cuan Mor means 'The Big Ocean' in Gaelic. This Laphroaig An Cuan Mor is double matured, first in first-fill-only ex-American white oak bourbon barrels, then in European oak casks.

Update:  I see that these releases are not limited to travel retail any more and are now widely available in trade. You can even order it on Master of Malt.
Related Article:  Firstwatch Extra Fine Imported Whisky
Tasting notes on the Laphroaig An Cuan Mor
ABV:  48%.
COLOUR: A dark, almost smoked, amber colour.  It is a thick oily whisky with long fingers in the glass.
NOSE: Brilliantly Islay.  The salt, the sea, the iodine and peat smells pour from the glass.  Classic Laphroaig on the nose.  There are notes of leather that also comes through.  Hints of honey sweetness with bits of spice and rich fruits makes this Laphroaig An Cuan Mor  special.
PALATE: Without water, the palate has notes of spice on the tongue but the peat is mild with sweet hints.  Some medicinal tones in the background.  Adding water makes it surprisingly sweet in addition to the classic peat.  The Laphroaig An Cuan Mor has faint orange notes  with iodine and fruit. A rich smooth whisky.
FINISH: Bold and quite lingering.  It warms the soul like few whiskies do.  The Laphroaig An Cuan Mor ends with notes of oak, spice and honey.
RATING: EXCELLENT.
It is a wonderfully complex whisky that even non peat heads can appreciate.  The peaty Islay style is front and centre in this Laphroaig An Cuan Mor, but it is not overwhelmingly so.  It allows the other aromas and notes to gently come out.  We have also tried some Laphroaig and Stilton Cheese before and it is an amazing combination.
Also Read: Glengoyne 17 yo single malt whisky