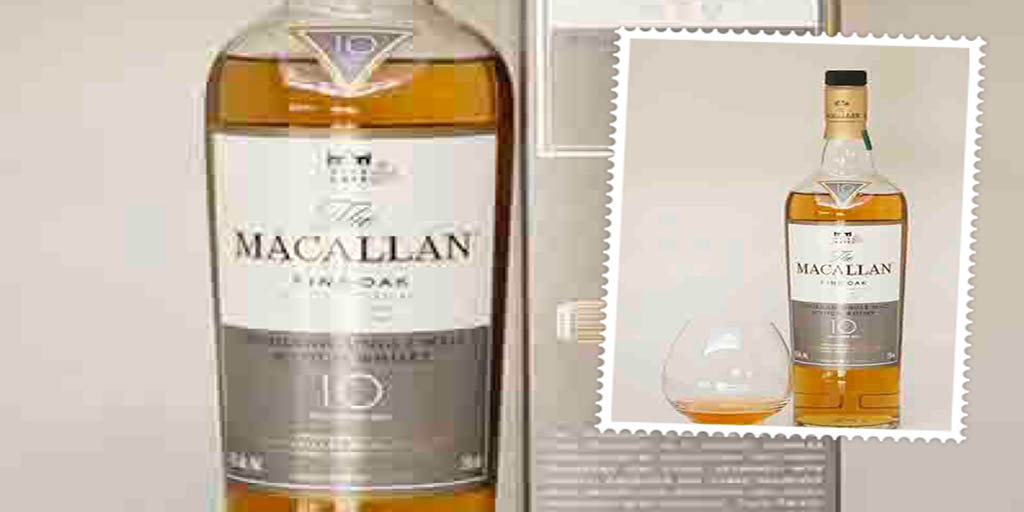 The Macallan distillery is a single malt Scotch whisky distillery in Craigellachie, Moray. The Macallan Distillers Ltd, is a wholly owned subsidiary of the Edrington Group. Even though Macallan is located right in the middle of the Speyside region, it's not labeled as such. Craigellachie falls outside of the defined "Speyside ward" boundaries as defined by the Scotch Whisky Regulations. Our bottle of The Macallan 10 yo Fine Oak denotes that it is a Highland Single Malt.  The name Macallan is most likely derived from two Gaelic words, 'magh' meaning a fertile piece of ground and 'ellan', meaning 'of St Fillan'.
He was an Irish-born monk who traveled widely in Scotland spreading Christianity during the eighth century.  The river Spey, one of Scotland's most famous salmon rivers, borders the Macallan Estate to the south and south-east. The Macallan Estate lies in an area of great natural beauty. Originally, The Macallan releases were matured only in oak sherry casks brought to the distillery from Jerez, Spain.
Beginning in 2004, The Macallan introduced a new main product, the Fine Oak series. These whiskies were aged in bourbon oak casks as well as sherry ones. This range has been around for a few years now and seems to have weathered the storm it caused when it was first released.

According to John Hansell quoted in the Malt Advocate Magazine, "The Fine Oak range is…more approachable, and has the potential to be embraced by a greater percentage of whisky drinkers….cutting back on the sherry reveals more of the Macallan spirit, which is first-class."
Related Article:  Macallan 12 yo
Tasting notes for the Macallan 10 yo Fine Oak
COLOUR: The Macallan 10 yo has a light golden colour and is a  oily whisky.  The official colour description is 'pale straw'.  The long fingers on the inside of the glass points to a lot of potential.
ABV:  43%.
NOSE: The first impression upon nosing the whisky is honey sweetness, oak and spice.  There are notes of florals and fruit and faint hints of cereal and barley in the background.  The Macallan 10 yo Fine Oak nose is complex and crisp.
PALATE: Quite spicy without adding water.  There are hints of vanilla and caramel.  Water smooths the spirit and releases soft notes of butter and florals.  The Macallan 10 yo has an abundance of oak notes mixed with flowers and fruit.  This is a delicate whisky and the palate is not too complex. The nose hinted at a bit more complexity and body.
FINISH: The Macallan 10 yo has a dry medium length finish which ends in notes of oak and leather.  There are hints of spice at the end.
We give the Macallan 10 yo Fine Oak a RATING: VERY GOOD.  The nose promised more than what the palate delivered.  Still, an easy drinking whisky and a great addition to our collection.  Which Macallan is your favourite?
Also Read: Macallan Fine Oak 15 yo Single malt whisky