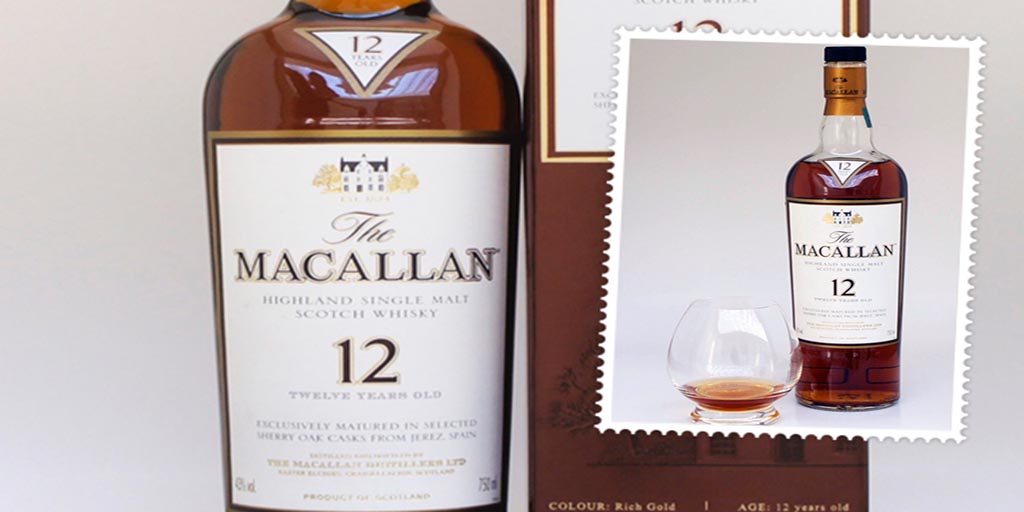 The Macallan has managed to position their whisky in the premium whisky category. It has not been without controversy especially around their antique collection. The Macallan holds the Guinness World Record for the most expensive whisky ever sold at auction. However, if there is one thing that we have learnt during our tasting sessions over the years, it is that expensive whisky does not necessarily equate to great whisky. Some of the best whiskies in our collection are in the more affordable range. Examples such as Ballantine's Finest, The Black Grouse and South Africa's very own Bain's Cape Mountain whisky comfortably stand alongside more expensive releases.
We have enjoyed some of the more affordable whiskies of late and it is time for a change.  John received this Macallan 12 yo in December 2013 for Sinterklaas.  Our Macallan 12 yo Sherry Cask is not the most expensive whisky but it carries a significant premium over many other 12 yo whiskies.
This particular expression has since been discontinued, so we were keen to try it. The Macallan distillery is a single malt Scotch whisky distillery in Craigellachie, Moray. The river Spey, one of Scotland's most famous rivers, borders the estate to the south and southeast.


Even though Macallan is located right in the middle of the Speyside region, it's not labeled as such. Under the Scotch Whisky Regulations, the "Speyside" designation can only be used by distilleries in certain wards in the traditional Speyside region. Craigellachie falls outside of these boundaries. Our bottle of The Macallan 12 yo denotes that it is a Highland Single Malt. The Macallan Distillers Ltd, is a wholly owned subsidiary of the Edrington Group which purchased the brand from Highland Distillers in 1999.
Related Article: Glenfarclas 12 yo
Tasting notes for the Macallan 12 yo
ABV: 43%.
COLOUR: It has spent lots of time exclusively maturing in Jerez Sherry Oak casks and this probably explains the very dark color.  The colour is almost a red gold and it is easily one of the darker whiskies in our collection.  The whisky is not very oily.
NOSE: The immediate sherried sweetness that you would expect from a whisky aged in a Sherry cask.  There are fresh fruits and some flowers on the nose. The sweetness has little hints of vanilla in the background. It is not a very complex nose. Adding a drop or two of water opens this Macallan 12 yo and brings more fresh fruit and flowers.
PALATE: It is quite a smooth whisky and the first tasting brings spices.  This is followed by raisins, oak and the sherry sweetness. It leaves a spicy taste on the palette. There are notes of marmalade and dried fruits. Again, the taste of this Macallan 12 yo is not very complex, but it is an easy drinking whisky.
FINISH: The whisky is quite warming with a medium finish.  This Macallan 12 yo finishes in notes of condensed milk and spice, particularly ginger and hints of black pepper.
In the end we awarded it a  RATING:  VERY GOOD.
This is a nice whisky to add to a collection, but there are other 12 yo that may prove better value for money. In some ways it is a perplexing whisky. I suspect that in time it grows on you. The Whisky Bible scores this Macallan 12 yo Sherry Cask at 93 and calls it almost flawless. We did not rate it as highly, but it's by no means a bad whisky.
Related Article: Macallan 10yo Fine Oak