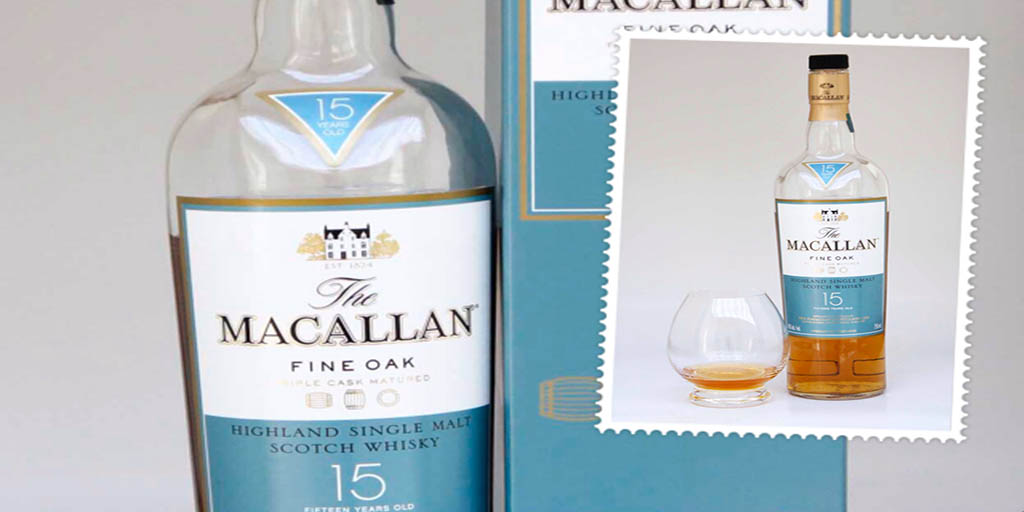 A lot has been written about the Macallan distillery and brand. Some people love it. Some people hate it. Many stories about it exist. Some true, some not quite. It often makes the 'Most Expensive Whisky' lists. If anything, it is a polarizing whisky and distillery. John loves it. I find it pretentious and old-fashioned. Today I try the Macallan Fine Oak 15 yo.
Macallan started life as Elchies Distillery. The name changed and it expanded as demand for the product soared.   Over time, the Macallan had become very sought after. The Macallan is a wholly owned subsidiary of the Edrington Group.
You can read more about the history of Macallan here.  Regardless of all the controversy surrounding the brand, Macallan is situated in a beautiful part of Scotland. Next to the River Spey on the Macallan Estate, it is not too far from Glenrothes.
This week we try the Macallan Fine Oak 15 yo. The Macallan Fine Oak 15 yo release has been discontinued. Originally, The Macallan was matured only in oak sherry casks. The 'Fine Oak' series was launched in 2004. Whisky from this series was aged in bourbon oak casks as well as sherry ones. We have had it for quite a while, we just never to around to writing about it.

Related Article:Dalwhinnie 15 yo
Tasting notes for the Macallan Fine Oak 15 yo
ABV: The Macallan Fine Oak 15 yo is bottled at an ABV of 43%.
COLOUR: It is a beautiful golden colour. A rich straw.
NOSE: Oak and orange blossom sweetness. It is rich and rewarding and invites you to dive in.  There are faint hints of orange peel and honey.
PALATE: Without water, the palate has notes of florals, barley, vanilla sweetness mixed with some pepper spice and nutmeg.  Adding water, smooths out the spiciness, but takes away some of the sweetness.  Faint hints of orange blossom and fruit float about.  I was expecting a lot more bourbon notes on the palate, but the bourbon notes are a very faint part of the vanilla sweetness.
FINISH: Medium length and end in notes of oak, orange and spice.
I give this Macallan Fine Oak 15 yo a RATING: EXCELLENT.
This is not the most complex of drams.  I was expecting a bit more of the bourbon complexity.  But it is a great all round, well-balanced smooth whisky.  One of the few Macallan's that I actually like.  Yes, this one is worth the hype!
Also read: The Macallan 12 yo