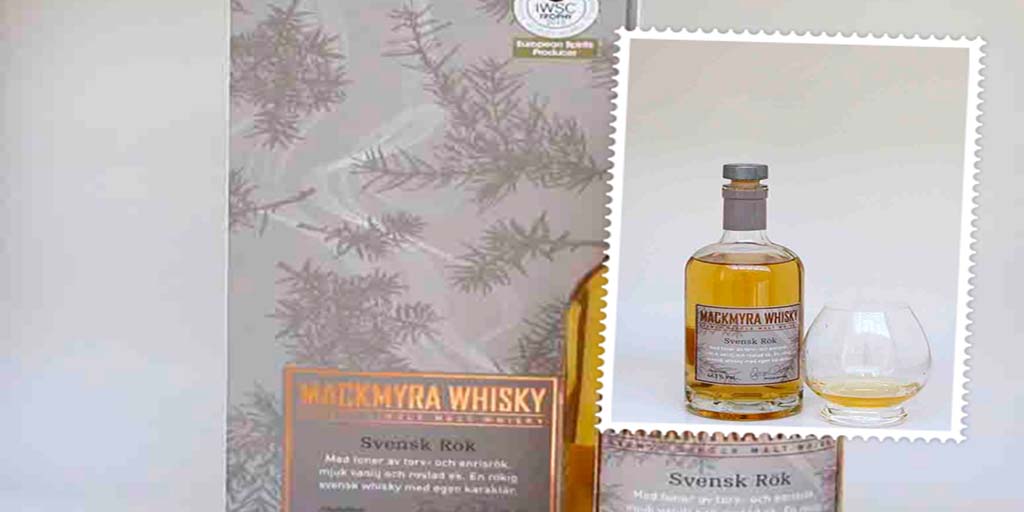 Since they launched their first limited edition around 2002, Mackmyra has consistently been producing amazing whisky. We have tried their Mackmyra First Edition and loved it. We were very happy when we got our hands on a Svensk Rok at Wild About Whisky.
Introduced in 2013, Svensk Rok (Swedish Smoke) is a single malt whisky and the first commercially available peated expression in the standard Mackmyra range.  Mackmyra age their whisky mainly in new Swedish oak. The Swedish oak grows slowly in the harsh climate and gives the whisky a harsher flavor than American oak.
The whisky is matured 50 meters below ground in the disused Bodas Mines.  In Sweden juniper has been used for generations to season and flavor food. The smoky notes from the Svensk Rok are from using moss and juniper wood in the process.
Together, these flavors unite in a uniquely Swedish flavor. Swedish Smoke is the only smoky single malt whisky made on Swedish ingredients only.


Related Article: Teerenpeli Single Malt Whisky
Tasting notes on the Mackmyra Svensk Rok
ABV: The Mackmyra Svensk Rok has an ABV of 46.1%.
COLOUR:  A golden wheat colour.  It is lighter than most of the whiskies that we have.  it is not a very oily whisky.
NOSE: when first opening the bottle, is lovely.  Smoke, oak, cereals, florals and hints of sweetness. There are bits of citrus and juniper drifting round. The nose is delicate and complex.  After adding some water, peat appears on the nose and the more earthly notes come to the fore.
PALATE: Without water, the palate has mild spice notes with vanilla and butterscotch.  The Mackmyra Svensk Rok has a light mouth feel and is a medium bodied whisky. Adding water smooths out the whisky and releases notes of smoke, fruit and florals.  The water enhances the oak and the peat in the Mackmyra Svensk Rok.
FINISH: It has quite a short finish leaving us wishing for more.  It ends in notes of oak and citrus.  This is a really enjoyable dram.
I give the Mackmyra Svensk Rok a RATING: EXCELLENT.
This Mackmyra Svensk Rok is refreshingly different and something that Mackmyra should be proud of.  It is well constructed and very Swedish.  It made me think of pine forests, snow and Scandinavian structure when I drink this.  I bought this bottle from Wild About Whisky in Dullstroom.  Hopefully there are still a few in stock as these are a must in any whisky collection.  This interesting release is readily available in the UK through Master of Malt.
Related Article: Mackmyra Svensk Rok New Addition