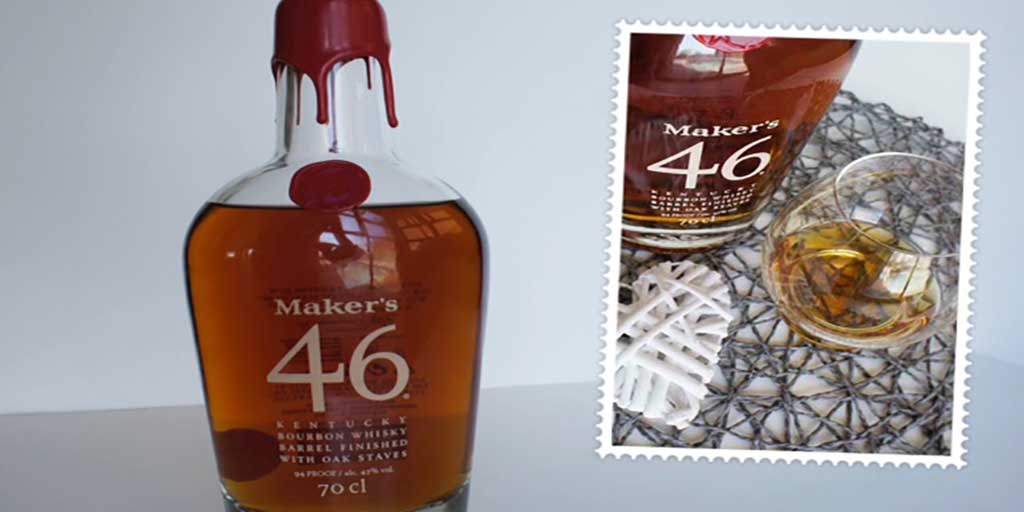 The blood red wax top gives it away.  There is no mistaking a Maker's Mark.  The golden liquid on the inside is just as distinct as the  red wax seal is.  John and I love our bottle of Maker's Mark.  It needs replacing more frequently than any other of our bourbons.  Both of us have been lusting after the Maker's 46 for some time.  On one of John's frequent travels, he managed to get his hands on this release.    Not long after, I heard a bird whisper that the Maker's 46 will be available in SA from October, so we don't need to treat this bottle with care.  We will be able to replace it again without to much drama.
All this leads me to the question… what is the difference between the "standard" Maker's Mark and the Maker's 46.  Maker's 46 is the first new expression to Maker's Mark range since the 50's.  The goal was to take the standard release and ad something more spicy.   

Maker's 46 starts off as standard Maker's Mark. Then, heavily seared French oak staves are placed in just-emptied standard Maker's Mark barrels, which are then refilled and returned to the warehouses to finish aging.  The '46 is because after many many different experiments to find what they were looking for, experiment No. 46 was just perfect. 
Also Read: Woodford Reserve Double Oaked
The Maker's 46 is aged longer than the standard release so the wood has a longer time to impact on the bourbon. 
I found this interesting video by Bill Samuels explaining how they developed the Maker's 46. 
Tasting notes for the Maker's 46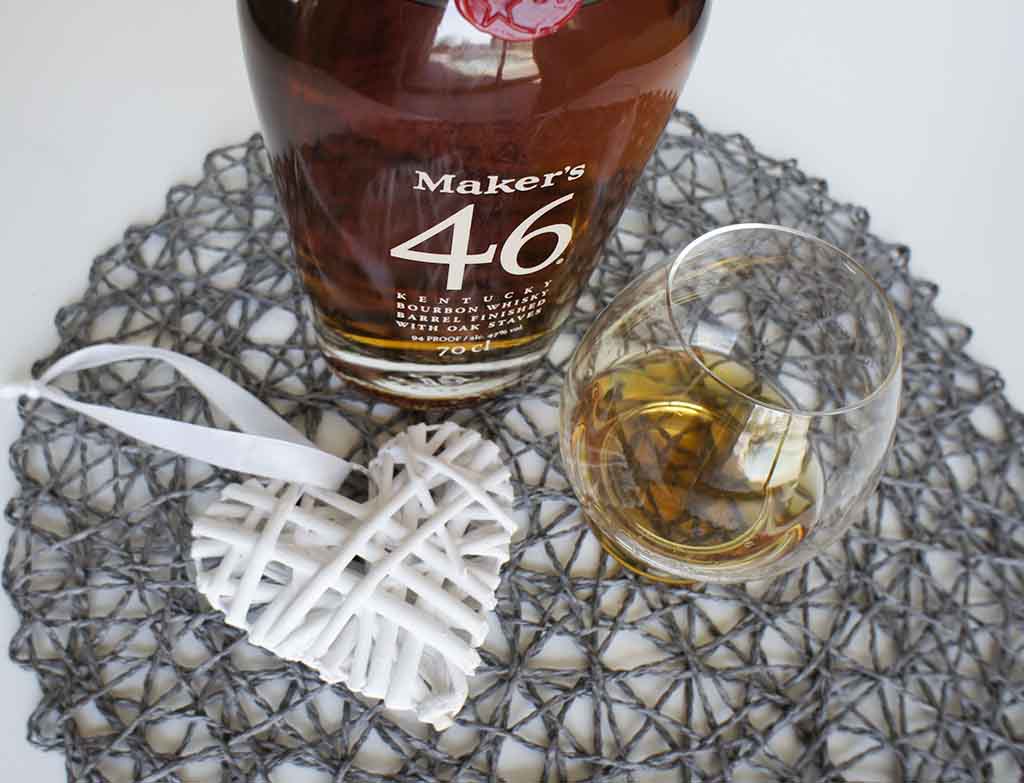 ABV: 47%
COLOUR: Dark polished copper with red notes.
NOSE: Rich and sweet with heaps of plump maraschino cherries, oak, vanilla and caramel. There are hints of honey and buttery cinnamon toast.
PALATE: Rich and creamy.  There are notes of oak, vanilla cinnamon, all perfectly balanced.  The Maker's 46 has a big mouthfeel. It is smooth like creamed honey. After the second sip butter toffee, toast and hints of pepper shows up. Water softens the heat a bit, but it is easy enough to drink without water.
FINISH: Long and lingering and ends in notes of caramel, pepper and vanilla
RATING: EXCELLENT
The Maker's 46 is bigger and bolder than the traditional Maker's Mark.  It has more spices and an oilier mouthfeel. It is easy drinking and a yummy glass of bourbon.  Our bottle is nearly finished and will probably not see the end of September.  Fitting as September is Bourbon Heritage Month.  Roll on October so that I can replace this bottle.  
The Maker's Mark website has some AMAZING recipes on.  How good does the Mint Julep Lamb Chops look?
Also Read: Jack Daniel's Single Barrel whiskey