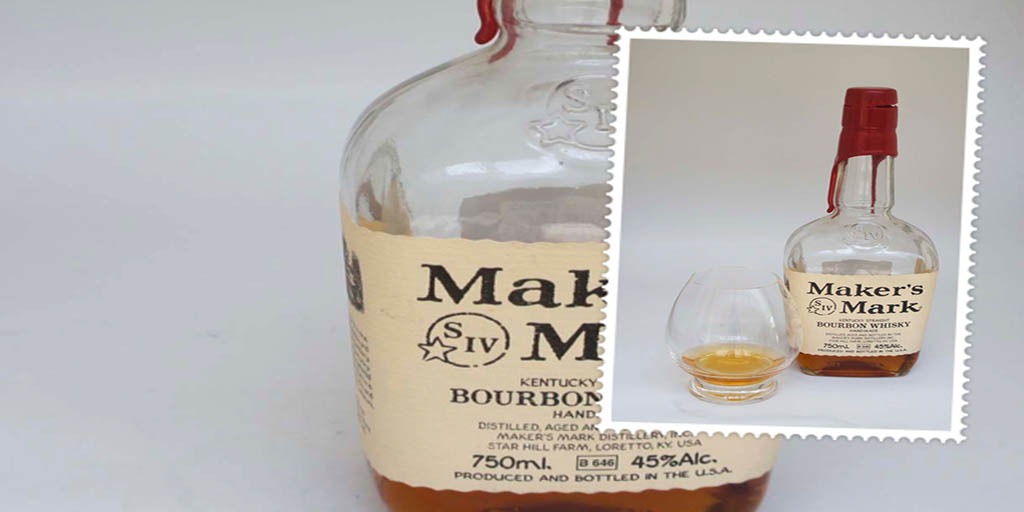 This was probably one of the first Bourbons we bought, the brand that hooked us onto bourbon. Most of our tasting experience focused on single malt and bended whisky. But in 2013, we read an article about the Maker's Mark decision to water down their bourbon. We saw a "full strength" bottle at WhiskyBrother in Hydepark and grabbed it. We had to see for ourselves what the issue was about.  Shortly after this, the decision was reversed and many people suspected that it was a marketing ploy.
Regardless of the reason behind the decision, we not only fell in love with this Kentucky Bourbon, but with bourbon as a whole.   Now we regularly add a bottle of bourbon to our collection.  We have regularly tweeted about pairing Maker's Mark with our Big Green Egg braai (BBQ) but never blogged our tasting notes. So, it is our first Bourbon for 2016!

Maker's Mark is distilled in Loretto, Kentucky by Beam Suntory.   Production of Maker's Mark started in 1954, after T. William "Bill" Samuels Sr., purchased the distillery known as Burks' Distillery.   During the planning phase of Maker's Mark, Samuels supposedly developed seven different mash bills for the new bourbon.
Also Read: Tamdhu 10 yo single malt whisky
Rather than going through the costly and time-consuming process of distilling the varying recipes, he chose to bake loaves of bread with the 7 different grain recipes. He chose the most delicious tasting loaf. It was a loaf with a high barley and red winter wheat content and no rye.
Samuels also received help and recipes from St Pappy Van Winkle, whose distillery produced the wheated Old Fitzgerald and W. L. Weller bourbons.  The first bottle of Maker's Mark was bottled in 1958. T. William Samuels' wife, Marjorie "Margie" Samuels, gave the whisky its name.
She drew the now classic label, and came up with the red wax dipping top that gives the bottle its distinctive look.  Maker's Mark has no age statement. It is bottled when the tasters agree that it is ready, roughly around 6 yo.
Also Read: National Bourbon Day: My top 6 Bourbons
Tasting notes for Maker's Mark Bourbon
ABV: Maker's Mark has an ABV of 45%.
COLOUR: A light golden copper.  It seems lighter than the other bourbons in our collection.
NOSE:  Not as sweet as our other bourbons. There are notes of condensed milk, cherries, brandied fruit, toasted wood and sweet vanilla spice.  Adding a few drops of water brings out more spice and woody notes on the nose.
PALATE: Without water, the palate is full of vanilla spice followed by sweet cherries and fresh fruit.  This is followed by a layer of cinnamon spice and toasted oak.  Maker's Mark is wonderfully smooth and the flavour develops on the second and third sips.  It is an amazing balance between the vanilla sweetness, the cinnamon toasted oak spicy notes and the hints of fruit.  Water smooths out the bourbon even more and makes it an easy drinking dram.
FINISH:  Long with hints of sweetness, vanilla and caramel.
As a result, we give the Maker's Mark Bourbon a RATING: EXCELLENT.
It is a great introduction to bourbon for someone who does not know bourbon and a great base for cocktails.  It is so easy drinking, you can spend a whole evening with it and not be tired of its company.  I have also tasted the Maker's 46 release from this distillery.  See my thoughts on this great Bourbon HERE.
I paired this bourbon with some KFC to see how it would work.  See which bourbon paired best with the fried chicken.
Related Article: Bulleit Bourbon