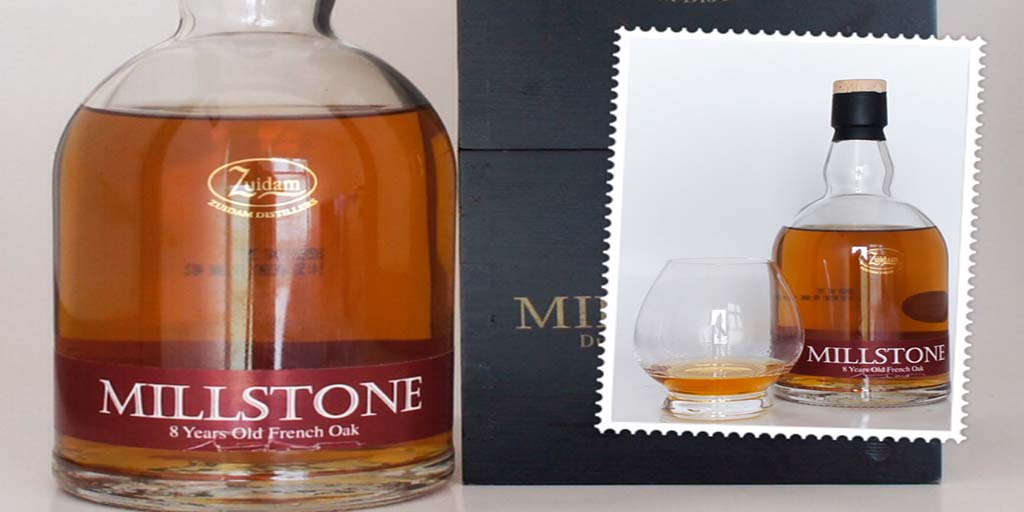 Finding international single malt whiskies is always great but more so when the whisky is from a country that we have a special relationship with. One of these special finds is from the Netherlands. Jeannette is from a Dutch background and when we saw this Millstone 8 yo French Oak Dutch Single Malt Whisky, we had to get it. Millstone whisky is hand crafted in a traditional distillery owned and operated by the Zuidam Family. Zuidam Distillers was started back in 1975 by Fred van Zuidam.
He build a small distillery of 300 square meters with 1 small copper still and 1 small production line.  To keep in the best of Dutch tradition, windmills are used to mill the malted barley. This helps in preserving the world-famous heritage of windmills that dot the Dutch countryside.
This tradition does not only help in preserving the windmills, but due to the slow milling speed, keep the grain temperature stable and helps keep the wonderful aroma's. After a careful double distillation process the whisky is aged in small barrels. Zuidam uses new barrels of American white oak as well as barrels that have previously held Bourbon and Olorosso Sherry.

Zuidam Distillers still creates their products in the traditional artisan way. All ingredients are 100% natural.  Ingredients are carefully selected and processed into products that they can be proud of. The distillery has no less than 600 different product lines, including many liqueurs  and gins. All recipes are designed by father Fred and son Patrick van Zuidam.
Related Article:  Sullivan's Cove Bourbon Cask
Millstone 8 yo French Oak from the Netherlands



We first tried the Millstone 8 yo during 2013. It is packaged in a wooden black box with the distillery name in gold. We have bottle no 202 from Cask number 355 bottled during June 2009.
ABV: The whisky is bottled at an ABV of 40%.
COLOUR: The Millstone 8 yo is a beautiful light golden colour.
NOSE: Woody spices with subtle hints of fresh flowers.  The Millstone 8 yo has a very light and delicate nose.   There are hints of cinnamon, cloves and pepper.
PALATE: After adding a drop or 2 of water, the palate brings subtle aromas of spice, oak, ginger and barley.  There are notes of nutmeg and pepper and a biscuit sweetness in the background.  Also hints of raisins and fresh fruit.
FINISH: Medium length and not very complex.  Hints of salt, spice and fresh fruit intermingle in the finish.
Our rating for the Dutch Millstone 8 yo Single Malt is VERY GOOD.  This is a light fragrant whisky perfect for a late evening drink.  Not too heavy and complex but with enough spice and oak.  A wonderful whisky for an 8 yo.
We would definitely try to get more of these Millstone whiskies in our collection.  We tried the Millstone 8 yo French Oak with different cheeses.  Both the Gouda with Cumin pairing and the Mature Gouda pairing worked wonderfully with this Dutch whisky.
Also Read: Chivas Regal Extra Blended whisky