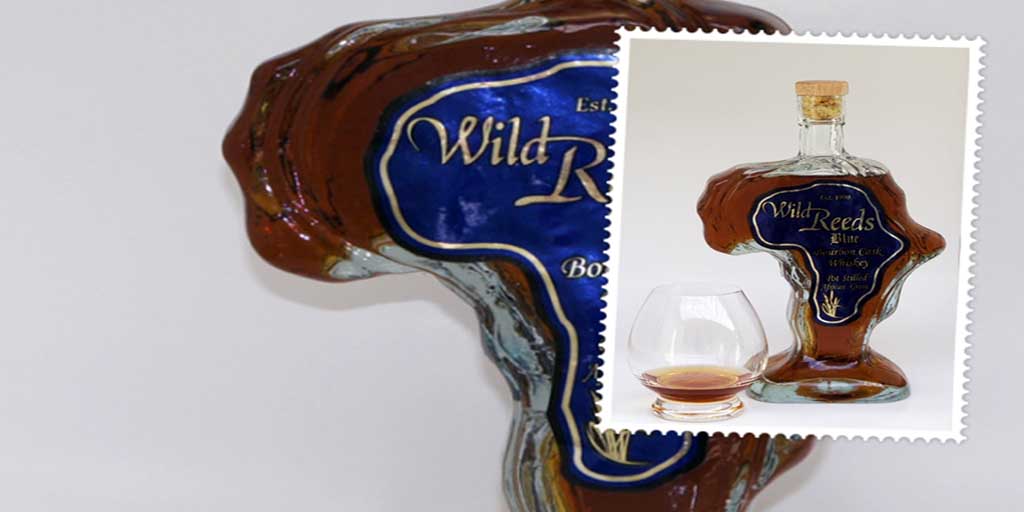 One of the great things about collecting whisky is that you never know what you may find such as this bottle of Wild Reeds Whiskey. Recently Jeannette and I stopped at our local Pick n Pay liquor store to replenish our bottle of sherry. We took a quick glance at their whiskies to see if they had anything interesting.
Our eye's fell upon a rather interestingly shaped bottle, which on closer inspection, turned out to be a Wild Reeds Bourbon Cask Whiskey. It's produced by Schoonspruit Distillers in the North-West Province of South Africa. We had never heard of either the distiller, nor of a local Bourbon Cask whiskey, so we immediately purchased a bottle.
New Arrival: Wild Reeds Whiskey Bourbon Cask
We are very familiar with the award-winning  James Sedgewick distillery in the Cape and have plans to visit the Draymans distillery in Pretoria soon, so finding a Bourbon from the Northwest region of South Africa, particularly Ventersdorp, was quite a surprise.  Shaped like the African continent, the Wild Reeds Whisky bottle is hand-made from recycled glass.
Bottled at 43% ABV, the label says that the spirit, pot stilled, charcoal filtered and aged in Oak Bourbon casks. This Wild Reeds whiskey was aged for between three and five years. The tasting notes includes toasted oak with intense vanilla and coffee aromas.

Having encountered such an unusual find, we searched for previous reviews online. We managed to find a review here on this whiskey, but it was not very flattering, to say the least. This part of South Africa is not known for whiskey production, but the Schoonspruit distillery appears to have operated since 1990.
The business is family owned, but seems to have made a name in maize farming. There are many things about this whiskey that makes us apprehensive, but that is the fun of collecting whiskey! In time we will taste and blog our impressions about the Wild Reeds Blue Bourbon cask whiskey.
We have also managed to add another whiskey from this distillery to our collection, the 2010 Single Barrel Schoonspruit Whiskey.  You can read about this interesting whiskey here.  Have you tried these whiskies yet and if you have what were your impressions?
Update: We got around to tasting this South African Wild Reeds Whiskey Bourbon Cask and our tasting notes and blog post are captured here.
Also Read:  Three Ships PX Cask