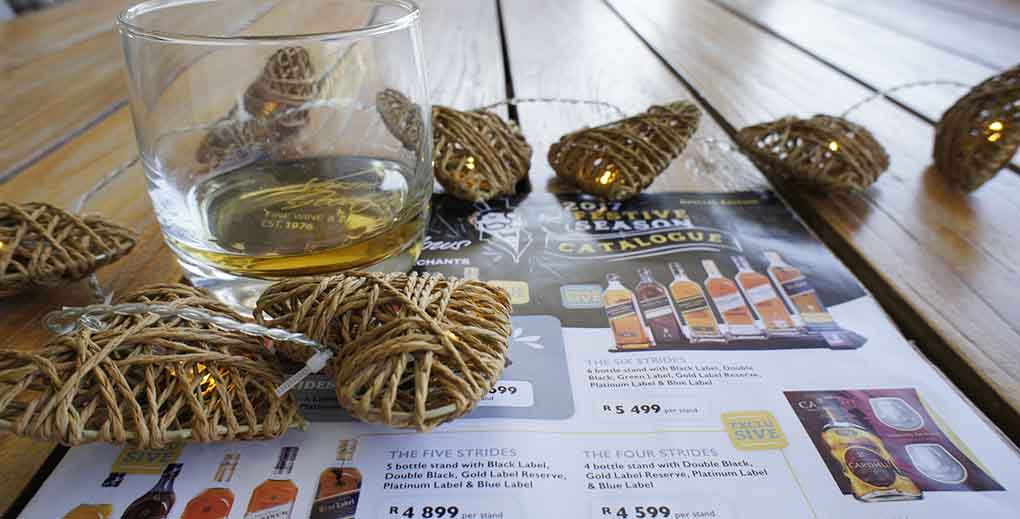 By the beginning of November all the various Festive Season Catalogues come out and it makes for fun reading. My personal favourite is the Norman Goodfellows Festive Catalogue and this year is no exception. The Festive Catalogue is bursting with amazing gift packs and specials. An overwhelming variety to warm any wine and spirit lovers' heart.
There are amazing gift ideas with value added items to make the product even more special. Going through the Norman Goodfellows Festive Season catalogue, I drafted my top pick of items that I would love to receive as a gift. (hint hint darling husband…)
Norman Goodfellows Festive Season Catalogue Top Whisky Picks
1. Jack Daniel's Single Barrel Gift Pack
First up from the Norman Goodfellows Festive Season catalogue – A release that took my breath away! I tasted this Jack Daniel's Single Barrel during May this year and just loved it. My bottle did not last very long as it is soo smooth and easy drinking. The barrels for this is matured in toasted and charred new white American Oak and stored in the upper most part of the warehouse.
Here the dramatic changes in temperature causes the taste to develop differently. For the Festive season, you can get a bottle of this excellent Tennessee Whiskey and a Jeff Arnett Master Distiller Tasting glass. This whisky has notes of ripe red berries, caramel, vanilla, cereal and coffee balanced with cinnamon and a pepper and citrus finish. Enchanting!  And it retails for only R499!
2 Kilchoman Sautrness Cask Matured
I love the innovation of whisky matured in non-traditional spirit casks. One of the great releases I tried in 2016 was the Tullibardine Sauternes Finish and when I saw that Kilchoman brought out a Sauternes Cask Matured release, it had to make the list. Distilled in 2011 and bottled in 2016, this Limited Edition Islay dram is something a bit different.
Matured for 5 years in Sauternes Casks the marine peat smoke yumminess is backed up by huge wine-cask-sweetness. How delicious does this sounds. This special release retails for R1349. Not even that expensive for such an innovative product.
3 Johnnie Walker 18 YO –2 glass pack  
The beautiful artwork on the packaging immediately intrigued me. Johnnie Walker collaborated with US artist Tristan Easton to create a special design for each of its trademark releases. Eaton's designs were inspired by the heritage of Johnnie Walker and the flavours and aromas found in the specific whisky.
The 18 yo Johnnie Walker is made with up to 18 different whiskies including Cardhu, Glen Elgin, Auchroisk and Blair Athol. The beautiful pack comes with 2 glasses and retails for R1099. The Johnnie Walker 18 yo is a rebrand of Johnnie Walker Platinum.
4 Macallan 12 YO Fine Oak  
It was the colour of this Macallan 12 yo packaging that caught my eye. Not only is this expression from the Macallan Fine Oak range delicious, it looks beautiful as well. The 12 yo was matured in a selection of American and European oak casks seasoned with Sherry, as well as American oak casks seasoned with bourbon.
This release is bursting with nectarines, plump raisins, sugared almonds, spicy oak, honey and vanilla toffee.  The pack comes with 2 branded glasses and retails for R599. That is an affordable premium gift for the whisky connoisseur in your life.
5 Ledaig 19 yo Marsala Finish  
Another interesting Cask finish that sounds captivating that I found in the Norman Goodfellows Festive Season Catalogue. The 19 yo Marsala Finish from Ledaig is not something you see every day. Well-peated single malt from the Toberymory distillery finished in casks that previously held Marsala wine.
Tasting notes include sweet peat smoke salt, blackberry, freshly baked malt biscuits, sherried orange peels, salted caramel and dark chocolate. This Ledaig 19 yo retails for R 2090 in the Norman Goodfellows Festive Catalogue.
6 Highland Park   12 yo with 2 glasses 
I love whisky that comes with its own branded glasses. It makes the drinking experience more special when you can drink it from beautiful glassware. How delicious does this Highland Park 12 yo sound. It has notes of heather-honey, peaty smokiness, flowers and fresh cut grass balanced with cream, grilled oranges and toast. For the lover of bold Scottish Highland drams. A classic that retail for only R599.


Also Read: Top 5 Blends 2017 under R700
Norman Goodfellows Festive Season Catalogue Top Spirit Picks
1 Moet & Chandon champagne – 6 pack
The first champagne offer I saw in the Norman Goodfellows Festive Season Catelogue  is this one!  Moët et Chandon has been creating premium champagne from around 1743. That is a long time to perfect your craft. No wonder it is one of the best known luxury champagne brands in the world. And this special is REALLY special.  R2 694 for 6 bottles and 6 glasses…. A VERY good price.
2 Ciroc Mango Flavoured Vodka  
Many years ago I traveled through Russia and tasted proper vodka. Since then I have been hesitant to try vodka available locally as it never lives up to my Russian experience. That was until I tasted the Ciroc Mango flavoured vodka. Oh my word… This Ciroc Mango is going to be the flavor of summer.
Ciroc is distilled 5 times and made using the finest French grapes. A luxury products that will up your cocktail game with a fresh and exciting flavor! This Mango vodka retails for (only) R374.
3 Bubbles Bowl  
A whole bowl full of deliciousness!  For a BIG gift, the Bubbles Bowl consists of 1  copper champagne bowl, 1 Zonin Prosecco, 1 Lindt chocolate, 2 handmade champagne cookies and a bottle of  Aperol.  A great way to get the festive party started.  And it retails for only R1279.
4 Jack Daniel's Honey Liqueur with glass  
Smooth and soft! This Jack Daniel's Honey Liqueur is a blend of Jack Daniel's Tennessee Whiskey and a unique honey liqueur. It has notes of caramel, toasty oak, orange blossom, honey and vanilla. So smooth, I love sipping this as a night cap over some ice. The gift pack comes with a limited edition Rocks Glass. All this deliciousness for only R 209. What more can you ask for?
5 The Botanist  gin with a jug.   
Created at the Bruichladdich distillery, this gin is flavoured with a wopping 31 botanicals, including 22 native to Islay. It is perfect for summer day G&Ts and this gift pack includes a pretty jug. How perfect for summer. The Botanist has notes of of citrus, delicate menthol and flowers.  This gift pack retails for only R449.
6 God by Godet Cognac  with glasses  
Godet cognac is new in SA. This specific release 'God by Godet' is bottled at a whopping cask strength of 71.4% ABV. Aged in only 1 barrel for 4 years and not blended with any other cognac, this gift packs a BIG punch. The gift pack comes in a box with two signature glasses.  It retails for R 569.
There you have it.  My top picks.  But there are many more.  Norman Goodfellows is filled to the brim with wonderful wine, interesting rums and wonderful gift boxes.  Looking at the catalogue, what is on your list?
Also Read: Top 5 Single Malt 2017 under R 900