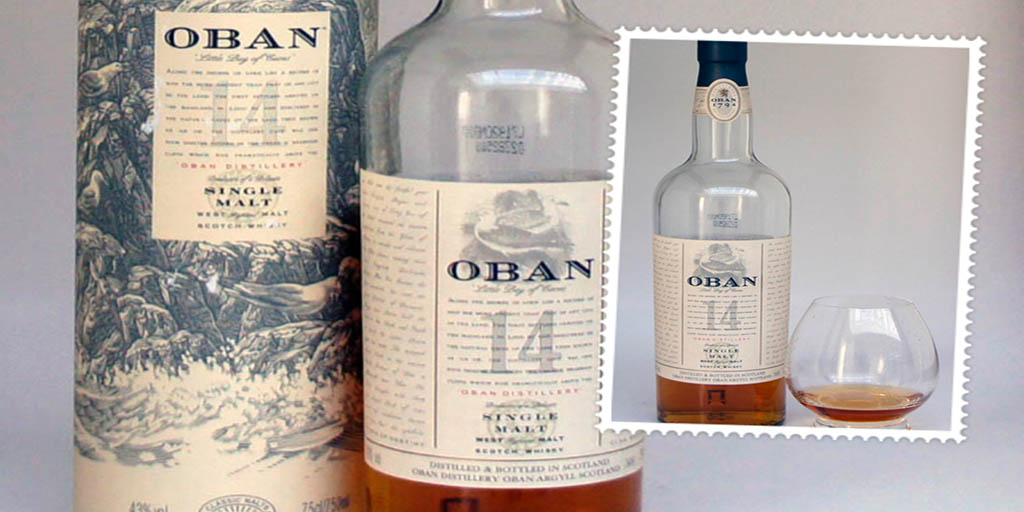 I have had this bottle of Oban 14 yo for so long, I can't even remember where I got it. The Oban Distillery is situated in the Scottish Highlands near the west coast port of Oban. It was established in 1794 and a bustling seaside town grew around the distillery. It is one of the smallest distilleries in Scotland with just 2 pot stills. Oban only releases a small variety of bottlings.
They are primarily known for the 14 yo but also have a Distiller's Edition (finished in Montilla Fino sherry casks) and a  NAS Oban Little Bay. The Oban 14 yo is part of the Diageo Classic Malt range.
The Classic Malts of Scotland is a selection of six single malt whiskies, launched and marketed together. The Classic Malts collection represents the unique diversity of the different Scottish regions, taste and heritage. From the soft flowery Glenkinchie in the Lowlands, to the honeyed Dalwhinnie in the Highlands.
Through Speyside and Cragganmore onto the West where the Talisker comes from. Onwards to the Western Highlands where Oban sits and last but not least the peaty Lagavulin on Islay.
Also Read: Singleton 12 yo single malt whisky
Tasting notes for the Oban 14 yo
ABV: The ABV on the Oban 14 yo is 43%
COLOUR: The colour is a dark mahogany gold.
NOSE: Rich with hints of smoke, fruity sweetness, faint spices and bits of peat. The nose is inviting and warming and the best part of this dram.  The Oban 14 yo nose softens after adding water, but it looses none of its inviting warmness.
PALATE:  This is a different story however.  I was expecting a rich creamy peat, however there are notes of bitter lemon, overwhelming oak, bits of peat and seaweed and very little of the sweetness promised by the nose.  This dram has an unfinished feel to it.  As if it was aged in an old cask that had very little to give.  Adding water intensifies the bitter lemon notes and takes away the peaty smoky.
FINISH:  Long and lingering, unfortunately it is the bitter lemon that lingers.
As a result, I have the Oban 14 yo Single malt whisky a RATING: GOOD.
It might be that we just have a bad batch or funky bottle, but this will never be on my top 20 list of favourite drams.  According to the Oban distillery tour, this 14 yo pairs well with crystallized ginger.  I will take their word for it as I will  probably  not be trying it anytime soon.  😁
What was your take on this 14 yo from Oban?  I also tried the Oban Distiller's Edition and liked it a lot more.
 Also Read:  Chivas Regal Extra Blended whisky