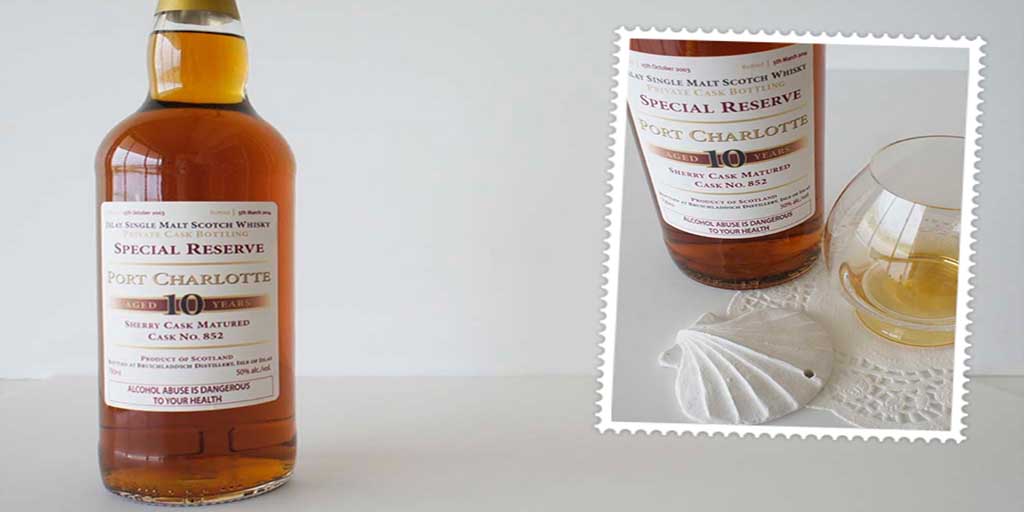 Every now and again, I manage to get my hands on a private cask bottling release. Be it via WhiskyBrother and one of their special single cask bottlings or via friends traveling.   The Whisky Brother releases are legendary and we are waiting with bated breath for what is coming out this year. At the end of 2016, John came home with this bottle of Port Charlotte Special Reserve Private Cask bottling. It is 10 yo matured in Sherry Casks. He received it as a gift from one of his colleagues. FC knows how much we love whisky and arranged us this bottle.
Bruichladdich is situated on the beautiful Islay and is known for 3 different styles  of whisky.  They are bottled as follows: Bruichladdich is the unpeated release, Port Charlotte is peated to a heavy 40 ppm. And Octomore, the heavyweight, peated to a enormous 131 ppm. Bruichladdich is owned by Remy Cointreau.
The Village of Port Charlotte lies just south of Bruichladdich close to the shore of Loch Indaal. There stands the ruins of LochinDaal Distillery that was in operation from 1829 to 1929. The Port Charlotte brand pays tribute to this now silent distillery.



I invited Emily from  the WHIZZKY to join me on Twiter, to taste this limited release. Emily loves whisky as much as I do and it is a great privilege to share a dram with such a special lady in the whisky industry.
The WHIZZKY app  was born of the need for information to be delivered on-the- spot to whisky lovers, whether they are shopping for whisky or chatting to friends about a bottle and wanting to prove a fact. They have just exceeded 14 000 users on the database.  It is an engaged user base  who keep on adding whiskies to their online collections, their wish lists and their favourites.
Users rate whiskies and  write in-depth tasting notes. What is interesting for me, is when the The Whizzky  app aggregates flavour profiles and gives a cumulative score.  You can see a consolidated score which is based on  a large base of people who love whisky.  But lets get to the Port Charlotte tasting notes.
Also Read: Bruichladdich Laddie Classic
Tasting notes for the Port Charlotte Special Reserve Private Cask bottling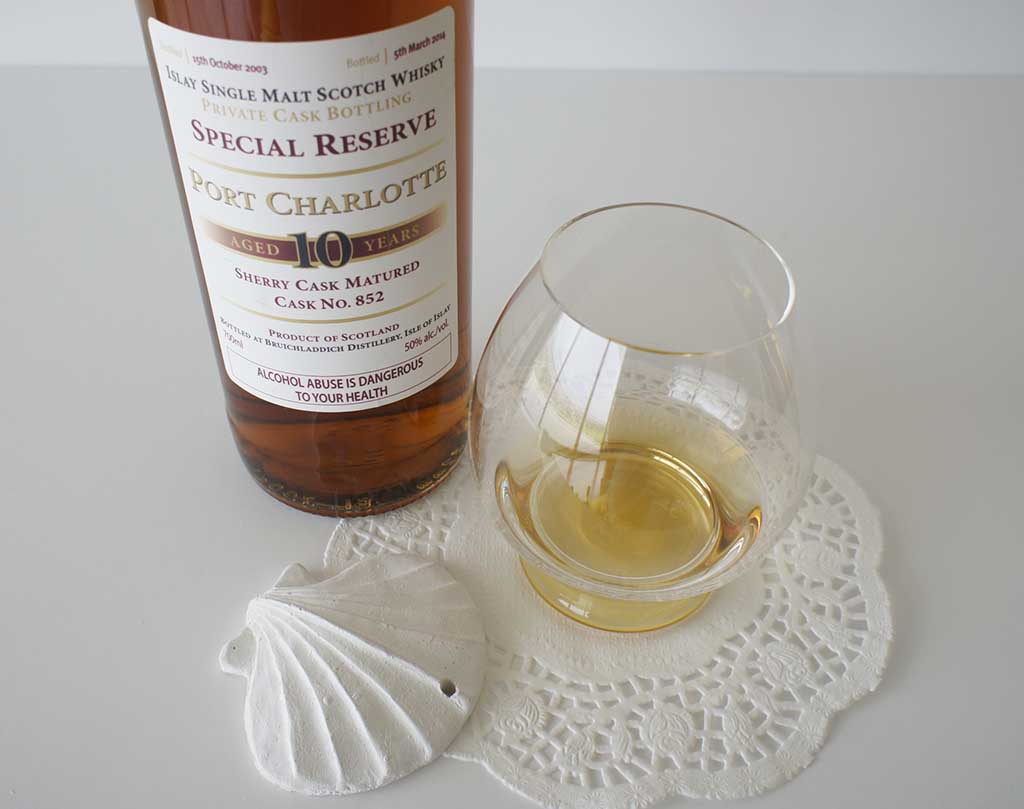 The Port Charlotte Special Reserve is a 10 yo whisky aged in Sherry cask.  This bottle is from Cask no 852 and it was distilled 15 Oct 20013 and bottled 5th March 2014.
ABV: 50%
COLOUR: Dark golden syrup colour
NOSE: Peat, sherry, smoke, salt and ash.  Dark chocolate and after adding water, there are notes of smoky bacon with cranberry sauce.
PALATE: Ash, earthy peat, Lindt Orange Intense and Salted Caramel chocolate, sherry, vanilla, halva.  After adding water to soften the alcohol, there are more sweet noes with hints of cinnamon and liquorices.
I am getting glazed, candied fruit peel and surprisingly less peat than the nose led me to believe @ @WhiskyoftheWeek #WhizzkyPeat #WOTW

— Whizzky (@WhizzkyApp) February 3, 2017
FINISH: Long and lingering with notes of ash, citrus, smoke and earthy peat.  Quite spicy
RATING: EXCELLENT
Took a breather & am left feeling like I can taste the inside of my fireplace. In a good way. The best way. @WhiskyoftheWeek #WhizzkyPeat

— Whizzky (@WhizzkyApp) February 3, 2017
A really interesting, rich, bold and complex dram.  Not for the faint hearted.  The heavy peat needs time to be appreciated. What this Port Charlotte does perfectly is the amazing marriage between the peat and the sherry.  Two different elements that work together as a perfect team.  Thank you FC for this great bottle!
Also Read: Laphroaig PX Cask