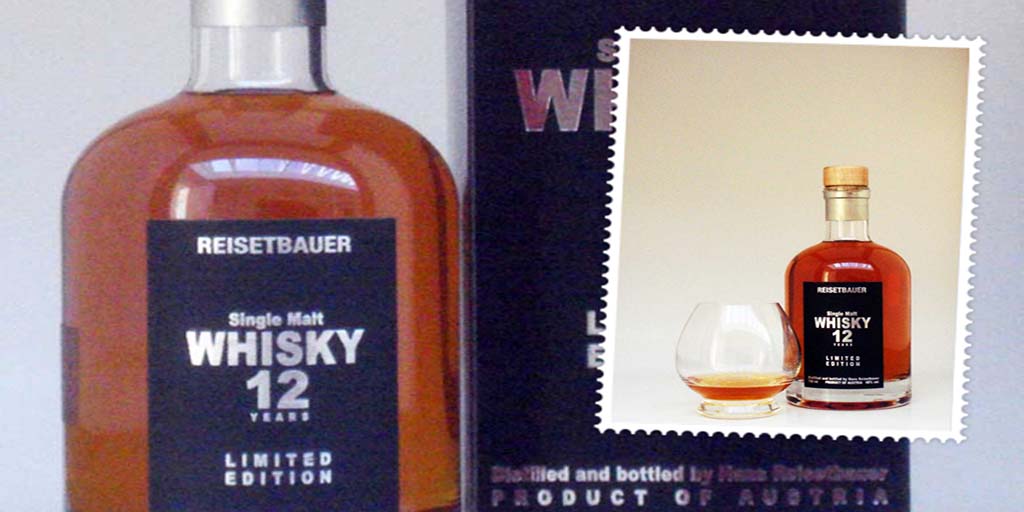 We are always on the look out for whisky from interesting countries to compliment our collection. When we got the opportunity to add a Reisetbauer 12 yo from Austria, we grabbed it. The Reisetbauer family farm, Kirchdorfergut, is in the Hausruckviertel district of Upper Austria. The Reisetbauer distillery produces not only brandy and whisky but also Eaux de Vie and Gin. Because of its favourable soils and a climate with wide fluctuations in temperature, it is one of the best Austrian regions for growing fruit. Hans Reisetbauer makes very good use of this soil and grows most of his own fruits.
He also planted four hectares of summer brewing barley.  Harvested for the first time in July 1995, the barley was taken to a nearby malting floor to be carefully malted. The fermented mash is twice distilled in copper pot stills.  It is aged in casks that was previously used for aging Chardonnay and Trockenbeerenauslese.
This certainly makes an interesting change from the more traditional sherry, port or bourbon casks being used   According to the experts, the residual sweetness of the wines enhances the taste of whiskey malt aroma, enriching the dram's unique chocolate notes.

Related Article:  Santis Malts Alpstein No 7
Tasting  on the Reisetbauer 12 yo Whisky
ABV: This 12 yo Reisetbauer Austrian whisky has an ABV of 48%.
COLOUR: It has a rich red mahogany colour that is described by some as a "golden orange".
NOSE: Brings oak and spice.  There are hints of fermented grapes and boiled sweets with a slight chemical trace.  It took us a while to identify the chemical notes, but in the end agreed that it most reminiscent of mothballs.  There are a few citrus notes on the nose.
PALATE: Before water, the Reisetbauer is quite harsh.  There are some sharp notes on the palate that fight over who will deliver the first onset of flavour.  Adding some  (lots) water, softens the palate and brings a few more floral note to the forefront.  Also a bit of picked ginger. Unfortunately these are not the sweet floral notes we expected, but reminded us more about the decaying flowers you find at the end of summer.
FINISH: Quite short (thank goodness) and ended in some spicy notes.
We gave the Reisetbauer 12 yo a RATING: ORDINARY.
From the research we did, we were expecting quite a lot from this limited release.  It made us think of the South African Wild Reeds, but without the methylated spirits smell. Lucky for us, there are quiet a few other distilleries in Austria, so we will keep on looking out for another Austrian distillery.  Have you tried an Austrian whisky that you can recommend?
Also Read: Hammer Head 1998 Single malt whisky