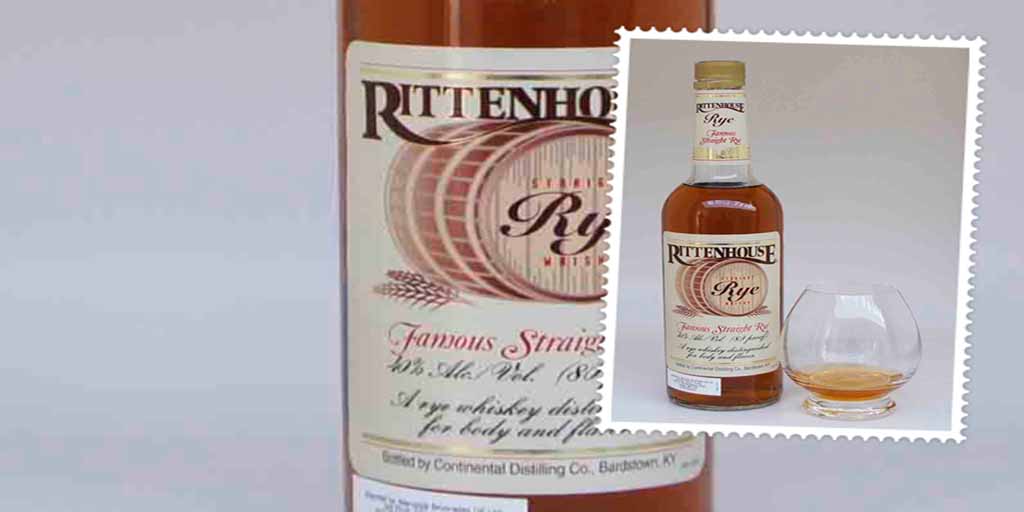 My first experience with Rye whisky was earlier in the year, when I tasted the Crown Royal Northern Harvest Rye. Rye based whisky is relatively unknown in SA. I liked the spiciness of Rye and looked around for some more.  I found a few interesting expressions at Bottleshop. They do stock a few, such as the Pappy van Winkle Family Reserve 13 yo at R 19 000 a bottle.  Hmmm…Slightly out of my budget. Fortunately for me, I found this bottle of Rittenhouse Straight Rye Whiskey at WhiskyBrother for a lot less.
Before  Prohibition, rye whisky distilleries dotted the Pennsylvania landscape. Rye was the most popular grain American farmers' distilled regularly. Rye grain is easy to grow and durable. Surplus grain was fermented and distilled, which was a cheaper option than transporting it to other areas.
Produced in the tradition of the classic Pennsylvania or "Monongahela" rye whiskies, Rittenhouse is a much acclaimed rye now enjoying a comeback throughout the USA, as today's American whisky consumer re-discovers classic whisky styles. Likewise, the brand is beloved by mixologists for its robust style and enjoys a renaissance as cocktails regain popularity. Prohibition destroyed the rye whisky industry. After Prohibition, Americans adjusted their palates towards the softer Canadian whiskies and sweeter Bourbons.
Also Read:  Chivas Royal Salute 21yo whisky

Rye whisky was relegated to the back room. However, slowly over the years, Rye crept back. Micro distilleries across Pennsylvania and New York are releasing new Rye whiskies on a regular basis. Rye  has increasingly been in demand since the 2016 Whisky Bible rated the Crown Royal Norther Harvest Rye as their top whisky. A rye whisky reawakening.
The Crown Royal Northern Harvest Rye was a polarizing whisky. Some people loved it; some people could not understand the hype. For me however, it opened a new taste avenue. I find Rye whiskies slightly spicier than the traditional Bourbons and the new flavour nuances have interesting possibilities with food pairings.   The Rittenhouse Rye is produced by Heaven Hill Distilleries. The Rittenhouse Rye is aged for 4 years.
Also Read:  Making a bad day, better: Snickers & Bourbon
Tasting notes for the Rittenhouse Rye whiskey
ABV: 40%
COLOUR: The Rittenhouse Rye is a dark golden colour.
NOSE:  Spicy and rich.  Notes of nutmeg, eucalyptus and vanilla.  Faint hints of fresh cut grass, orange blossom and liquorice.
PALATE: Freshly baked orange sugar biscuits and spices.  Adding water releases more vanilla notes.
FINISH: Medium length that end in spicy notes.
Probably not the best rye on the market, but a decent mouthful.  As a result, I give the Rittenhouse Rye a RATING: EXCELLENT.
My brother, not normally a whisky drinker, joined me for the tasting.  He finished his glass, without water, even before I could finish writing down my tasting notes.  So it can't be too bad.  It might be that I rate this Rye whisky highly because  of the limited availability of Rye in SA. I like the spiciness of Rye and I will keep my eyes open for more affordable Rye releases.
I paired this Rittenhouse Rye with some Cadbury Milk chocolates .  See the results of this strange but interesting whisky chocolate pairing.
Also Read:  Johnnie Walker Double Black