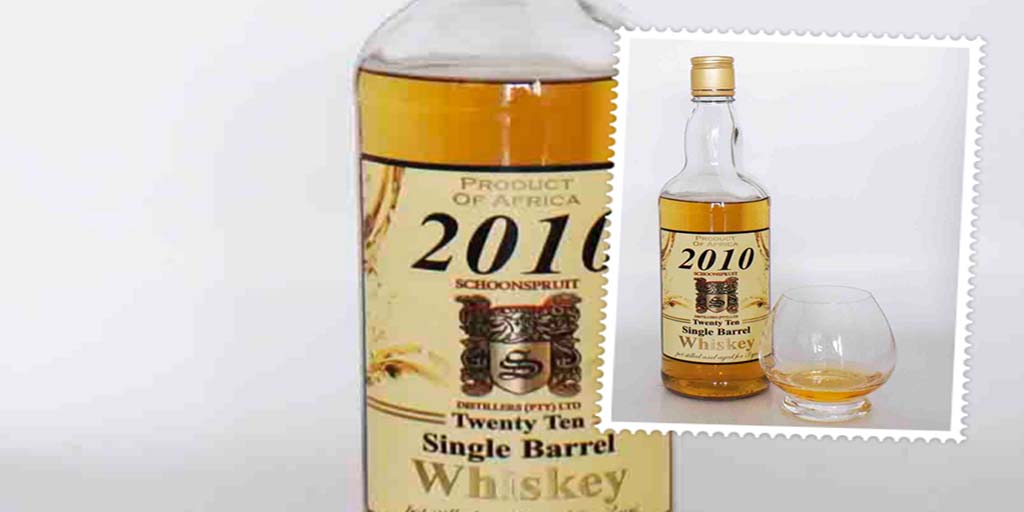 On a recent shopping trip, I found another interesting bottle of South African Whiskey.   South Africa has the world-renowned James Sedgwick Distillery in Wellington that produces Three Ships, as well as the lesser known Draymans Brewery and Distillery in Pretoria.
Lately, however, we have seen an odd bottle or two from a distillery in the North West Province of South Africa, the Schoonspruit distillery.  It is the same distillery that produced our bottle of Wild Reeds whiskey.
Schoonspruit 2010 Single Barrel Whiskey
This past week, we found our second bottle from the distillery simply called 2010 Single Barrel Whiskey.  Schoonspruit Distillery is an independent businesses owned by the Henning family.  They are better known for the Totpak company.
Totpak was founded more than 20 years ago; they popularised the then unfamiliar concept of a liquor sachet in South Africa.  Totpak established a depot in the USA in 1995 and export under the name of Porta Shots.


From the Schoonspruit / Totpak website, I have managed to gather the following information.
"The Totpak requirements for importing specifically whisky, spawned the idea of becoming self-sufficient. Out of this concern the idea was born to distill and mature whisky through its sister company, Schoonspruit Distillers.  The Henning family was born and raised 2km from the distillery on a farm were they still farm maize.  This product allows them to distill the highest quality of Whiskey casks."
The Schoonspruit 2010 is distilled with water from the Schoonspruit (meaning Clean River). The eye of the river is about 6km from Ventersdorp.  It was here where the first mineral water in South Africa was bottled under the label Schoonspruit.  The distillery employs four unusual stills and two conventional pot stills. The slogan for this Schoonspruit 2010 Single Barrel Whiskey is: The finest Whiskey in the world comes from a single barrel.
I can't find any tasting notes for this Schoonspruit 2010.   I wrote about this Schoonspruit 2010 Single Barrel whiskey over here.  See my thoughts on this World whisky.
Also Read: Aged in Stout barrels: Jameson Caskmates Whiskey