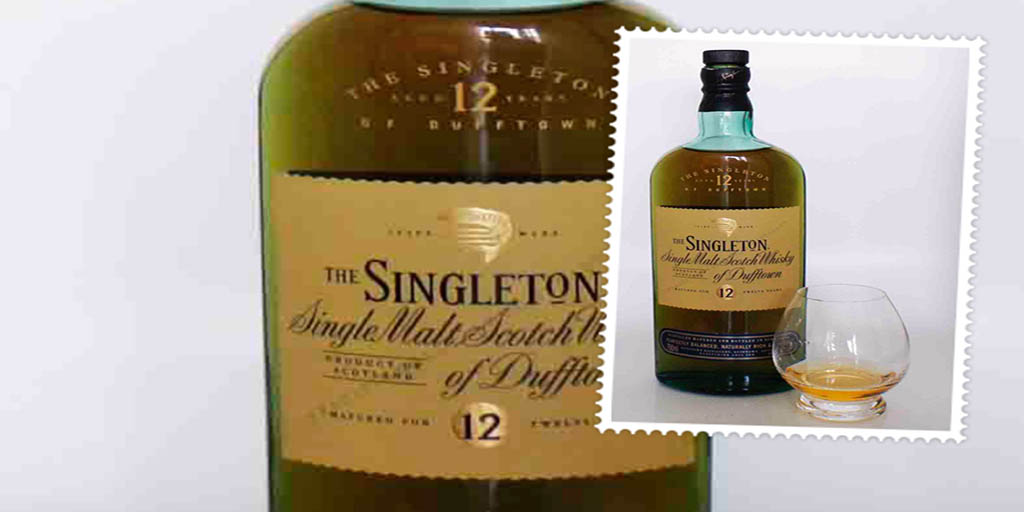 I tried the Singleton Tailfire a while ago after a friend mentioned how much she loved it. It did not blow me away. However, I got quite a bit of feedback, with most people recommending the Singleton 12 yo.  While the Tailfire is still fresh in my mind, I decided to try the 12yo. Singleton is produced by the Dufftown distillery which is located in the small Speyside town of Dufftown.  The Dufftown distillery was not originally built as a malt whisky distillery.
Wine merchant Peter Mackenzie and friends converted it from an old Mill to a Distillery in 1895 /6. The Dufftown Distillery first drew water from John's Well in 1896 and still do.Today, the brand is owned by Diageo.  The majority of the malt whisky produced at the Dufftown Distillery is used for blended whiskies – particularly Bell's and Johnnie Walker.

Singleton 12 yo is matured in a combination of American and European oak casks. The unique bottle shape of The Singleton of Dufftown is inspired by a traditional hip flask while the colour of the glass reflects the blue flint glass used at the turn of the previous century.
Related Article:  Three Ships 10 yo Single Malt
Tasting notes for the Singleton 12 yo
A  great friend of ours joined us for this tasting.  Rolf is a whisky enthusiast as well and it was fun to hear his views on this whisky.
ABV: The ABV of the Singleton 12 yo is 43%
COLOUR: A deep polished copper.
NOSE: Sweet with caramel, toffee and vanilla coming through.  There are notes of rich fruit and sweet spice.  After adding water, the nose of the Singleton 12 yo looses a bit of the sweetness.
PALATE: Tasting the Singleton 12 yo brings notes of spice, rich oak and toasted malt.  It is a rich and buttery whisky with a great mouth feel.  There are lots of sweet vanilla and hints of fruit dipped in dark chocolate.  It is a well-balanced whisky, with the spicy and sweet in perfect harmony.
FINISH: Medium length and ends in notes of sweet cinnamon, nutmeg and cloves.  There is an underlying layer of butter toffee  sweetness, which is delicious.
We give the Singleton 12 yo a RATING: EXCELLENT. 
The Singleton 12 yo is surprisingly good!  I was not expecting fireworks after tasting the Tailfire, but we were pleasantly surprised.  I can now understand why my friend loves this dram.  And at a price below R400 in South Africa this is really good value for money.
Also Read: Glen Moray Classic