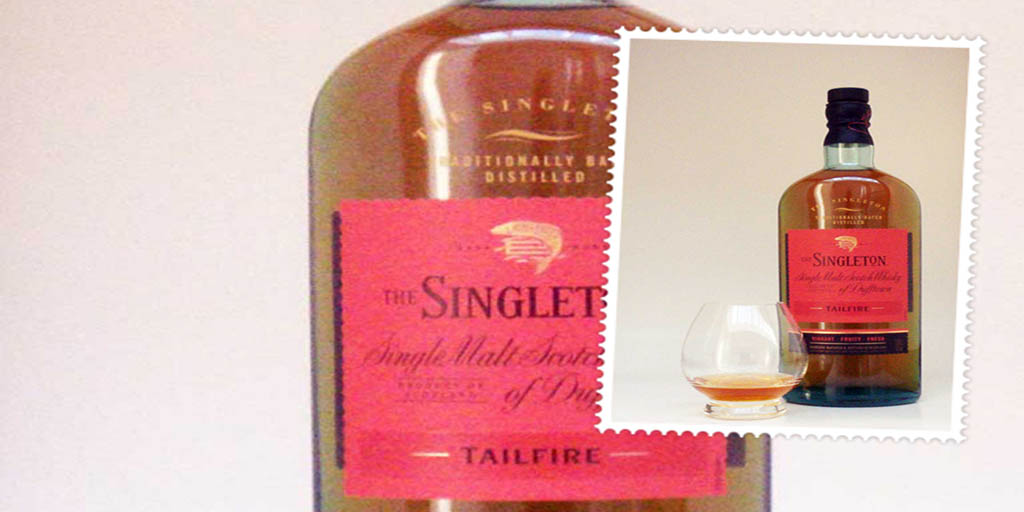 A while ago, a friend mentioned that her favourite dram is a Singleton. For some unknown reason, neither John nor me have ever tried whisky from the Dufftown Distillery. So, when Singleton released their new Tailfire expression, it was a great opportunity to try this brand. The Dufftown distillery is located in the small Speyside town of the same name.  The Dufftown distillery was not originally built as a malt whisky distillery. Wine merchant Peter Mackenzie and friends converted it from an old Mill to a Distillery in 1895 /6.
Today it is owned by Diageo.  The majority of the malt whisky produced at the Dufftown Distillery is used for blended whiskies – particularly Bell's and Johnnie Walker.  Singleton Tailfire is one of two NAS single malt Scotch whiskies released in 2015 as part of the Singleton of Dufftown range.
The other being Singleton Sunray. Singleton Tailfire is aged in a combination of European and American oak casks. The names draw inspiration from the brand's logo of a leaping salmon – Sunray and Tailfire are types of artificial fly used in salmon fishing.

Related Article:  Singleton 12 yo
Tasting notes for the Singleton Tailfire
ABV: The Singleton Tailfire has an ABV of 43%.
COLOUR: It is a dark bronze colour with hints of red glistening in the glass.
NOSE: Sweet and spicy with caramel, candied fruit, cherries and marzipan.  There are notes of vanilla and fruity Christmas cake.
PALATE: Without water, the palate is spicy and has a bit of a pepper spice bite.  There are hints of chocolate cherries as well.  Water smooths out the Singleton Tailfire.  It lessens the spicy bite and bring forth notes of vanilla oak and wood.  The bold fruitiness promised by the nose has softened.  Malt and fruits of the forest notes flirt around the background.
FINISH: Big and bold with lots of spice, wood, cherries and bitter lemon.  This is a very drinkable dram.
As a result, we give the Singleton Tailfire a RATING: VERY GOOD.
The Singleton Tailfire does not cause a tailspin, and is a good whisky for someone trying out whisky for the first time.  It is also affordable.  The Singleton website suggest you pair this Tailfire with a Panacotta with Red fruits, Brie and dark cocoa chocolate.  With all the spicy notes in this whisky, I am guessing it will also pair well with cheese.  Something we will definitely test in future.
Also Read: Ardbeg Corryvreckan Single Malt whisky