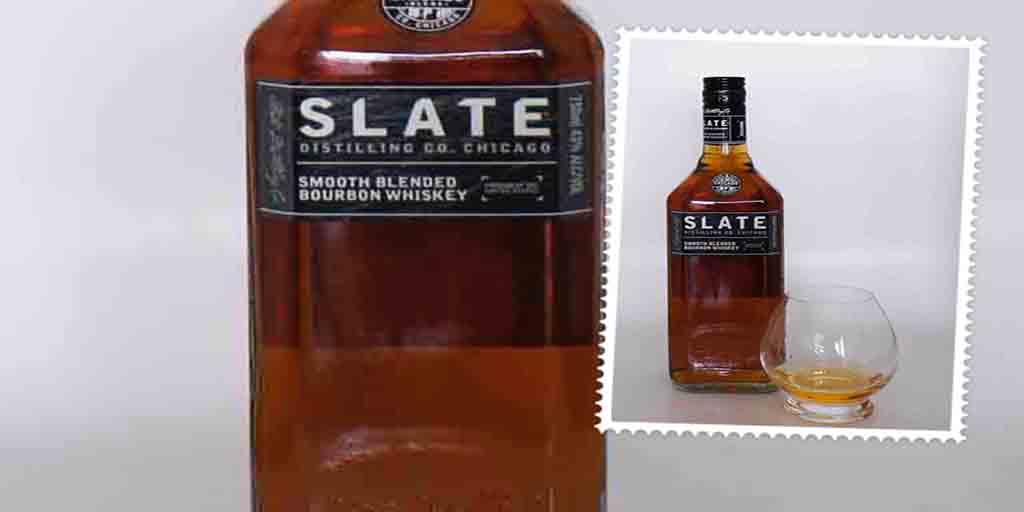 To kick of Bourbon Heritage Month on tastings I try a Slate Blended Bourbon.  This one is a budget bourbon again. And after my last 2 budget bourbon experiments, I attempt this one with some level of trepidation. I tried both the Heaven Hill Old Style and the Evan Williams Kentucky Bourbon and needless to say, they will be part of our collection for a long time to come. For no other reason that it is going to be difficult to finish the bottles. I found the Slate Blended Bourbon in one of the smaller bottle stores that I visit.   The amount of information on this brand, distillery, age and origin is so limited that I needed to scroll to the 4th page on Google before finding anything worth while… Let's just say, I have a few antacid ready next to my tasting glass, just for in case.
But before I get to the tasting, here is a bit of the info that I found on Slate Blended Bourbon. Apparently according to the marketing spiel…
"… Slate is known as one of the smoothest Bourbons on the market. Silky, smoky and sweet it is great neat over ice or if you would rather, mixed with cola."
My research indicated that Slate Blended Bourbon is a Diageo new style product launched in Australia (and evidently South Africa) to test the market before launching globally. Slate Blended Bourbon is blended in Chicago from various Bourbons in order to create a smoother mouth feel. There is also a Slate '20 version, which is a ready to drink alcopop blend of Slate Bourbon, lime and ginger. (Only available in the UK as far as I can see)
Slate '20 takes its name from the blended bourbon used in the recipe, which is sourced from the Four Roses distillery in the US. The '20 refers to 1920 when Bourbon was first distilled in Chicago.
In SA, the Slate Blended Bourbon retails for around R200 ($14). After all of that, lets try this blended Bourbon and see.
Also Read: Coffee with a Kick – Bourbon Coffee
Tasting notes for Slate Blended Bourbon
ABV: Slate Blended Bourbon whiskey has an ABV of 43%
COLOUR: A dark golden colour.
NOSE:  Subtle with cereal and caramel, oak and vanilla notes.
PALATE:  Smooth, spicy vanilla, honey sweetness and oak.  Medium body bourbon that is not very complex.  Easy drinking.  Adding water enhances the sweetness and it becomes almost too sweet.
FINISH:  Medium length finish which end in sweet caramel notes.
It does not give me heart burn and it is certainly better than the Heaven Hill Old Style and the Evan Williams Kentucky Bourbon. Having said that, it will not win any major prizes.   As a result, I give the Slate Blended Bourbon a RATING: VERY GOOD.
It is suppose to taste like "real old Chicago Bourbon"… I am not sure if there is anyone who still knows what "Real Old Chicago Bourbon" tasted like, so I take their word for it.
Has anyone tried this Slate Blended bourbon before?
Also Read:  Bulleit Bourbon