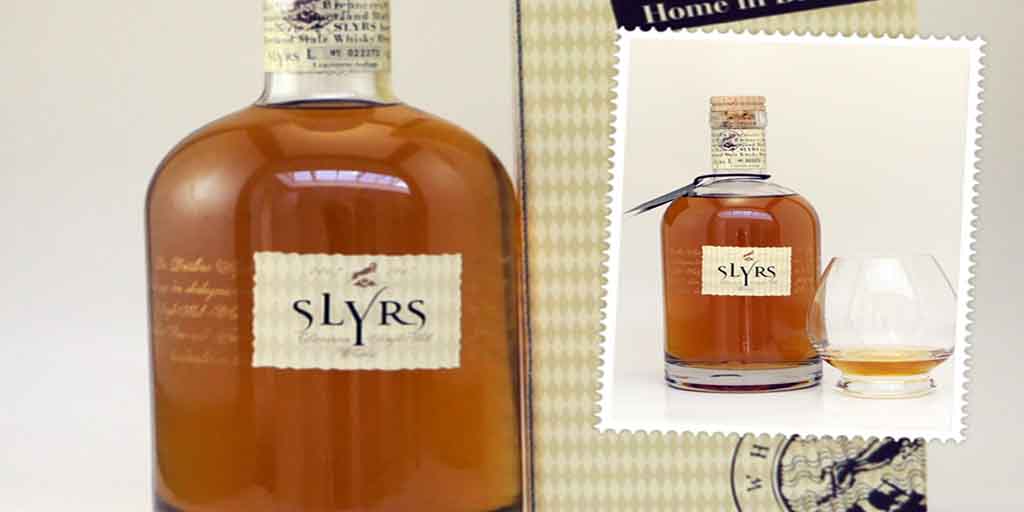 The distillation of whisky in Germany is a relative recent development and only started in the last 30 years. Today there are around 23 distilleries in Germany producing whisky. Slyrs is Bavaria's first single malt whisky. Built on the banks of Lake Schliersee, it is also the largest whisky distillery in Germany. We acquired this bottle on a recent trip through Frankfurt.
The Slyrs is a 3 yo whisky, bottled at 43% ABV. The whisky was matured in American oak and is sold in limited quantities. Presented in a cream-colored box, the bottle has a small English and German label. Interestingly, there is no age statement on the bottle.
Our goal is to collect a single malt whisky from every country in the world that produces one. To date we have whiskies from 19 different countries. We have been pleasantly surprised by the great quality of whisky from countries not usually though of as whisky producers. There are many similarities between the Scottish and Bavarian regions.
The Scottish Speyside region landscape is quite similar to Upper Bavaria. We were looking forward to tasting the Slyrs. The appearance of the whisky is interesting.  At three years we were not expecting an oily whisky, and indeed the spirit is quite thin.

Also Read: Sullivans Cove Double Cask
Tasting notes on Slyrs Single Malt Whisky
ABV: 43%
COLOUR: Yellow gold. It is reminiscent of golden autumn leaves.
NOSE: On nosing the whisky strong citrus comes through.  After the citrus some oak and spice comes through.  There are also quite distinct alcohol vapors in the nose.  It's probably best to let it breathe a bit.
PALATE: On the palate it comes across as quite light. It's not a rich whisky. The tasting brings citrus again, with hints of vanilla, caramel and wood. The citrus is a bit overwhelming and it changes to a bitter citrus with notes of pepper and ginger.
FINISH: Well-rounded. It initially has a short finish but then comes back with a longer ending with notes of bitter citrus, pepper and caramel.  You get a sense that there are some rough edges, but not bad ones at all.This is definitely a whisky we will drink again.  For a 3 yo it's actually highly impressive.
Overall we were impressed and for the Slyrs Bavarian Single malt we awarded it a RATING: VERY GOOD. This distillery has lots of potential and we will be looking out for more releases in the future.
The Slyrs website recommended you try Slyrs with a 70 percent dark chocolate. We tried it with a 60% Lindt Lindor chocolate and it paired really well!. The chocolate smoothed out some of the edges and softened the citrus.  The whisky in turn brought out more caramel in the chocolate.
It is a great combination to try. Collecting whiskies from around the world often produces a gem. This is one of them. If you make allowances for the three year age, its well worth acquiring.  We pair the Slyrs with some Montagnolo Affine Cheese and it worked beautifully.
Also Read: Rittenhouse Straight Rye Whiskey