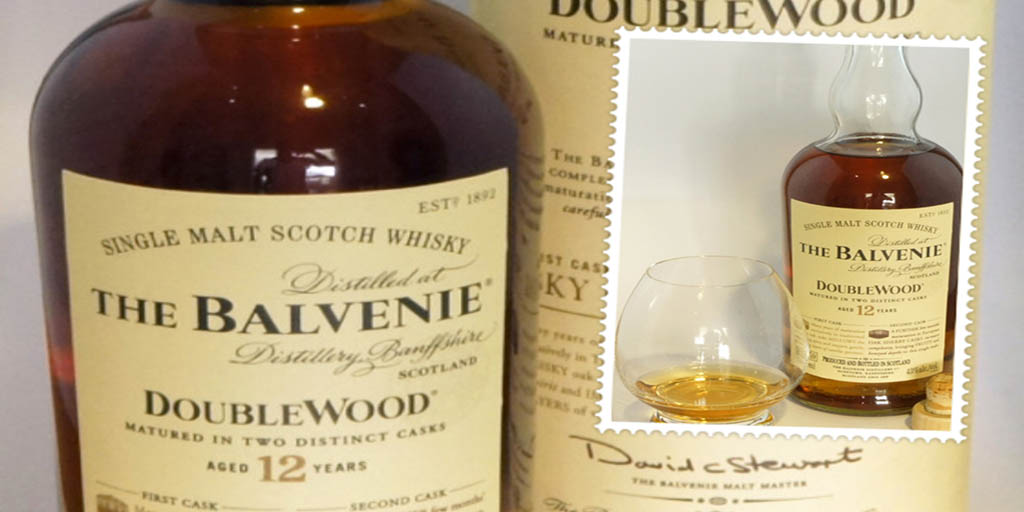 If someone was to put me on the spot and ask for my favorite distillery, this  might well get the nod. Jeannette likes their whisky as well, so we were looking forward to tasting the Balvenie Doublewood 12 yo. There is also a Balvenie Doublewood 17 yo which we hope to add to the collection at some stage. The Balvenie distillery is located in Speyside, Scotland and has been around since 1892. The distillery was founded by William Grant who learnt his trade at Mortlach distillery. The current Malt Master  is David Stewart.
I have written extensively about the history and releases from this distillery.  One of our favourite drams is the Balvenie Caribbean Cask. It is the perfect dram to enjoy with cheese or chocolate.   But back to the Balvenie Doublewood 12 yo.  Over the period of maturation the whisky is transferred from a traditional oak whisky cask to a European oak sherry cask. The appearance of the bottle and circular container is classic Balvenie and I like it. The shape of the bottle harks back to an earlier era and the classic dark cream colours and the fonts used re-enforce that feeling. So to the anticipated tasting.


Related Article:  The Balvenie Roasted Malt
Tasting notes for The Balvenie Doublewood 12 yo
ABV: 43%
COLOUR: The Balvenie Doublewood 12 yo is a dark, almost polished amber and burnt copper colour. It most definitely comes from the finishing in a sherry cask.
PALATE: From here on I'm afraid it's a bit downhill. The first thing  you experience when tasting the Balvenie Doublewood  is oak. I thought the sherry was very subtle, but Jeannette felt it was more pronounced. Next comes honey and vanilla with mild spice at the end. We were surprised that it was not as complex as we expected, especially since it was done in two woods.  The Balvenie Doublewood comes across as a bit flat and thus we were underwhelmed.
FINISH: Drops off quickly, which is a bit disappointing, but then continues with a long warm tail.We have at least 6 bottles of The Balvenie in our collection and maybe we were hoping for more from this one. We had previously tasted a different bottling of the 12 yo and did not recall it being this flat.
At the end Jeannette and I looked at each other hoping the other had found what seemed to be missing. The Balvenie make great whiskies and whilst this is not their finest hour it's not a bad whisky.
It scores a RATING: GOOD.  We might re-taste it next year to see if we still feel the same about this Balvenie Doublewood.
Also Read: A unique expression – The Balvenie Peated Cask
Also Read:  Caol Ila 12 yo Whisky from Islay