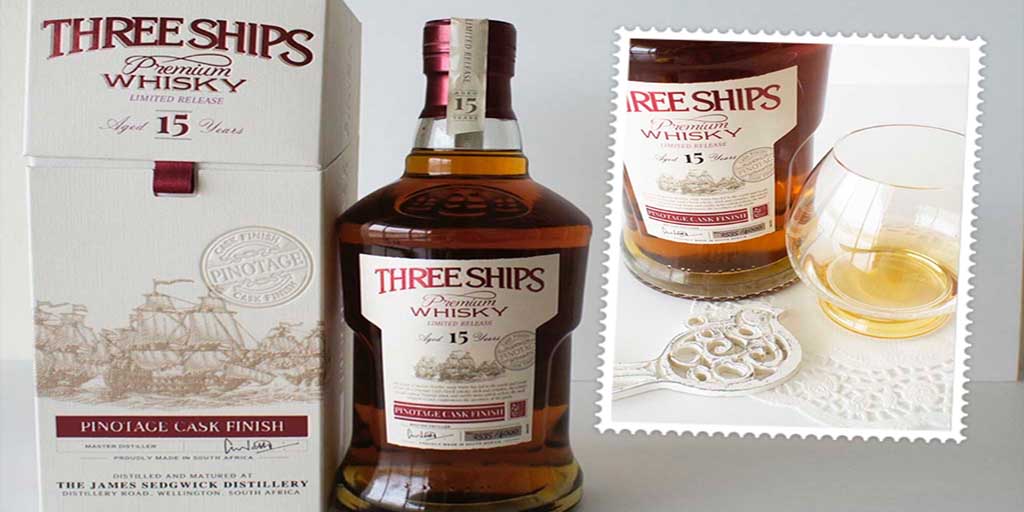 The year 2016 started with a BANG.  I started my tasting year with a special South African Dram.  It was the Three Ships PX Cask, the first in their Three Ships Masters Collection. This year,  I am fortunate to start on an even bigger BANG.  First up is another Three Ships Masters Collection release, the Three Ships Pinotage Cask Finish.  A 15 yo blend from the beautiful Wellington in the Western Cape.  What makes it so very special is the aging in the Pinotage Casks. 
The 15 yo Pinotage Cask Finish is the oldest whisky crafted by Master Distiller Andy Watts.  He sought to capture the unique heritage of South Africa in this rich, complex and unique whisky.  Andy has been experimenting with aging whiskies is a variety of casks. During October 2016, at a glittering event, the next special 'experiments' was released.  A whisky finished in casks previously used for the maturation of Pinotage – the uniquely South African wine cultivar.
Read More: Celebrate with a New Year Gin Martini
Pinotage is a grape variety that originated in South Africa in 1925 when Abraham Perold combined the best qualities of the strong Hermitage grape with Pinot Noir, a grape that makes great wine but can be difficult to grow.  The result was a grape with high sugar levels and more intense ruby colour than the parents. 
Recognition for this new grape variety came at the end of the 50's at as a Pinotage was  awarded  the champion wine at the Cape Wine Show. But by the 70's, it seemed that the Pinotage lost favor and many producers uprooted large areas of well-established Pinotage vines.
A few producers however saw the potential of this grape and continued to look for ways to improve the quality of the grape. Their hard work and dedication paid off at the end of the 80's when a Kanonkop Pinotage won a major prize.  Pinotage was back on the wine stage. And with all the interesting bottlings that have been coming out, a variety destined to stay on the stage for a long time.

Pinotage is know for red berry, plum, tropical fruit, banana, smoke, earthy and chocolate flavours.  Pinotage wine pairs well with roast turkey, salami, dried meat, Spanish or Italian food, aged gouda and cheddar. 
Tasting notes for the Three Ships Pinotage Cask Finish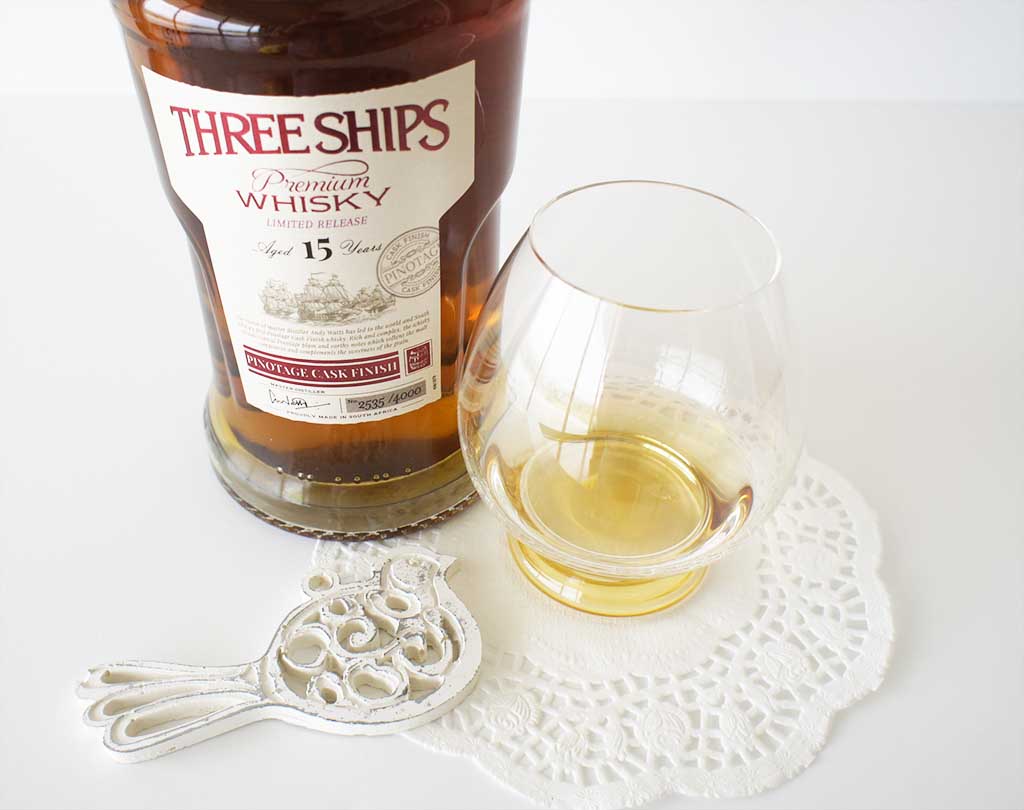 The grain and malt portions were first matured separately in American casks before being finished for different periods in eight casks previously used for Pinotage.  For this tasting, I was joined on Twitter by talented photographer Nymless and @WhiskySlut.  
ABV: Bottled at 46.2%
COLOUR: Golden blush pink
NOSE: Berries, sweet caramel, fresh fruits, vanilla, oak, butterscotch, strawberry jam and grapes.  The nose is rich and complex.
on the nose there's a hint of rasberries..plums…sweet and vibrant #pinotagecaskfinish

— Nymless (@Ninja_Nym) January 13, 2017
PALATE:  Without water, the palate has pepper, toffee, creme brûlee and hints of toasted oak.  Water releases complexity and richness.  The fruity nose becomes defined fruits.  Apples, bananas and berries mixed with a cereal maltiness.  Honey sweetness balanced with cinnamon and vanilla.  Little hints of pepper for bite.  Floral sweetness.  The Three Ships Pinotage Cask has a HUGE personality. 
yes, with water i now get the sweet spiciness , and some floral sweetness. #PinotageCaskFinish

— Whisky Slut (@waynewolmarans) January 13, 2017
FINISH: Long and lingering with sweet, fruity notes, cinnamon. Leaves you wanting more!
RATING: DIVINE  It was unanimous.  All 3 people across the country gave it the same rating.
What a great whiskey @ThreeShipsSA a rich, complex beauty worthy of the masters collection #PinotageCaskFinish

— Whisky Slut (@waynewolmarans) January 13, 2017
Wonderfully delicious! A true piece of South African history.  I love the Three Ships brand, team and whisky.  We know the people that make this whisky. And because of that, it can become an emotional rating.  However, Sunday afternoon, a week ago,  we were playing Monopoly with our 5 year old.  
It was rainy and misty and I asked John to pour me something aged in sherry.  He came back with a glass and handed it to me.  I tasted and realised it was not a sherry cask. But I was unsure what whisky he poured me.  John knew that we were tasting the Pinotage Cask a week later, so I was not expecting him to open that.   He asked what I thought of the whisky and it inadvertently became a blind tasting.   I immediately rated it Divine.  So no,  the Divine rating is not exaggerated  or an emotional rating.  It is exceptional whisky.  A HUGE whisky to start 2017 with,
Three Ships Pinotage Cask Finish and Food
If you like drinking pinotage, this is a whisky that you will enjoy. It has the same fruity earthy notes of a great pinotage, but with the rich malty cereal whisky notes.  I preferred the Pinotage Cask Finish with a few drops of water to release more of the fruity tones.  It will pair well with foods such as cured meats, a great cheddar and a big bowl of spaghetti bolognese.  
Also Read: 2017 New Year's Resolutions