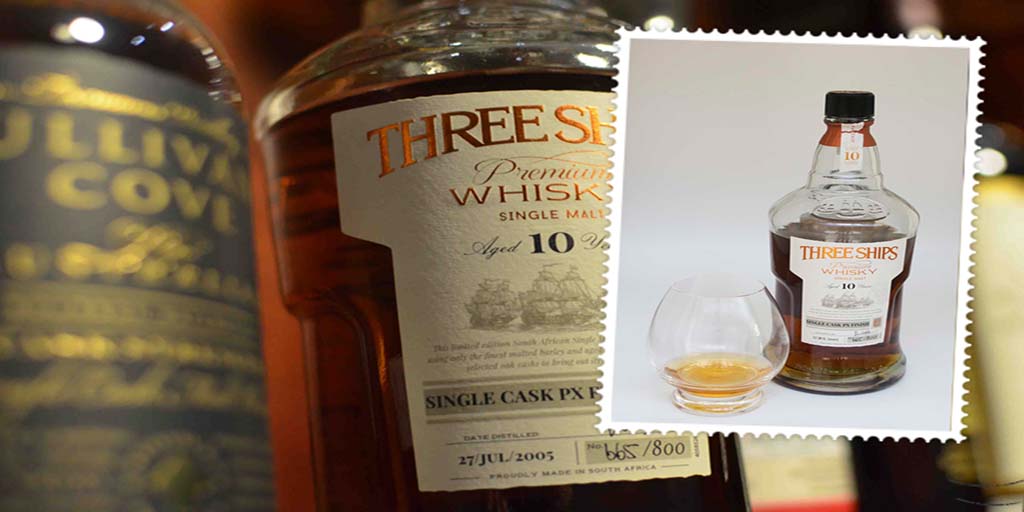 During October 2015, I saw South African whisky history being made. It was marvelous to watch. Sitting at my PC in Johannesburg, I saw bottle after bottle of Three Ships PX Cask taken off the shelve and signed for by the talented Master Distiller, Andy Watts. It was the long-awaited launch of the Three Ships PX Cask Finish Single Barrel. It did not disappoint!
JSD released only 800 bottles of this Three Ships PX Cask Finish. They were all bottled by hand and numbered. Distilled in 2005, the whisky was initially matured for eight years and ten months in American oak and then spent a further 14 months in a cask in which Pedro Ximenez (PX) sherry had previously been matured.

Andy experimented with various casks for a few years before selecting the PX for the particular effect it has on whiskies with a presence of smoke and peat.
See for yourself Andy speaking about this special release:
The bottles flew off the shelve and the stock that was available at Whisky Brother Shop  disappeared very quickly. So it is only fitting that we start 2016 on a Proudly South African note with this special release.
Related Article:  Three Ships Bourbon Cask
Tasting notes for the Three Ships PX Cask Finish
Three Ships redesigned their bottle and label design during 2015.  The Three Ships PX cask was released in the new bottle shape.  The attention to detail on both the bottle and the label is beautiful and puts this  Three Ships PX cask firmly in the  premium whisky category.
COLOUR: A dark mahogany hue pointing to the time spent in the sherry casks.
ABV: 46.2%
NOSE: On the nose the sherry notes comes through at once.  There are notes of rich Christmas cake, ripe figs and candied fruits mingling with tropical fruit.  With the addition of water, more wood and spice appear on the nose.
PALATE: Without water, the Three Ships PX Cask is a big bold dram with lot of spice and fruity notes.  Bursts of plump raisins, glace fruits and Demerara sugar burst through cinnamon and nutmeg notes.   Oak and smoky notes put in an appearance.  The addition of water softens the boldness and releases more oak and flower notes.  Water releases faint hints of pepper and cloves.
FINISH:  Medium length and memorable.  It ends in honey sweetness.  John preferred it without water and I loved it more with a bit of water to release the softer flowery notes.
We give the Three Ships PX Cask a RATING: EXCELLENT.
A proudly South African dram.  A whisky that Andy and his team should be very proud of.  Now to try this amazing dram with a few South African cheeses.  We have also tasted and loved the Bain's Cape Mountain whisky.  During 2016 Three Ships launched their next release in the Masters Collection – the Three Ships Pinotage Cask Finish.
Related Article:  Wild Reeds Bourbon Cask Whiskey