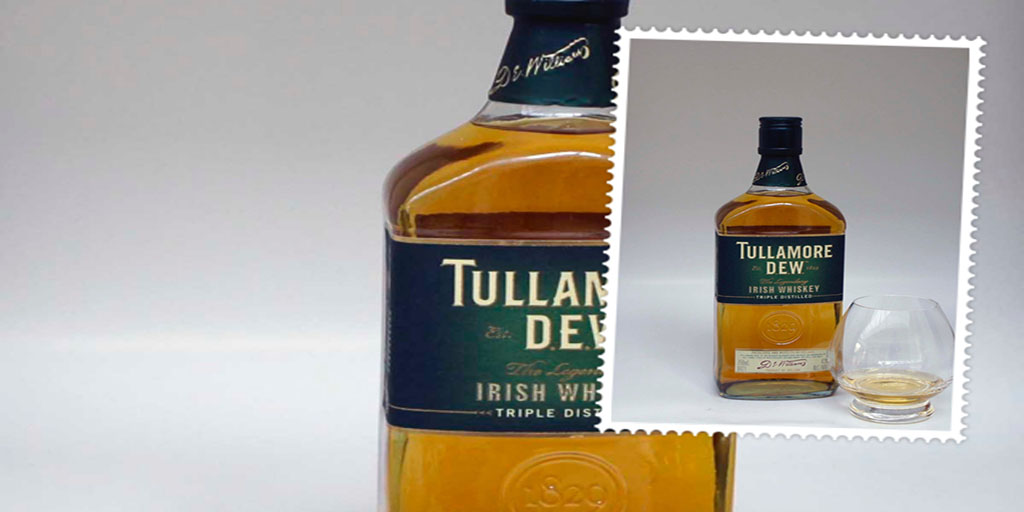 In honour of Saint Patrick's Day on the 17th of March, we choose an Irish Whiskey for our Whisky of the Week. Fitting with the green theme of Saint Patrick's Day, the Tullamore D.E.W, with its distinct green label was the perfect choice to pay homage to this Irish celebration. Tullamore D.E.W is a brand of  Irish whiskey produced by William Grant & Sons. The distillery was founded in 1829 by Michael Molloy in Tullamore, County Offaly, Ireland. Following his death, the distillery was acquired by the Daly Family.
Daniel E Williams was the General Manager at the time and his initials, D.E.W. is where the D.E.W in Tullamore D.E.W. came from. I always assumed it was for dew (water in the form of droplets that appears on thin, exposed objects in the morning).

The brand changed hands various times and was purchased by William Grant and Sons in 2010.  Just like the Irish clover, distilling at Tullamore D.E.W. happen in 3's. The whiskey is triple distilled, triple blended and triple cask matured. The whiskey is matured in traditional refill casks, ex-bourbon casks and in ex-sherry casks. Our wish for all our readers:
"May your pockets be heavy and your heart be light,
May good luck pursue you each morning and night,"
Related Article:  Wild Geese Irish Whiskey
Tasting notes for the Irish Tullamore D.E.W.
Looking at our tasting notes, this is only the 3rd Irish whiskey that we have tasted in the last 4 years.
ABV: The ABV of the Tullamore D.E.W. is 43%.
COLOUR: A dark amber.
NOSE: Vanilla and caramel with hints of fresh flowers, butterscotch and citrus with subtropical fruit.  In the background there are faint hints of spice, moss and wood.  After the addition of water to the whiskey the spice and wood dominate.
PALATE: It is one of the more spicy whiskeys we have tried.  There are heaps of spice and oak with hints of grapefruit and lemon rind.  There are flashes of toffee sweetness and malt.  However the peppery spice dominates everything. Adding water mellows out some of the spicy notes of the Tullamore D.E.W..
FINISH: Rather short and end in spicy notes.
We give the Tullamore D.E.W. a RATING: VERY GOOD.
My experience with Irish whiskies are limited, but I was expecting a smoother, easy drinking whiskey.  The spice in the Tullamore D.E.W. dominated all the other notes.  I do think it might work very nicely with cheese.  What did you think of this Irish classic?
Also Read: Crown Royal Northern Harvest Rye