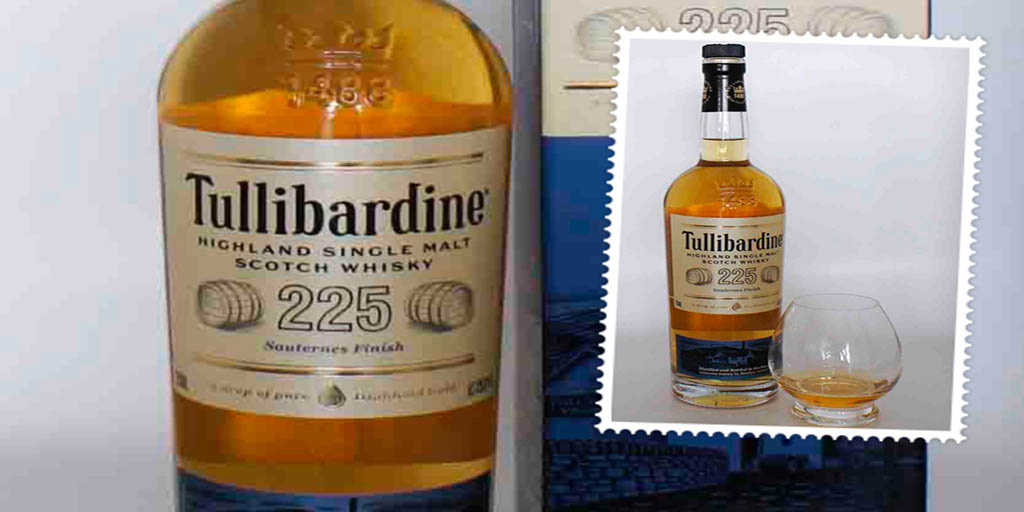 The history of Tullibardine has been linked to brewing and distilling for hundreds of years. The distillery is in Blackford, the gateway to the Scottish Highlands. Rumour has it that in 1488, the young King James 4th of Scotland stopped here on his way to his coronation.
The story goes that he purchased some beer from the brewery. During the 1940's, the disused brewery was noticed by architect William Delmé-Evans. The modern Tullibardine whisky distillery was reopened in 1947.  Spirit ran from the stills two years later. The distillery changed owners a few times and was mothballed again in 1995.
In 2003, it was sold to Tullibardine Distillery Ltd for £1.1 million and production resumed during December 2003.  In 2011, the distillery was sold to the French firm Picard Vins & Spiritueux. The 225 Tullibardine Sauternes Cask release was finished in Chateau Suduiraut Casks which previously held Sauternes dessert wine. The cask is 225 liters in size, hence the name.
Also Read: Amrut Single Malt whisky from India
Sauternes is a French sweet wine from the Bordeaux district. Sauternes is made from Sémillon, Sauvignon blanc, and Muscadelle grapes that have been affected by Botrytis cinerea, also known as noble rot. This causes the grapes to become partially raisin-ed, resulting in a distinctively flavored wine.


Sauternes flavours are characterized by the balance of sweetness with the zest of acidity. Some common flavor notes include apricots, honey, peaches but with a nutty note.  It will be interesting to see how all of this translated into the whisky.
Related Article: Glenfiddich Rich Oak
Tasting notes for the Tullibardine 225 Sauternes Cask
COLOUR:  Light golden-yellow.
ABV : 43%.
NOSE: Notes of fruity sweetness, sultana jam and condensed milk.  There are hints of vanilla with spicy sweetness.  The nose is light and fresh.
PALATE: On the palate the Tullibardine 225 Sauternes is surprisingly spicy with hints of citrus and oak.  The peppery sweetness mixes with winter spice such as nutmeg, cloves and cinnamon.  Notes of condensed milk float about.  Adding a bit of water, smooths out the spices and releases more of the sweeter fruity notes.
FINISH: Medium length and end in notes of spicy sweetness and orange peel.
I give this Tullibardine Sauternes Cask a RATING: EXCELLENT.
Due to the Sauternes Cask finish, I was expecting a sweeter dram. But the spicy fruitiness of the Tullibardine 225 was a refreshing surprise. The Tullibardine 225 Sauternes Finish also received a 90.5 rating in the Whisky Bible.   Best of all, this affordable whisky is available in South Africa.
Also Read:  Tullibardine 1993 Vintage Edition.