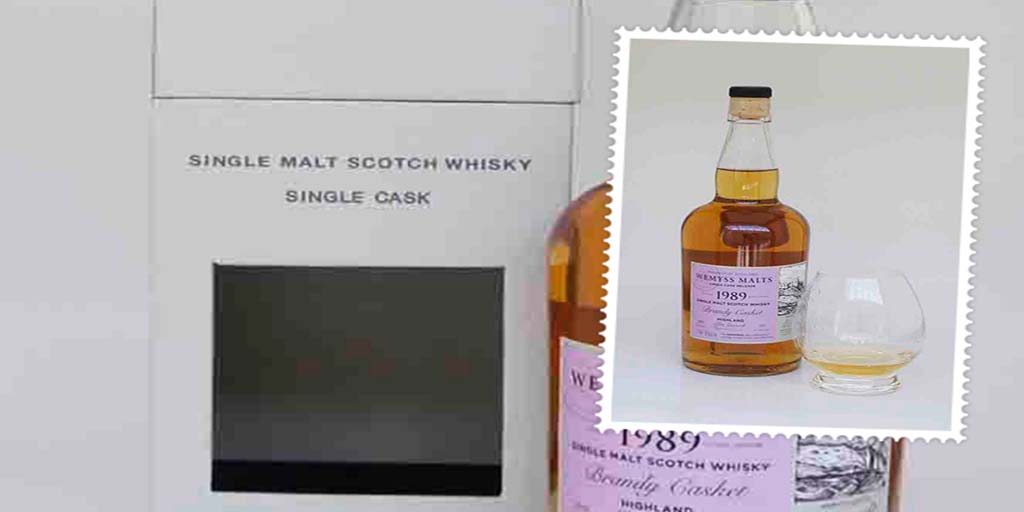 On our Whisky of the Week blog, Wemyss needs little introduction. Although they are not available in SA, we have managed to get our hands on a few of their releases. We have tried both the Wemyss Sweet Mint Infusion and the Wemyss Gooseberry Marmalade and just loved them. This week we try the Wemyss Brandy Casket – the last of the 3 bottles we bought.   Wemyss is an independent bottler. They name their whiskies after one of the prominent flavours the cask reminds them of. This Wemyss Brandy Casket is a 1989 Glen Garioch release.
Only 322 bottles were released.  Glen Garioch (pronounced 'Glen Geery') lies at the village of Old Meldrum in Aberdeenshire part of the Scottish Highlands.  The distillery buildings sit huddled on a little outcrop flecked with heather gorse and grasses and surrounded by barley pastures. Glen Garioch is owned by the Japanese Suntory company. Records show that Glen Garioch was established in 1979 and seen as one of the oldest distilleries in Scotland.


I see that there is a wide range of Wemyss releases available via Master of Malt.
Related Article: Macallan 12 yo
Tasting notes on the Wemyss Brandy Casket
ABV: This Wemyss Brandy Casket is bottled at 46% ABV.
COLOUR: is described as rich copper.  It is a very oily whisky with long slow fingers forming in the glass.
NOSE: is sweet with brandy and brandied raisins coming straight from the bottle.  There are hints of cognac floating around with bits of sweet spice.  Adding water releases more florals and some  fruit appear on the Wemyss Brandy Casket nose.
PALATE: On the palate, without adding water, it is very complex and interestingly spicy.  There are notes of cinnamon and nutmeg intertwined with the brandied sweetness.  Adding water releases more of the sweeter spices and brings forward butterscotch and caramel.  After adding a bit of water to the Wemyss Brandy Casket, the oak is also more pronounced.  It has an oily mouth feel and is a medium bodied whisky.  It is rich, smooth and complex and reminiscent of cognac.  There are hints of sweet sandalwood and vanilla.
FINISH: The Wemyss Brandy Casket finish is long, lingering and warming.
It ends in notes  spice and oak.  We give the Wemyss Brandy Casket a RATING: DIVINE.
An amazing whisky that leaves us with a smile on our face and reaching for a second glass.  The Wemyss Brandy Casket reminds us of Cognac.  If you love cognac, you will love this whisky.  I see that this limited edition is sold out at Master of Malt, so this bottle will be treated with very special care and only taken out for very special occasions.
Also Read: GlenDronach 13 yo Single Cask release