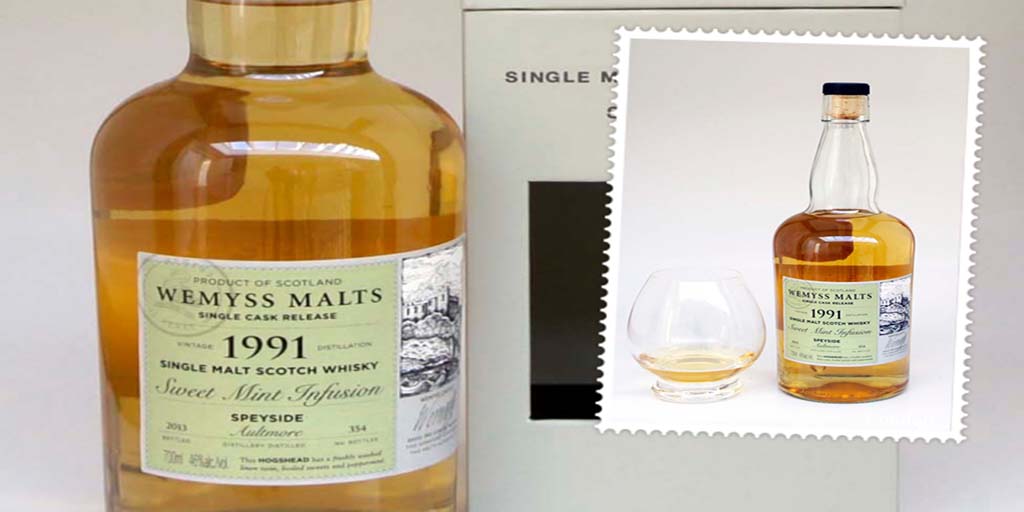 Wemyss Malts is an independent bottler of malt whiskies from Scotland.   They regularly release limited editions of Single Cask Whiskies. The names they choose for their limited releases are not only exotic and interesting, but also reflect the unique aromas and flavours found within the bottle. Wemyss Malts select their Single Cask releases, under the expert guidance of Charlie Maclean.  The Single Cask range is bottled at 46% ABV and labelled according to their region of origin.
I tried my first Wemyss release in Dullstroom, on one of our visits to Wild About Whisky.  After this visit, we added a few bottles to our collection.  We choose this Sweet Mint Infusion release to reminds us of warm summer days.  Something we are really longing for this cold SA winter.   The Wemyss Sweet Mint Infusion is a 1991 distillation from the Aultmore Distillery.  Only 354 bottles of this 22-year-old single cask was released.

Built in 1895 by Benrinnes-owner Alexander Edward, the Aultmoredistillery sits just north of Keith, in the heart of Speyside.  Aultmore, which originates from the Scotch Gaelic for 'Big burn', takes its water from the Burn of Auchinderran. Aultmore closed for several years around the turn of the 20th century and was affected during WW1 due to barley shortages.  It has changed ownership various times and is now owned by John Dewar & Sons Ltd, part of Bacardi.
Related Article:  Wemyss Gooseberry Marmalade
Tasting notes for Wemyss Sweet Mint Infusion
COLOUR: The official colour description is "Pale Straw".
NOSE: The mint hits you at once when nosing this whisky.  Behind the mint is a layer of oak and cereals with hints of fresh-cut flowers.  Adding a few drops of water releases more flavour in the nose and some peppermint and fudgy sweetness comes through.
PALATE: On tasting this Wemyss Sweet Mint Infusion, the mint again immediately comes through.  It is very different from other whiskies.  It has a more herbal taste with green notes of crushed mint, cut grass, eucalyptus and oak.  There are notes of barley and toffee sweetness next, followed by some spices and fresh fruit.  It is a smooth and rich whisky that is suitably complex.
FINISH: It has a medium finish.  The finish has notes of spice and ginger with some hints of sweetness.
The freshness of the whisky remains.  This is like a mint toffee version of a whisky.  A wonderfully different whisky.  As a result, we rated the Wemyss Sweet Mint Infusion as EXCELLENT.  We had a second glass and dreamt of a sunny South African summer that is hopefully only 6 weeks away.
I paired this Mint Wemyss with some Anthon Berg Mint & Caramel  dark chocolate and the pairing made the mint really pop.
Related Article:  Wemyss Brandy Casket