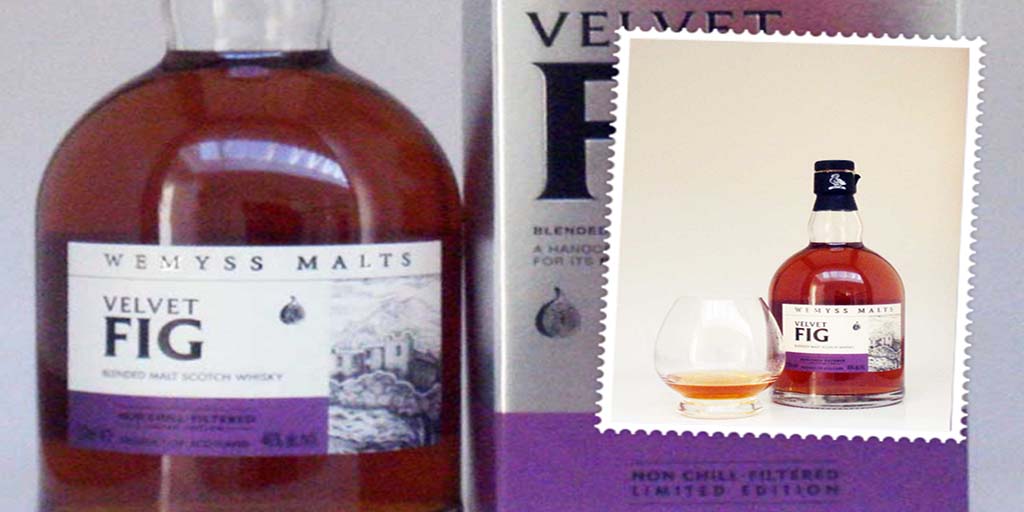 Two years ago, while traveling through Dullstroom, we tried some whisky from an, up to that point, unknown but intriguing sounding company. Right there and then we fell in love with Wemyss Malts. It is unfortunately not (yet) available in South Africa.  While traveling overseas, we managed to get hold of our first bottle, the Dark Chocolate Orange. Now, when possible, we add more Wemyss releases to our collection. We have tried the Sweet Mint Infusion and the Gooseberry Marmalade.
While following the World Whisky Awards on twitter earlier this year, we saw that  the Wemyss Velvet Fig won in the category 'Best Blended Malt Scotch Whisky 2015'. We had to get our hands on a bottle.
This was however a limited release of just 6 000 bottles, so it was quite a struggle to obtain a bottle. But, with the kind help of the ladies at Wemyss, we managed to track down one of the last bottles of Wemyss Velvet Fig and it arrived safe and sound in South Africa during May.

Velvet Fig is made from a selection of single malts, all of which have aged entirely in Ex-Oloroso Sherry casks. This no age statement whisky is non –chill filtered and bottled at 46%. Like the rest of the Wemyss Malts Blended Malts, Velvet Fig is named after the whisky's natural flavours and aromas.  It was with great excitement that we opened this bottle.
Related Article:  Wemyss Brandy Casket
Tasting notes for the Wemyss Velvet Fig
COLOUR: It is quite a dark coloured whisky.  The rich mahogany coloured Wemyss Velvet Fig makes long tears in the glass.
NOSE: Notes of sherry, fruit, Christmas pudding stuffed with lots of sultanas and dates, green apples and yes, Fig.  Lots of sweet fig preserve.  There are notes of fresh-cut flowers and hints of cinnamon and nutmeg in the background.
PALATE: Spicier than I expected.  Without water, the spicy notes dominate with cinnamon and juicy sweet figs.  It is not as sweet as the nose leads me to believe.  After adding a bit of water, the spices smoothed out and more of the fig and fruity notes take over.  There still is not as much sweetness as I anticipated.
FINISH: This rich and full-bodied Wemyss has a long finish and end in notes of fruit and spice.
It is a surprising complex whisky.  I give the Wemyss Velvet Fig a RATING: EXCELLENT.  I am so glad we managed to get a bottle for our collection.  Now to hunt down our next bottle from this innovative company.
Also Read:  Johnnie Walker XR 21 yo