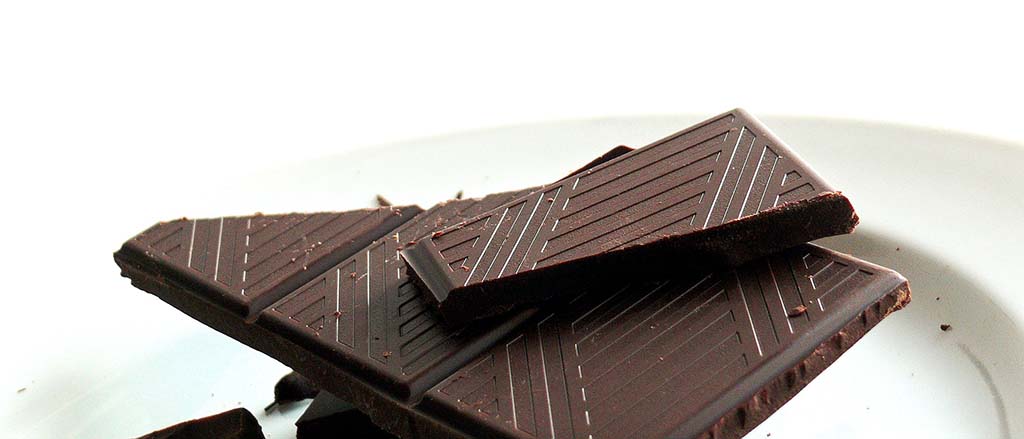 Welcome 2017!  The end of an old year and a new beginning.  For me, 2017 started with a bang. Or rather the sound of a small firework war as the neighbourhood set off (illegal)  firework after firework.  I stood  on the patio, with a view of the horizon, while watching hundreds of fireworks greet the New Year.  My poor dogs were dozed up on Rescue Remedy and sleeping soundly.  The noisy fireworks woke my 5 yo, who also joined me for the free display. But before all the colorful and noisy fireworks, we had a few taste explosions of our own.
My special year end tradition for the last 7 or more years is to end the Old Year on a whisky chocolate pairing.  A sweet and delicious way to say "Good Bye" to the old while celebrating with some amazing drams. (This means there is always left over chocolate to start a New Year with).  This year was no exception. 
During December, I found a variety of  interesting looking chocolates and did a bit of desk research on what whisky might pair with them.  Sometimes it is a miss, sometimes it is a hit.  It is always sweet and fun.  Lets dive straight into our first pairing. 

Whisky Chocolate Pairing 2017 Edition 
Knob Creek Bourbon paired with Toffifee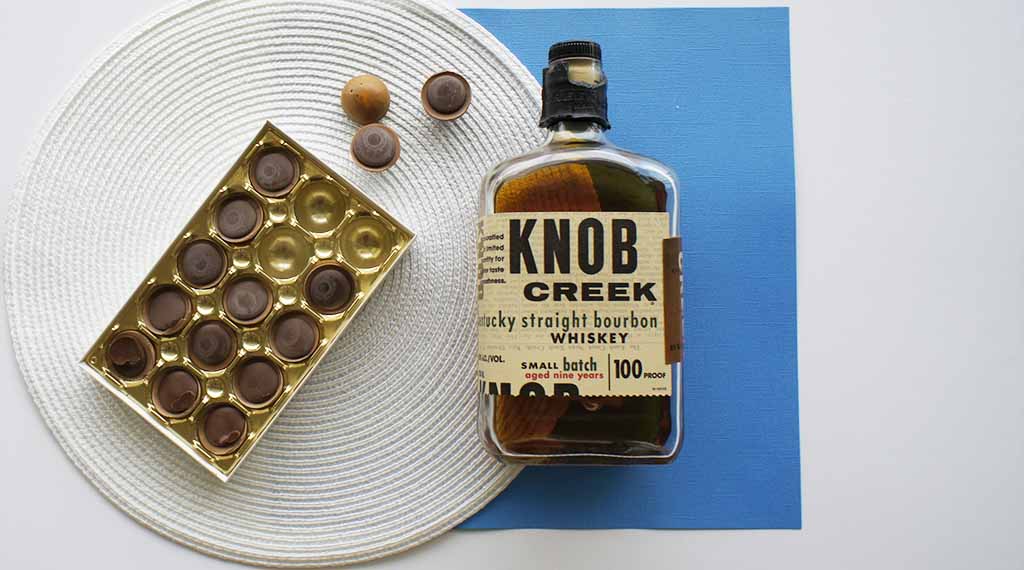 I fell in love with chocolate and bourbon pairings this year.  There is nothing nicer than to sit and work at night, sipping on a delicious bourbon and munching on what ever chocolate I raided from the little one's stash. I paired bourbon with Smarties, Kit Kats and a Kinder Egg.  Just don't tell my child that this is where all her chocolate disappear to. 
Toffifee are chewy caramel cups containing nougat, caramel and a crunchy hazelnut, topped with a chocolate button. They are seriously delicious and addictive! In 1973, Storck combined the four most popular candy ingredients in the world and the result was the Toffifee  I decided that the caramel notes might pair nicely with the rich, creamy smooth Knob Creek Bourbon.  My tasting notes for the Knob Creek Bourbon included maple, oak, cereal with hints of caramel and raisins.  Knob Creek is a big mouthfull and there are the traditional bourbon notes of vanilla sweetness and cinnamon.
Did it work? What an amazing pairing.  The whisky cuts through the Toffifee sweetness and the chocolate makes the Knob Creek creamier and richer.  A great pairing.  And easy enough to try at home.  Interestingly, the Knob Creek bourbon did not pair well with Malted Puffs.  Perhaps my palate was still busy processing the Toffifee and I need to try the Knob Creek and Malted Puff pairing again.  
Highland Park 18 yo paired with Toblerone White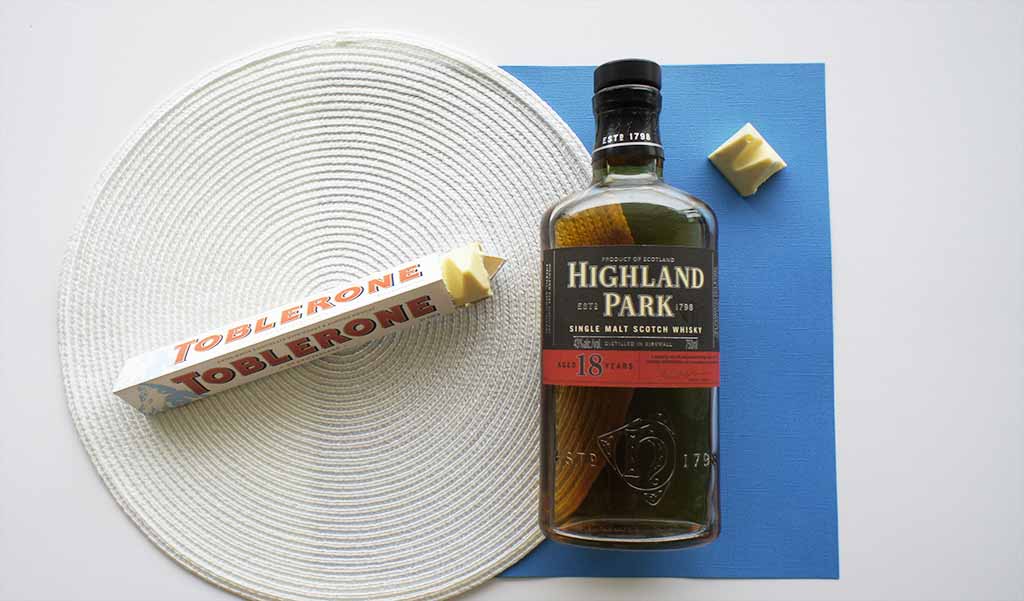 I need to find a way to finish this bottle, because for some reason, I just don't like this release.  I have paired the Highland Park 18 yo with some mature  Gouda cheese, which worked well.  Now to try it with some chocolate.   My tasting notes included notes of oak, honey, toffee and sweetness mixed with oak.  There are notes of butterscotch, Christmas Cake, plump raisins and peat with smoky hints.  Some florals with barley and cereal.
Some desktop research indicate that a creamy white chocolate will pair well with a smoky Highland dram.  So, lets try the Highland Park 18 yo with a Toblerone White with Honey and Almond Nougat pieces. 
Toblerone was created by Theodor Tobler in Switzerland, in 1908. He and his cousin developed a unique mix of milk chocolate which included nougat, almonds and honey in a distinctive prism shape.
Did it work? The nose on the Highland Park is amazing, but when you taste it, you wonder… where did it all go?  Did this pairing work enough to help me finish the bottle?  Not so much.  The chocolate is overwhelmingly sweet and drowns out the Highland Park.  This sweet chocolate needs a much more smoky dram to stand up to it.  The Highland Park 18 yo is too delicate for this creamy chocolate.
Thamdhu 10 yo Single Malt paired with De Villiers

 

Cinnamon and Chili dark chocolate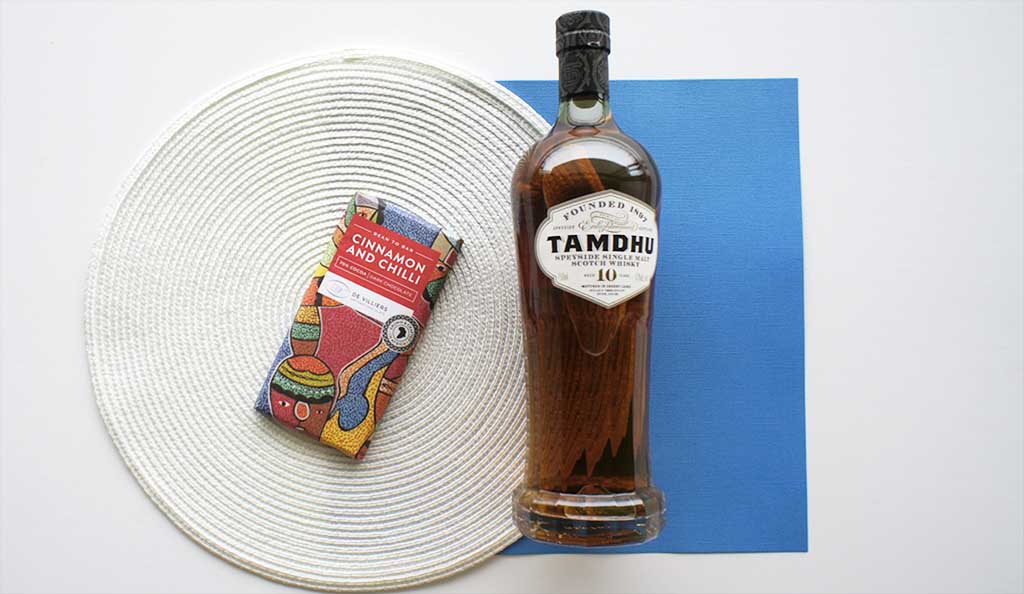 The De Villiers (DV) artisanal chocolate makers are the first 'Bean to Bar' makers in SA and one of the few companies to make good single origin chocolates on the African continent.  Situated in the Wine Lands of the Cape, DV gets their inspiration from what they see around them.  This Cinnamon and Chili Dark Chocolate is a 70% dark chocolate bar with cinnamon flavours presenting first and chili following in the finish. It is made with UTZ certified Ugandan cocoa beans.  I have decided to pair it with the Tamdhu 10 yo. 
Tasting notes for the Tamdhu include  vanilla & sugared almonds, fresh oak and cinnamon, fruit ,  toffee and sherry oak.
Did it work? I have only tried the Tamdhu 10 yo at a Whisky show, so had no tasting notes or proper recollection about the taste. It must have been nice because I bought it after the Whisky Show.  Tasting it reminded me, what a great whisky!  This 10 yo will certainly land up on my tasting schedule sooner rather than later!
 And this Whisky Chocolate pairing was great.  The two elements combined to create a creamy rich experience.  The chocolate enhanced the Tamdhu 10 yo finish to make it MILES long.  At least 5 minutes after tasting this combination, I was still conscious of the whisky and chocolate on my palate.  
Lagavulin Distillers Edition paired with Malted Puffs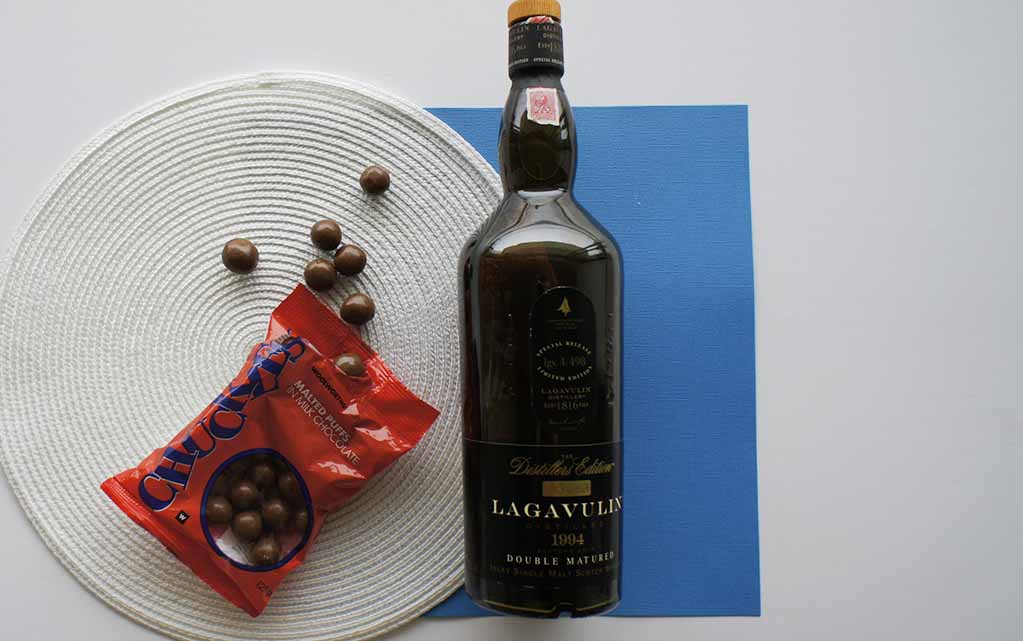 While doing research for my Whisky Chocolate pairing 2017, I saw a reference to pairing Maltesers with a Lagavulin on one of Fiona Beckett's Pairing Food and Whisky posts and thought… why not.  In South Africa, Maltesers are called Malted Puffs and a firm favorite in my house.  (Because I can eat them in bed without messing too much) 
Lagavulin is one of Johns' favorite whiskies, so I knew he would not complain to much if I bought a bag (or 3) Malted Puffs to try as a pairing.  All in the name of research, you know…
My Lagavulin 1994 Distillers Edition tasting notes included peat and iodine, followed by the characteristic smokiness, burnt oak, fruitiness, raisins, sherry and vanilla.
Malted Puffs on the other hand is a roughly spherical malt honeycomb-like structured centre, surrounded by milk chocolate. Just delicious! Easy to pop into your mouth while reading, but difficult to stop before the whole bag is gone…
Did it work?  O my word… when I read about the pairing, I was not sure that it would work, but it was amazing.  The puffs softened the peat and Islay characteristics of the Lagavulin and the two elements together created a rich, creamy smooth experience.  A great Whisky Chocolate pairing 2017!   There might even be a few malted puffs left over to test it on some of the other Islay drams.
What is your favourite whisky chocolate pairing? 
Also Read:  Whisky Chocolate Pairings New Years Eve – 2016