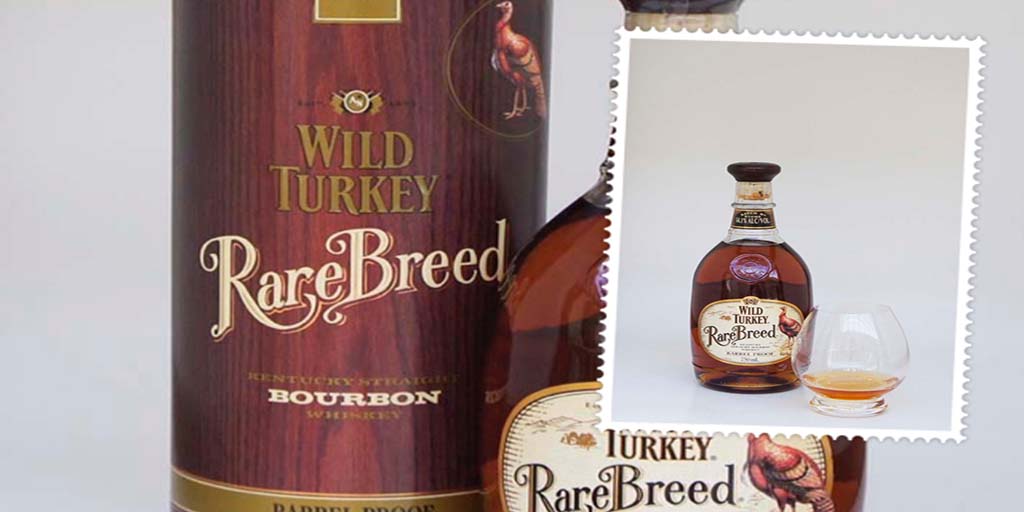 Wild Turkey is a brand of Kentucky straight bourbon whiskey distilled and bottled in Kentucky. In 1869, the Ripy Brothers built a distillery in Tyrone, near Lawrenceburg. After Prohibition, they merged with the current facility and resumed distilling. The Ripys' were bought out in 1952 by the Gould Brothers. In turn the distillery was bought by Pernod Ricard in 1980.
The bourbon acquired its name in 1940 when a distillery executive called Thomas McCarthy grabbed a few sample bottles of  101-proof whiskey from the warehouse to take with him on a trip in South Carolina to hunt wild turkey.
The whiskey was such a hit with his friends they repeatedly asked him to send them more of that "wild turkey bourbon." And the rest is history. The nickname became a famous brand, as Wild Turkey Bourbon hit the shelves not long afterwards.The Wild Turkey label carries a vividly printed, seemingly engraved illustration of its namesake.


Wild Turkey Rare Breed is a "barrel-proof bourbon" (54.1% ABV), meaning it has no added water to lower the proof or dilute the bourbon after it's been distilled. This bourbon is a unique marriage of Wild Turkey 6yo, 8yo, and 12 yo stocks.  Currently the Wild Turkey brand is owned by the Campari Group.
Related Article:  Wild Turkey 101
Tasting notes for Wild Turkey Rare Breed Bourbon
COLOUR:  The Wild Turkey Rare Breed has quite a dark colour and the official description is dark caramel. The caramel theme pulls through in the rest of the bourbon as well.
ABV: 54.1%
NOSE: Lots of caramel notes mixed with sweet spice and woody oaks.   The nose is rich and sweet and invites you to dive straight in.  Hints of cinnamon and nutmeg are mixed with vanilla and sweetness.
PALATE: Without water, this Wild Turkey Rare Breed is hugely spicy on the palate.  There is a bit of alcohol burn that softens and mellows after water is added. There is a distinctive sweetness to this bourbon that we have not tasted before.  On the palate there are notes of burnt caramel, oak, cinnamon and pepper.  Water transforms this bourbon into a smooth, rich, big mouthful glass of yummyness.  Getting the whisky to water ratio right made all the difference.  We had a 1:1 ratio (1 tot Wild Turkey Rare Breed : 1 tot water).
FINISH: Builds for a long time and end in notes of pepper, nutmeg, oak and caramel sweetness.
We give the Wild Turkey Rare Breed Bourbon a RATING: EXCELLENT.
It is a bold bourbon that satisfies.  We could not resist a second glass.  This Wild Turkey Rare Breed is certain to become one of our favourite Bourbons.  Can't wait to try more from this interesting company.  Did this Bourbon make my top 6 list?  You can read about it in this blog post.
Also Read:  McCarthy's Single Malt Whisky