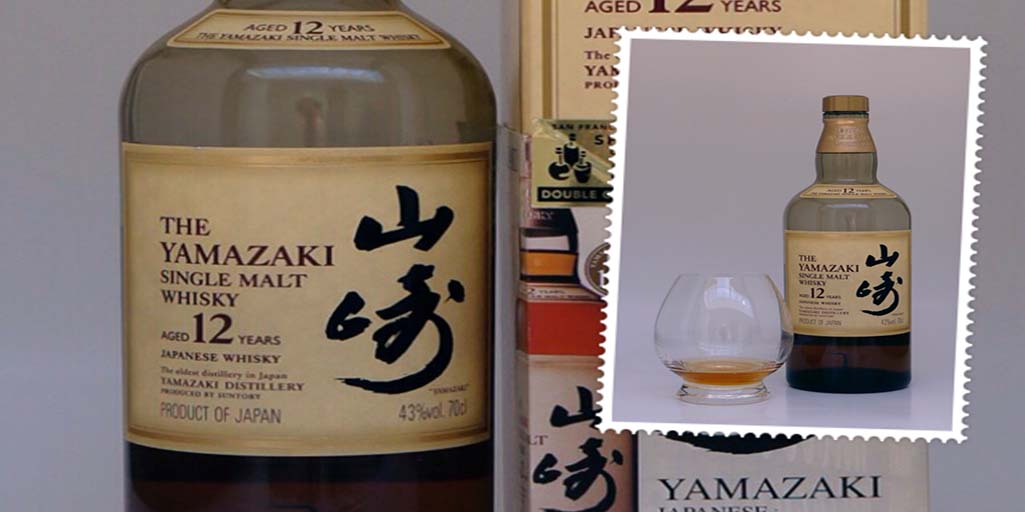 This week we tasted one of the international whiskies in our collection – The Yamazaki 12 yo. The Yamazaki 12 yo is distilled by Suntory, whose founder Shinjiro Torii built Japan's first malt whisky distillery in the vale of Yamazaki. Located on the outskirts of the ancient capital of Kyoto, the pure waters and climate proved ideal for the maturation of whisky. Japanese whisky has an interesting journey dating back to the 1860's. Japanese whisky was consumed entirely domestically until the 2000's.
The Yamazaki 12 yo became the first Japanese whisky to be exported and to win awards. With its reputation preceding it, we were looking forward to finally tasting it.  Presented in a box which evokes echoes of ancient paper with its faded yellow colour. Proudly displayed on the box is the note that the whisky won a double gold medal in 2009.

The Yamazaki 12 yo is matured in three woods – toasted American oak, Japanese Mizunara oak and ex-sherry casks. The Mizunara oak is native to Japan. It is both scarcer and harder to work with than American or European oak. It reputedly imparts a seductive aroma of incense sticks, flowers and spice that is quite unmistakable.
Related Article:  Nikka Coffey Grain
Tasting notes Yamazaki 12 yo
ABV: 43%
COLOUR: Deep golden caramel.  There are clear hints of sherry coming through in the colour, but it is not as intense as some of the other ex-sherry cask whiskies that we have.
NOSE: The nose is complex with caramel, fruit and florals the first impression. The dram reminds me of subtle perfume!
PALATE: There is lots of honey, spice and oak. More subtle is the barley and malt which floats around in the background.  The spice is quite pronounced with hints of pepper.
FINISH: The finish is luxurious, velvety and smooth.It certainly impressed Jeannette who is quick to denounce "sharp" whiskies.
I missed a longer more complex finish, but this is a superb whisky which, as a result, earned a RATING: EXCELLENT. It may be that at a future re-tasting we upgrade it to divine, it's that good.
Also Read: Springbank 18 yo whisky
Yamazaki & Food pairings
This lovely single malt reminds one of a Speyside whisky with lots of fruit and honey. Jeannette dug around to see which food would pair well with it. It should come as little surprise that it seems well matches to Sushi – also one of our favourite foods. The flavour notes matches well to ginger and soy sauce and thus it should work well with Makizushi or rolled Sushi. Salmon rainbow rolls, vegetable Maki rolls or Futomaki all spring to mind. Whatever Sushi you pair this with I think it will be awesome and we look forward to doing just that.
Also Read: Amrut Intermediate Sherry Indian Whisky