Thirty five years ago, most whisky came from Scotland.  The sacred place where whisky is distilled and aged as part of a nearly religious experience.  Chivas and Dimple were premium blends that brought tears to grown mens eyes.  It was a man's drink, in a man's world.  Ronald Reagan was president and the Cold War was a reality.  It was the time of the Falkland War, the launch of MTV and Prince Charles married Lady Diana Spenser.  Chernobyl exploded and the Simpsons were created. 
A busy time in history.  On a side note:  I read about the 80's history and it reminds me about the uncertainty that we are currently facing.  Bombings, terrorist attack and political instability characterized most of the 1980's. 
Fast forward to today.  The Cold War is over, MTV is still around, Chernobyl is still radio active and the Simpsons are on season 28.  Bart has not aged much.  Chivas and Dimple have stood the test of time.  But there was a big change – whisky is not only from Scotland any more. 
Also Read: Father's Day. How will you spoil your special man?
Now great quality whisky is made all over the world.  From the very amazing Three Ships whisky in Wellington South Africa, to Australia, Canada, New Zealand and Taiwan.  Most of Europe has whisky distilleries that releases quite decent bottling on a  regular basis.  Some whisky releases from Japan cost an arm and a leg and India has surprised everyone with some award wining releases from their Amrut Distillery. 

India is one of my favorite counties to travel in.  The mix of colors and spices, the rich history and vast nature is a combination that you don't get anywhere in the world.  I loved the Amrut Fusion and the Amrut Two Continents.  I have written about the Bangalore based distillery history extensively in these posts. 
Lately it seems like when I try a Amrut, I end up sharing it with a friend.  I had my good friend Zee visiting when I tried the Amrut Intermediate Sherry and this Amrut Single Malt I am sharing on twitter with my friend Karen. 
Karen blogs over on MomAgain@40  and from her Instagram feed I knew she enjoyed the occasional glass of whisky. She has never tried a whisky from India before, so it was the perfect opportunity to share with her. 
Also Read: Speyburn Bradan Orach Single Malt whisky
Tasting notes for the Amrut Single Malt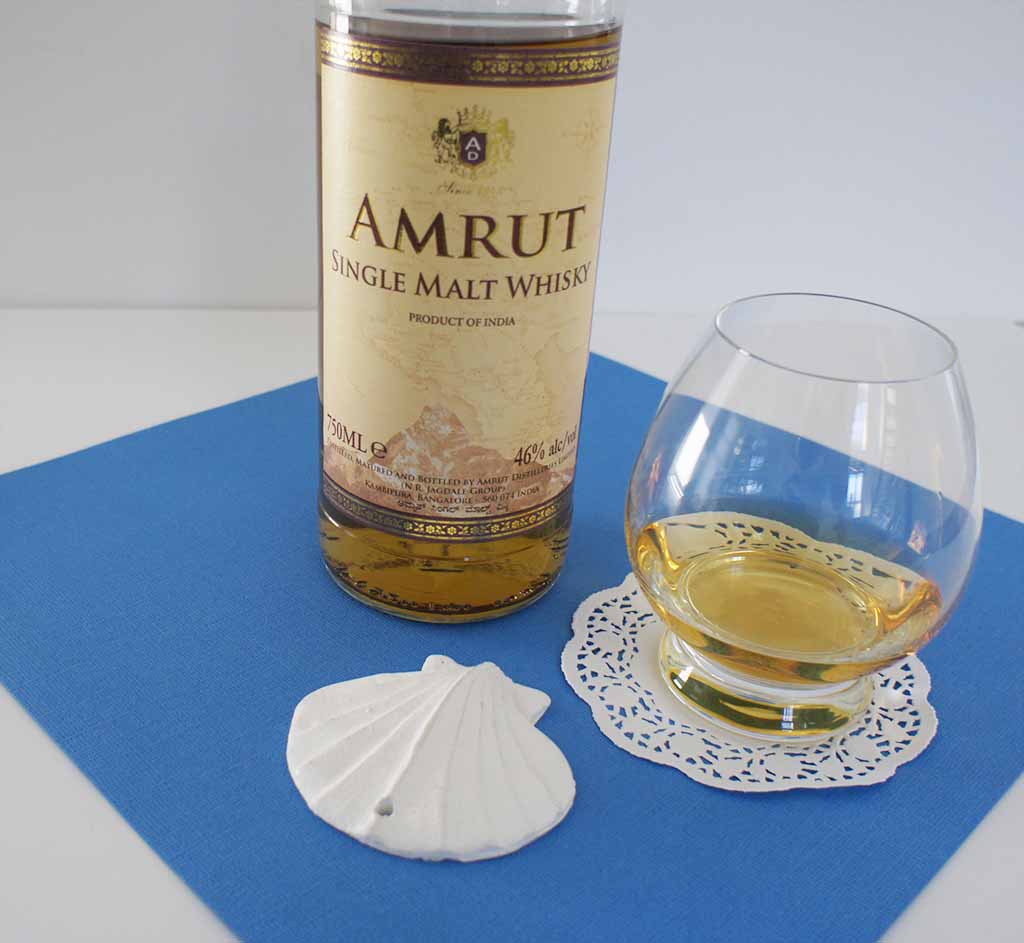 I have a bottle from Batch No 23, October 2010
ABV: 46%
COLOUR: Golden Yellow
NOSE:  Spices, bits of wood with fruity notes.  There are notes of sweet candy floss, malt and ripened plum with vanilla.  It's a dram that needs to breathe a bit  to let some of the alcohol blow off.  
Amrut #whiskytasting – Step 4 The nose! The best of #WOTWamrut
> sweet candy floss and my husband says ripened plum! @WhiskyoftheWeek pic.twitter.com/yt8M7QhUe4

— Karen du Toit (@karentoittoit) June 9, 2017
PALATE: Loads of wood and spice. Faints hints of dried citrus peel and dried cranberries.  It has a spicy black pepper bite with  cloves and a bit of fruity dried apricot sweetness. It is quite oily and has an alcohol burn if you don't add a bit of water to smooth the Amrut Single Malt out.  
FINISH: Spicy with a dried citrus peel.
RATING: Very Good
An interesting dram, but not my favourite from the Amrut range. It does not have the same complexity and richness that a Fusion or a Two Contenents have.   Karen paired the Amrut Single Malt with some interesting coffee and cardamom flavoured chocolate.  Thank you for joining me on this cold Friday afternoon, Karen.  It was lots of fun to share this interesting world whisky with you.
I may be influenced, but we paired it with Woollies cardamom dark chocolate! It tastes like cardamon 🙃 #WOTWAmrut pic.twitter.com/ERHCoq6FNj

— Karen du Toit (@karentoittoit) June 9, 2017
Also Read: Tamdhu 10 yo single malt whisky