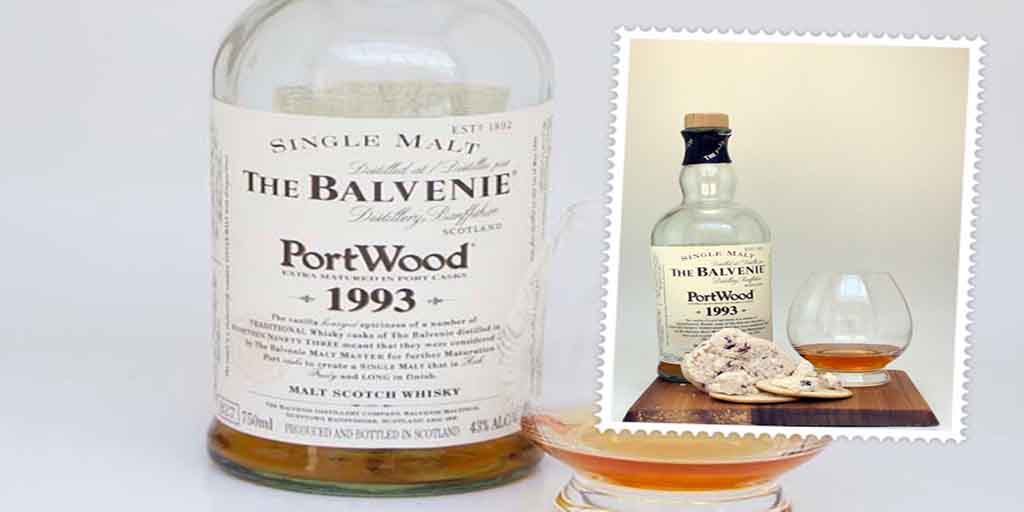 Last week we tried the whisky cheese pairing of Caol Ila 12 yo and Woolworths White Rock Cheese with Cranberries in the hope of creating a great exotic whisky cheese pairing that works really well.  Sadly, it did not work at all.  We went back to the drawing board.
What whisky will match this sweet dessert cheese but not overwhelm it?  What whisky will allow this cheese to bring out its sweet flavours? What combination will bring the two together in harmony? Taking a step back, the White Rock cheese is fundamentally a white veined blue cheese.
This White Rock has the tangy'ness of the added cranberries with adds another dimension to the cheese.  Traditionally a blue cheese matches well with a vintage port and it is one of the great classic food and wine combinations.The soft buttery texture, mature character and sharpness of the blue cheese are perfectly complimented by the superb flavours of the port.
With that in mind, we decided to try the White Rock Cheese with a whisky finished in Port casks.  We have a Balvenie Portwood 1993.  It is one of our favourite bottles of whisky from one of our favourite distilleries.  The nose of this Balvenie Portwood expression suggests raisins,  hazelnuts and honey.  Tasting this whisky brings flavours of honey, with dried citrus peel and ripe fruit.

The White Rock cheese balances sweet cranberries and tangy blue cheese and has a delicious creamy texture. It is a crumbly open texture desert type cheese with the fresh milky flavour.
Related Article: Glenkinchie & Wensleydale Cheese
Balvenie Portwood & White Rock Whisky Cheese Pairing

Success – What a great whisky cheese pairing.  We give this Balvenie Portwood whisky and White Rock Cheese a RATING: EXCELLENT.  The Balvenie Portwood whisky brings  out the fruitiness of the cheese.  The White Rock cheese enriches the port in the whisky and almost makes the whisky sweeter.  You can suddenly taste the cranberry sharpness clearly.  It enhances the creamy cheese taste. There is a great balance between the Balvenie Portwood whisky and the White Rock cheese and it creates the third flavour that we are always looking for.
Combining these two creates elements and enhances layers of flavour in both the White Rock cheese with cranberries and the Balvenie Port cask aged whisky.  It creates a richness that you just want to try again.  Definitely a whisky cheese pairing worthy.  Have you tried any other whisky with a White Rock Cheese?
Also Read:  Mature Gouda and whisky pairing