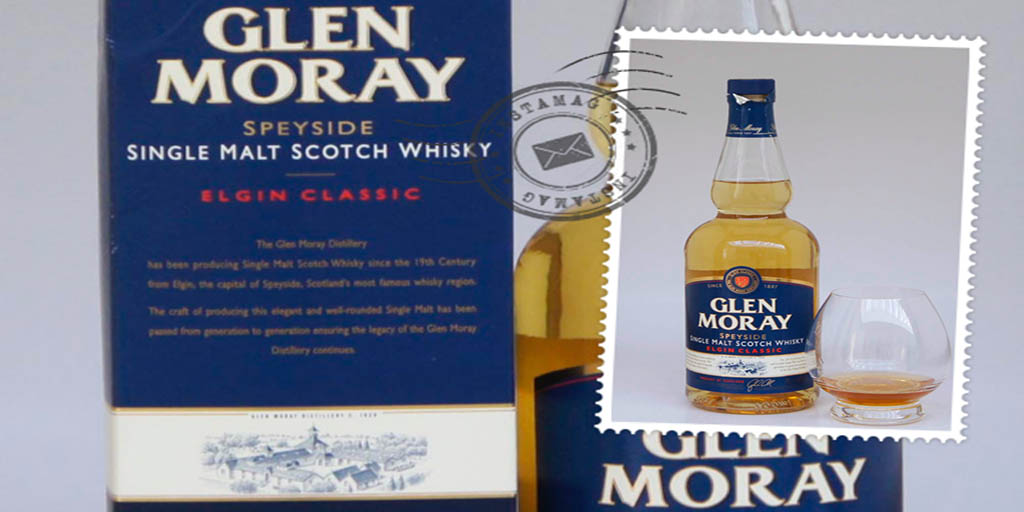 Our bottle of Glen Moray was a gift from my brother-in-law. I have seen this distillery releases around, but have never tried it. After receiving it, we left it on the shelf. Until we needed a whisky for a cheese tasting and the Glen Moray popped up when I was doing research. We tried it with a creamy Lancashire cheese and loved not only the pairing, but also the whisky. The Glen Moray Distillery is a Speyside distillery situated on the banks of the River Lossie in Elgin. Glen Moray started life as West Brewery and converted into a distillery in 1897.
It closed in 1910 and was bought by the owners of the Glenmorangie Distillery around 1920. It was sold in 2008 by the Glenmorangie Company to La Martiniquaise.  La Martiniquaise uses part of its production in their blended Whisky Label 5.  The Classic Glen Moray is aged for an estimated 8 years and aged in oak casks.

Also read:  Bunnahabhain 18 yo
Tasting notes for the Glen Moray
ABV: The Glen Moray Classic has an ABV of 40%
COLOUR: It has the  colour of a light straw.
NOSE: Delicate with hints of malty sweetness,  vanilla and oak floating about. Fresh cut flowers, grass and  green apples seem to pop about. Whispers of condensed milk and cinnamon biscuits come in the second wave.
PALATE: Matches the nose as it is soft and delicate initially. The second sipping brings notes of spice balanced with fruity sweetness.  There are notes of oak and mild hints of citrus also. The Glen Moray has the perfect balance between sweet and spicy  It is a very easy drinking dram.  The sense of lightness remains the whole way through, which is quite interesting. As our bottle is 40%, ABV, it does not need too much water.  A few drops releases more of the malty goodness.
FINISH:  Medium length and delicate.
As a result, we give this Glen Moray Classic a RATING: EXCELLENT.
It is smooth, drinkable and probably the perfect summer sipping dram.  Seems like my brother-in-law has great taste in whisky. Thank you Ivan!    This bottle will probably not last long and I could not find stock widely available in South Africa. However, I see that WhiskyBrother has a few available.  And at R310 a bottle, it is a bargain!
I will be exploring more of this interesting distillery.  Any suggestions on what to try next?
Also Read: The Balvenie Peated Cask