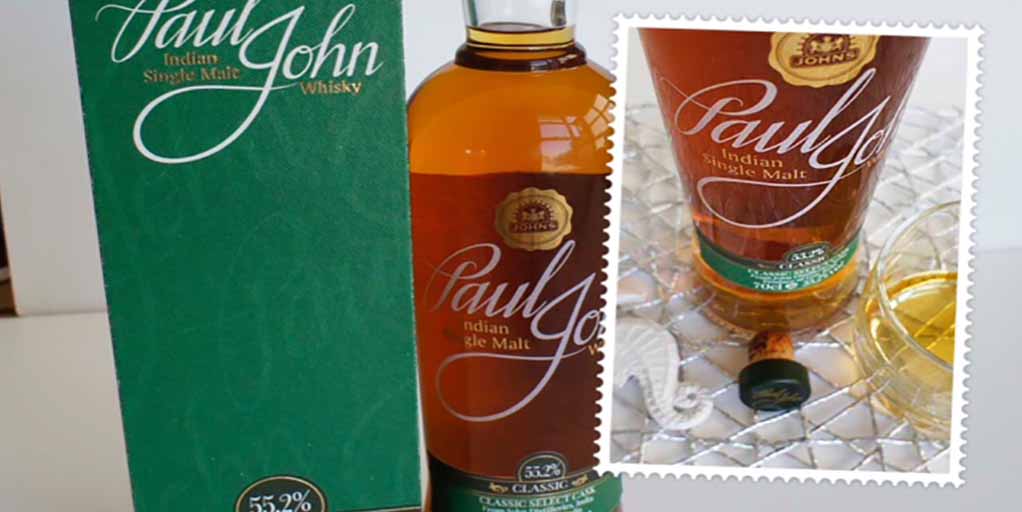 The First 'Whisky of the Week' for 2018!  I start on an Indian note –  with the Paul John Classic Select Cask.  I love exploring world whisky.  Whisky that come from non-traditional countries such as South Africa, France, India or Taiwan.  It is probably linked to my endless wanderlust.  Drinking a whisky from a new country allows me to dream about traveling there and seeing it for myself.  When I got invited to taste a few Paul John during a tasting at Churchills Bar I was understandably excited.
A night out, tasting whisky from a country I love to travel in – what can be better.  I have been to India quite a few times.  The colours and tastes of India is unique.  It is a fascinating country to travel in, seeped in history and filled with amazing stories.
Tasting this whisky in Churchills Bar allowed me to escape back to of India.  But who and what is Paul John whisky and where in India is it from?  I know Amrut from Bangalore well and have tasted many of their expressions, but who and what is Paul John?
Paul John is a brand of Indian single malt whisky and single cask whisky, manufactured by John Distilleries in Goa.  John Distilleries was founded by Mr. Paul P. John in 1992, when they began producing a number of spirits, including Indian molasses based 'whisky'. One of their best known products is Original Choice whisky, brandy, rum and gin.  The Head office is in Bangalore, but the John distillery is situated in Goa.

Goa, with its blend of Indian and Portuguese culture, has a rich colonial heritage, white sand beaches, warm weather, pleasantly charming people and wonderful food tradition.
In 2008, John Distilleries attempted a single malt whisky and the rest is history.  Paul John Single Malt was launched in 2012 in the UK and there was an overwhelmingly positive response to the golden liquid from this Indian distillery.
Paul John whisky is made with six-row barley, harvested in the summer months to obtain that perfect maturity. Then it is double distill in traditionally designed copper pot stills. The Master Distiller is Michael D'Souza.
Also Read: Time for some Indian: Amrut Intermediate Sherry
Due to Goa's location in a tropical zone, the angel's share is much higher than cold Scotland.  Around 10% – 12 % is lost annually to evaporation in India.  This also means that the whisky is aging faster, compared to cooler countries.
I found this amazing video on the Paul John Story…
The Paul John Classic Select Cask is an unpeated single malt that has been matured in ex-bourbon barrels and bottled without chill-filtration at cask strength.
The rest of the Paul John range include the Paul John Brilliance, Paul John Edited, Paul John Peated, and the Paul John Bold.
Tasting notes for the Paul John Classic Select Cask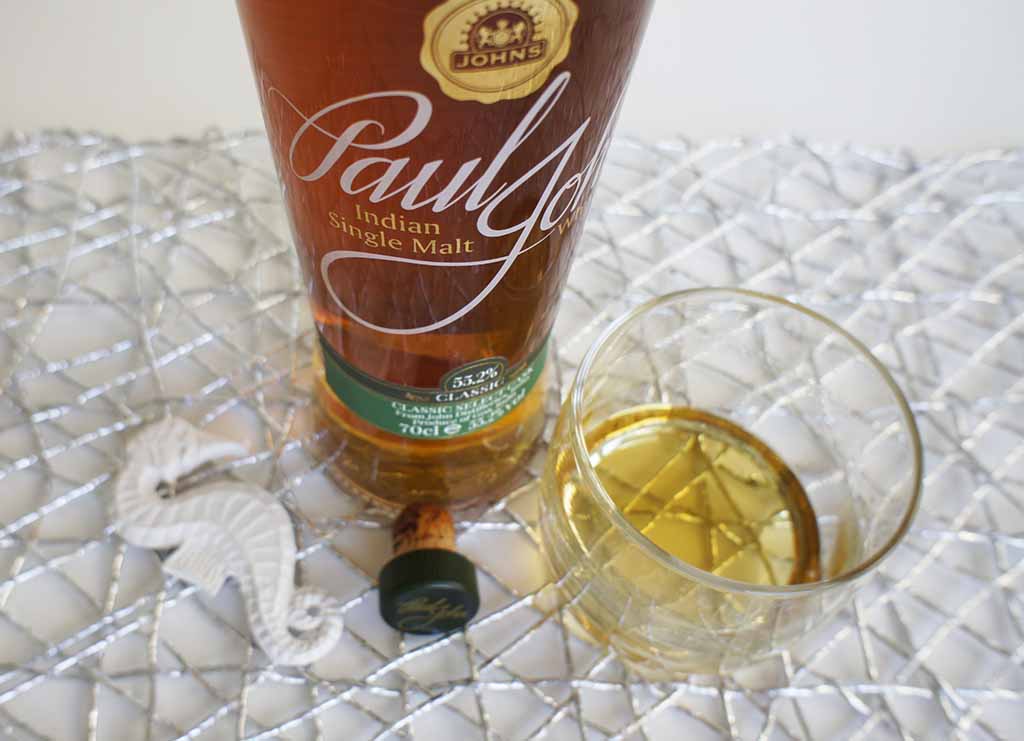 ABV:  55.2%
COLOUR: Golden amber with light orange hints
NOSE:  First up is whiffs of alcohol.  You need to let the liquid breath for a bit. After a few minutes, there is the smell of rich sweetness.  The Paul John Classic nose has notes of fresh baked apple pie sprinkled with cinnamon sugar, barley, faint hints of vanilla and candied fruits.  Complex and rich.  There is a wholesome yumminess on the nose that invites you to taste.
PALATE:  The yumminess from the nose translates onto the palate.  It is a beautiful, full bodied dram. Even at the 55.2% ABV, you don't taste any alcohol and I could easily finish the glass without water.  The palate itself has the perfect balance between spice and sweetness.
Hints of toffee, oak, baked apples, barley with bits of vanilla floating about.  Warming cinnamon and soft pepper is nicely balanced with honey sweetness.  After adding a bit of water, the spices softened and more honey came through.
FINISH:  Warming, long, lingering, complex, rich, with hints of oak, fruit and cinnamon.
RATING: DIVINE
What a HUGE note to start the year on.  Amrut set the bar very high in 2009 when they launched Fusion and the world started noticing Indian whisky.  But the Paul John easily vaulted over that high bar with this Classic Cask release.  Masterfully done!
The Paul John Classic Cask Select as well as the other expressions in the Paul John range is now available online at Norman Goodfellows.  Go on, give Paul John a try.  You will enjoy it.  I hope to cover more of the Paul John range during this year, so keep and eye on the blog.
Also Read: Forty Creek Barrel Select Whisky