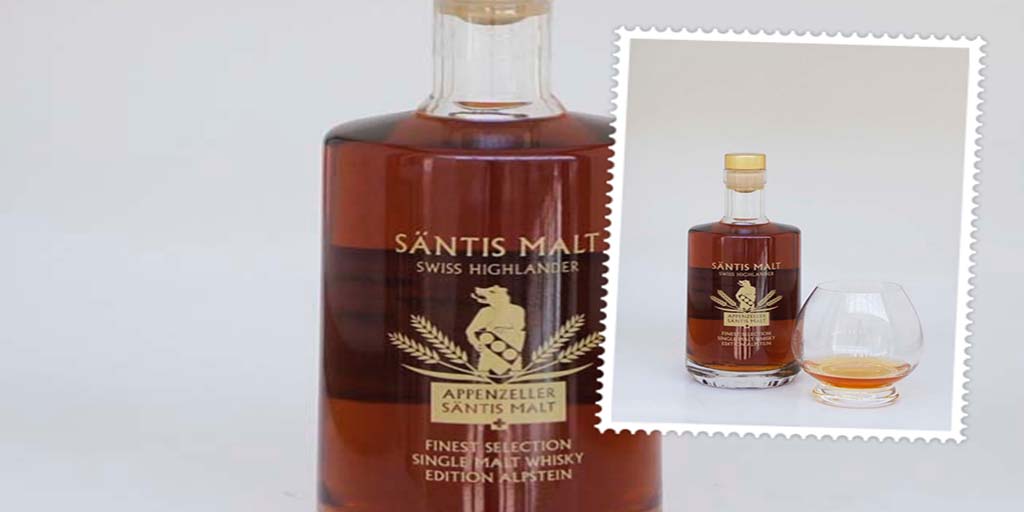 When I think back to my travels around Switzerland, I think of mountains and lakes next to quaint towns and lots of very good chocolate. Certainly not whisky. This all changed in 1999, when the distilling of grain alcohols were legalized.   When we got the chance to add a Swiss whisky to our collection, we jumped at the chance. This Whisky of the Week is the Santis Malt Alpstein Edition no 7.
The Locher brewery has been owned and run by the Locher family for five generations. Situated in Appenzell, close to Liechtenstein, they have produced beer and spirits for more than 100 years.
After the Swiss ban on manufacturing spirits from grain was lifted Locher Brewery begins to produce Appenzell Santis Malt.  This Swiss whisky it is made with spring water from the Alpstein Mountains. The grain used is also from the Swiss mountains. According to the Locher Brewery, the altitude and extreme weather, make the grain grow stronger and more vigorously.
There are various Santis Malt Editions.  Each edition is named after a different rock formation. There is a Dreifaltigkeit, Himmelbert, Alpstein Edition among others.   The Alpstein Edition no 7 matured first in some Old Oak Beer Casks and was finished for  two years in Sherry Casks.   The Locher Brewery was voted "Whisky Distillery 2011" by the Swiss whisky guide.

Related Article:  Teerenpeli Single Malt
Tasting notes for Santis Malt The Alpstein Edition N
o. 7
The Alpstein no. 7 has been aged for 6 years.  We have bottle no 553 of 1400.
ABV:  48%.
COLOUR: The Santis Malt has a dark red, nearly burnt copper colour.   It is not a very oily whisky.
NOSE: Straight from the bottle promises sherry, more sherry and some more sherry.  There are notes of malt, fresh fruits and vanilla.  In the background linger hints of Christmas pudding, butterscotch and toasted caramel.  The Santis Malt nose is rich and rewarding and encourages you to dive right in.  Adding a bit of water, releases more fruit and sweetness on the nose.
PALATE: Without water, the palate is interesting.  It has a great balance between the sweetness and spice with some vanilla pod mixed in between.  There is some very unusual Crème Brûlée notes that soften when you add water.  After the water, more spice comes through and some oak and malt appears.    This Santis Malt is a yummy whisky you just cant put down.  You want a second glass. Surprising it is not as sweet as the nose suggests.  
FINISH: The only short coming of this really amazing Swiss whisky.  It is rather short and end in notes of wild spice and caramel.  
We give the Santis Malt, Alpstein Edition no 7 a RATING: EXCELLENT.  The other problem with this bottle is that it is only 50cl.  So this will be treasured and very carefully consumed, until we can get our hands on another expression from this Swiss Distillery. 
Also Read: Kavalan Solist Vinho Barrique single malt whisky